GENE SIMMONS OF KISS
Rock Icon, Book Author, Entrepreneur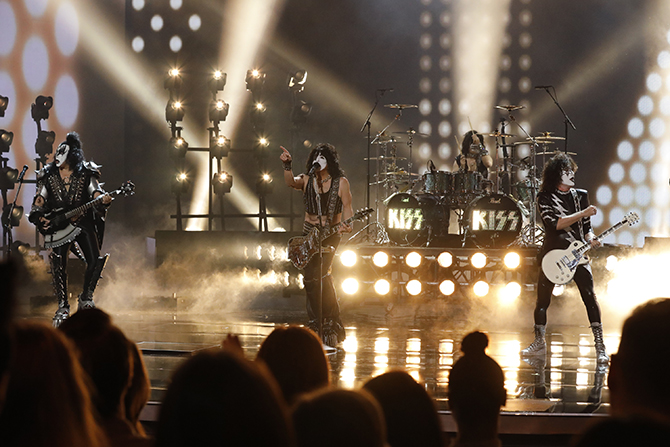 By Darren Paltrowitz
Gene Simmons is unstoppable. Most notably he is a musician and co-founder of the rock 'n' roll's legendary KISS, which has earned more gold records than any other band. As an on-screen performer, he has not only starred in movies, but was a star of the popular reality series Gene Simmons Family Jewels and produced 167 episodes. Simmons has also found tremendous success as an entrepreneur within many industries, including runs as a book and magazine publisher, artist manager, television and film producer, and record label executive.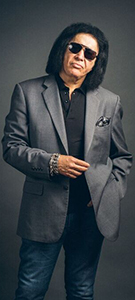 2018 has been far from a slow year for the New York native. Not only has Simmons announced the End Of The Road worldwide tour with KISS, but has also seen Simmons release a new book, 27: The Legend And Mythology Of The 27 Club (powerHouse Books) where he focuses on some of music's legendary figures and their lives. Simmons captures their extraordinary lives, not their sensationalized deaths. He also launched Money Bag Sodas (in cooperation with the Niagara Falls-based Rock Steady Sodas Inc.), continues to expand his growing Rock & Brews restaurant chain, and has become "chief evangelist officer" of Invictus MD, a Vancouver-based cannabis company.
I had the pleasure of meeting up with Gene Simmons at New York City's Loews Regency Hotel for an exclusive interview. Simmons is not only honest and insightful, but the legendary singer and bassist is also very amusing. He manages to be animated and hands-on, demonstrating things on his iPhone and inviting other people dining at the hotel's Regency Bar & Grill to try one of his sodas.
I found it very interesting that you collaborated with your son Nick 27. You two famously worked together on your reality show. Had you worked on anything else before?
Nick is wonderful, self-sufficient and absolutely gracious—and it was an easy collaboration. I had been writing this book in my mind for nearly three years. Originally, it was going to be the next book project after On Power: My Journey Through the Corridors of Power and How You Can Get More Power. However, that publisher decided not to do it. That's when I teamed up with powerHouse Books and relaunched Simmons Books.
From Janis Joplin to Amy Winehouse, some of the music world's creative souls have been taken away at the age of 27. Why do you think this particular age is significant?
The real answer is nobody knows. We'll continue to wonder why. You hurt yourself, drugs, some commit suicide, some are in the wrong place at the wrong time. What I hope this leads to is the kind of realization that one in five people in America have or will suffer from depression. It could be your child, a loved one, a family member or even your next door neighbor. Maybe the first thing we should do is reach out and have a conversation. Just learn to listen, and for those who don't have anybody to talk to, don't go to the darkness. Call the Suicide Prevention Center, just talk to people. It saves lives.
The last time I saw you, you were working on a new magazine, iMOGU, about moguls. Is that something we'll be seeing soon?
It is, but I have to prioritize. We have the cannabis company, and the restaurant chain, and the sodas, and a printing company, and the Gene Simmons Band on the side. And then, of course, KISS. There's just so much going on. iMOGU will come—eventually.
For more information on Gene Simmons and his many projects—including the annual KISS Kruise, in partnership with Sixthman Cruises and hosted on the Norwegian Cruises Line's Norwegian Jade—visit genesimmons.com.