EASTER CELEBRATIONS NEAR & FAR
By Patricia Canole
Easter is celebrated in a surprising variety of ways with traditions varying based on ethnic and cultural origins around the world. From Easter egg hunts to bonnet parades and street festivals to indulging in traditional meals and more, here are a few ways to celebrate Easter from around the globe. So gather together with family and friends this April 21st for a joyful annual celebration.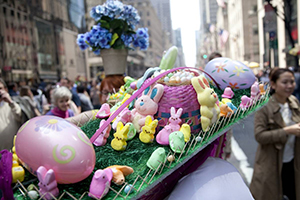 NEW YORK CITY, NY
The Easter Parade
Manhattan comes alive with spring colors and flowery bonnets as part of the annual Easter Parade. Visitors and residents have the opportunity to view these "works of art" wander along Fifth Avenue from 49th to 57th Streets, which run from 10 am to 4 pm. This annual tradition has been taking place for over 130 years, and while some things have changed, some traditions remain steadfast. The tradition of dressing up for the event started when women donned their finest hats and dresses and decorated the churches with flowers to celebrate the day. However, as the years passed, the Easter Parade became more about extravagance.
Today, the parade incorporates the annual Bonnet Festival—where you can witness a fun-filled day of creative expression. More solemn events at St. Patrick's Cathedral in observance of Easter are held before the parade extravaganza with Easter Masses and Holy Week services. Only the 10:15 am Mass requires tickets; the others are open to the public. Info: stpatrickscathedral.org.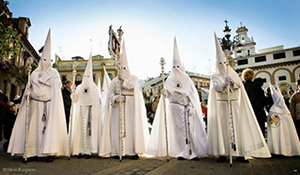 SEVILLE, SPAIN
Semana Santa
Seville has been holding its Easter week celebrations since the 16th century, and they have become universally famous. One of the biggest Easter celebrations takes place in Seville, where 52 different religious brotherhoods parade through the streets manifesting the Crucifixion, with thousands watching the daily processions of marching bands and decorated candlelit floats of Baroque statues illustrating the Easter story. Beyond discovering Seville's multicultural heritage through its standing monuments, palaces, gardens and quaint ancient neighborhoods, the essence of Semana Santa can often be missed by travelers unless they have access to the right places and people to experience it from the inside. It is a profoundly religious event that can only be understood by the guidance of a local Sevillano. Naya Traveler offers insider access to private balconies from which to see the religious processions, individual meetings with the cofradías (religious brotherhoods) and private parties and festivities happening across the city to mark this auspicious event. Info: nayatraveler.com.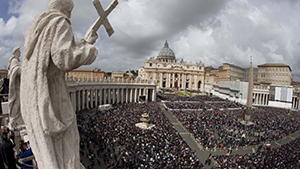 ROME, ITALY
Celebrate In The Eternal City
Rome is the top Italian destination for Easter Week, and with the Vatican City sitting right in the middle of the Eternal City, there's no celebration quite like Easter in Rome. With festivities surrounding the Pope all week, there's also picnics, concerts, processions, traditional Easter food and so much more. Be right in the heart of Rome at one of Bettoja Hotels Collection of three hotels. Book a stay for a minimum of two nights at either Hotel Mediterraneo, Hotel Massimo D'Azeglio or Hotel Atlantico from April 19th – May 6th and receive a complimentary Bettoja Hotels Collection gourmet Easter picnic basket in celebration of Spring. Enjoy a traditional Roman Picnic, a selection of local specialties in a picnic basket prepared by Chefs Antonio Vitale and Renzo Di Vito and includes Easter Pizza (made with three Italian cheeses and sausage), Pot pie with cheese and sausage, Quiche with Asparagus, Chocolate Eggs, Fruit Juice, Mineral Water and Fresh Fruit. Info: bettojahotels.it.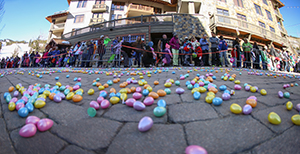 COLORADO, USA
Easter Egg Hunt
If you're out west, hope on over to Copper Mountain in the Rocky Mountains for the world's most massive Easter Egg Hunt on Easter Sunday. A total of 65 thousand eggs are spread across the resort for children of all ages to seek and find with great prizes, treats and more. The day's hunts are split up by age group and conclude with a massive hunt for everyone at the top of the American Eagle lift, providing stunning views as the kids (and kids at heart) search for eggs in the alpine. Some of the prizes include a GoPro, season passes, tubing tickets, YETI swag and lots more. Info: coppercolorado.com.