SPRING SOCIAL CALENDAR
By Elizabeth Elston
Spring is a season of hope and renewal. As dependable as the changing of seasons, it is time to mark your social calendar with this season's top events. So which of these social outings should you attend? Here are four can't miss events during this beautiful season.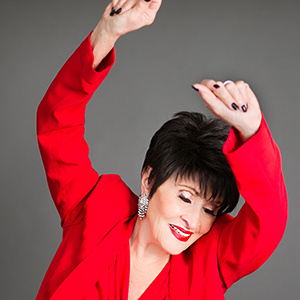 NYC DANCE ALLIANCE FOUNDATION, INC.
3rd Annual Chita Rivera Awards
Sunday, May 19, 2019
Carrying the namesake of one of the great dance icons of the American musical theater, the mission of The Chita Rivera Awards is to celebrate dance and choreographic excellence—past, present and future. The awards will be held at NYU Skirball Center for the Performing Arts. Joe Lanteri, founder and executive director of the New York City Dance Alliance Foundation, Inc. produces the awards in conjunction with Patricia Watt.
The awards will honor the superb achievement of each nominee, while recognizing the immeasurable talents and passion of every theatrical choreographer and dancer. Additionally, through education and scholarships, the awards are committed to nurturing future generations, as well as preserving notable dance history. Nominators will consider outstanding choreography, featured dancers and ensemble in shows on Broadway and Off Broadway, as well as, outstanding choreography in film, that opened in the 2018-2019 season.
The NYC Dance Alliance Foundation College Scholarship Program will be the beneficiary of the event. Since the inception of the NYC Dance Alliance Foundation, $2.5 million have been awarded to over 200 dancers represented in 42 of the most prestigious college dance programs in the country. Info: chitariveraawards.com.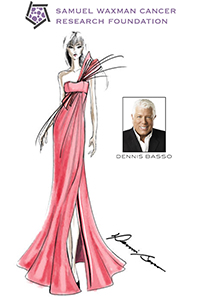 SAMUEL WAXMAN CANCER RESEARCH FOUNDATION
Annual Collaborating for a Cure Ladies Luncheon
Tuesday, May 14, 2019
Celebrated fashion designer and native New Yorker Dennis Basso will present a show of select eveningwear pieces from his Fall 2019 collection at the SWCRF Annual Collaborating for a Cure Ladies Luncheon. The event will be held at the residence of New York City philanthropist, Mrs. Susan Gutfreund with Don Lemon of CNN's Tonight as emcee. Event proceeds will support the SWCRF cutting-edge research focused on shutting down the genetic causes of cancer. Guests will also enjoy an elegant luncheon catered by City Chefs Catering paired with wines from Palm Bay International.
The Samuel Waxman Cancer Research Foundation is a nonprofit organization dedicated to curing and preventing cancer. Through the Foundation's collaborative group of world-class scientists, the Institute Without Walls, investigators share information and tools to speed the pace of cancer research. Since its inception in 1976, the Samuel Waxman Cancer Research Foundation has awarded nearly $100 million to support the work of more than 200 researchers across the globe. Info: waxmancancer.org/luncheon.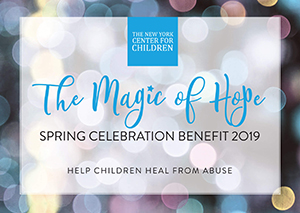 THE NEW YORK CENTER FOR CHILDREN
The Magic of Hope Spring Celebration Benefit 2019
Monday, May 6, 2019
The New York Center for Children (NYCC) is hosting its 24th Annual Spring Celebration Benefit on Monday, May 6th from 6 to 8:30 pm at The Peninsula New York in New York City. The benefit helps raise funds for the Center's work in healing, prevention and education. This year's event will feature a The Magic of Hope theme, which reflects the organization's aim to bring about hope and help children achieve their dreams. NYCC will also honor Manhattan District Attorney, Cyrus Vance, Jr. The benefit will feature live music by the Dennis Alan Jazz Trio, and a silent auction featuring coveted travel offers, fine dining, tickets to cultural performances, high-end fashion accessories and more.
Founded in 1995, NYCC is the only independent center in New York City to provide free, comprehensive evaluation and therapy services to children who have experienced physical and sexual abuse and their families. To date, the center has helped more than 15,000 families receive care. Info: newyorkcenterforchildren.org.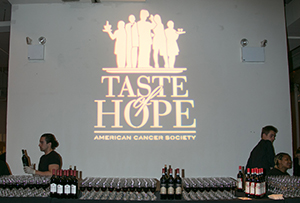 THE AMERICAN CANCER SOCIETY
14th Annual Taste of Hope
Thursday, May 23, 2019
Taste of Hope is the American Cancer Society's signature culinary, wine, and spirits event, featuring some of New York's most popular restaurants and beverage vendors. Guests enjoy a walk-around tasting where they can sample signature dishes, premier wines and spirits, and inventive cocktails.
This year's celebration, to be held at The Metropolitan Pavilion from 7-10 pm, recognizes Culinary Honorees, Michael Lomonaco, chef and partner of Porter House Bar and Grill; Ralph Scamardella, chef and partner of TAO Group Restaurants; Otto Cedeno, founder of Otto's Tacos as the Corporate Honoree; and Dana Cowin, former Editor-in-Chief of Food & Wine Magazine as the Survivor Honoree. CBS News anchor Chris Wragge is back to emcee.
Now in its 14th year, the event is hosted annually by the Taste of Hope volunteer committee and has raised over $1.8 Million to support the American Cancer Society's mission and goal of eliminating cancer as a major health problem. Info: tasteofhopenyc.org.