IL DIVO RESTAURANT
Authentic Italian Flavors On The UES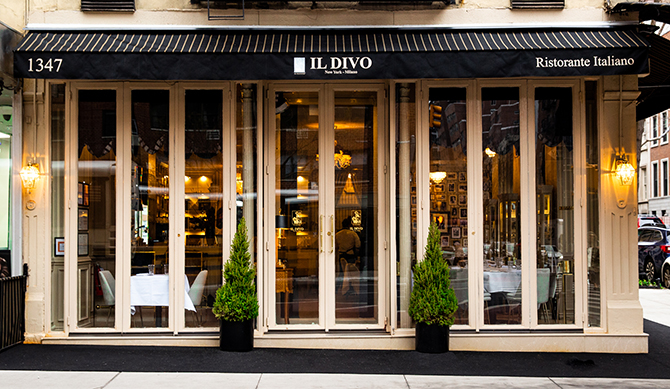 By Anne Raso
The moment you step into the intimate yet glamorous atmosphere of the 50-seat Il Divo, you'll realize that it is truly a unique place. The Hollywood Regency decor—which includes striped wallpaper, distinguished crystal chandeliers and dozens of framed photographs of Rudolph Valentino--immediately draws you in. There is no other eatery that resembles this quirky tribute to a 1920s screen legend save for owner Antonio Sinesi's successful Milan eatery, Al Valentino.
The authentic Italian food is still the draw, though—everything is so fresh. The mozzarella on the highly recommended eggplant parmigiana seems to be made only hours beforehand and the eggplant itself is thinly sliced (and probably the most tender you will ever have). The Beef Tenderloin comes stuffed with foie gras and even the sauce contains this luxury food. The list of fresh fish seems endless—there are more than a dozen types to choose from. And it goes without saying that the pasta is freshly made and served al dente. For those who like the simple things in life done well, the Spaghetti Pomodoro—with its ultra-fresh, tangy plum tomato sauce and freshly grated imported Parmigiano-Reggiano cheese—is truly something to be eaten slowly with every bite savored. (It's so good that you might even want to close your eyes while eating it!)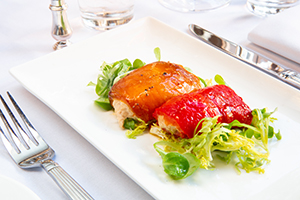 A TRIBUTE TO VALENTINO
Sinesi's obsession with paying tribute to Rudolph Valentino in his eateries might be unusual, but the epitome of romantic leading men is actually hometown hero for the handsome restaurateur. He elaborates, "Valentino is considered the first Hollywood celebrity. He was extremely elegant, classic and charming and I have always admired him. But most of all, Valentino was originally from Castellaneta, a city in Puglia where my parents are from, too. So, even though I was born and raised in Milan, my heritage is rooted in the same southern region as Valentino."
While Il Divo serves fine Italian fare, it does not concentrate on food from any one region—and one of the cook staff's consultants is Michelin-starred chef Massimo Sola, formerly of Quattro Mori in Varese, Italy. "I wanted to bring to New Yorkers authentic Italian cuisine that satisfies all palates," Sinesi tells New York Lifestyles. "Our menu is not based on a specific area of Italy. We offer recipes from all regions, because each one of them has such diverse and rich food traditions. This allows us to present a menu that is always different and can give our guests the feeling of being in Italy."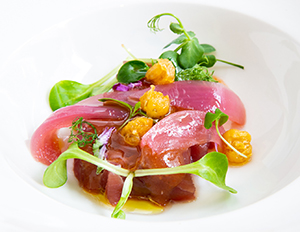 BRINGING EXCITEMENT TO THE UES
How did the restaurateur decide to open on a quiet corner of Upper East Side as opposed to a busier neighborhood like Midtown or Chelsea? Sinesi reveals, "The Upper East Side reminded me of the area in Milan where I have Al Valentino, my other restaurant. A high-end residential area, quiet but at the same time alive, where families go to dine together, and where I would like to end up serving different generations. In fact, at Al Valentino, I started serving grandparents, then their kids and their grandkids…they feel at home when they come to my restaurant and I hope with Il Divo to get an evergreen place, something that doesn't follow fashions or trends, but that wants to become our customers' extended family for years."
We asked Sinesi the difference between Al Valentino in Milan and Il Divo in New York since they are both "upscale Italian" and have the Valentino theme. The affable restaurateur reveals, "I tried to follow the same concept for both locations. The attention to the food is outstanding as is the décor. I took care of every single detail in designing both locations, with paintings and portraits dedicated to Rudolph Valentino and the 1920s era. Both restaurants want to make the customer feel right at home. The only difference I could think of is that Il Divo is a little smaller than Al Valentino, even though I prefer to say that it is 'cozier.'"
ROOTS IN MILAN
Sinesi has had many great moments in his career and will soon be bringing his children into the business. He regularly travels back and forth to Milan and tries to be as hands on as possible. Sinesi openly discussed the major highlights of his career with us: "The first one was probably in 1992 when I became manager for the first time at Ribot restaurant in Milan, followed by becoming owner of Il Primo Novecento restaurant in 1998. The 'crowning achievement' so far could be following my old dream of coming to the US and opening a restaurant in New York. All this would have not been possible if it wasn't for the experience I had and for what I have learned at Savini in Milan, where I first started."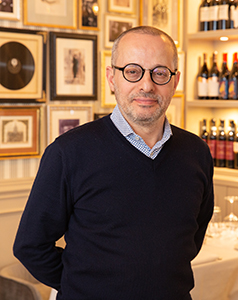 Antonio Sinesi
Executive chef Matteo Limoli (who came to Il Divo directly from the wildly popular Il Mulino in Tribeca) says that there are a lot of new items to look for in the months to come. He tells New York Lifestyles, "My team and I would like to try and push our kitchen a little more; we want to keep provoking our dishes, a goal that we had in mind since the beginning of this journey. We have in mind a different kind of menu for late spring and summer, always based on Italian traditions, of course. We want to work with every single ingredient and want to push each of their main features to the top: salty, sweet, bitter, etc."
FARM TO TABLE PRODUCE
Limoli adds that he often has vegans and vegetarians in mind when creating new dishes and takes pride in the freshness of Il Divo's produce. He states, "We do (always) take into consideration the whole vegetarian and vegan world, and we also offer gluten free options without losing the Italian traditions and our idea of food service. We work closely with many farms around New York, especially ones in Pennsylvania. We want to get as many products as we can from local sources, but it is still a work in progress."
In a nutshell, Il Divo has it all—a truly unique and glamorous look, an intimate atmosphere, friendly, attentive staff and classic Italian cuisine with a sophisticated flair. Whole families are welcome and there is truly something for even the most persnickety eater in your pack. Il Divo promises an experience fit for a movie star!
For more information on Il Divo, visit ildivo.restaurant. Reservations are strongly recommended.