CUBA
It Will Sweep You Off Your Feet!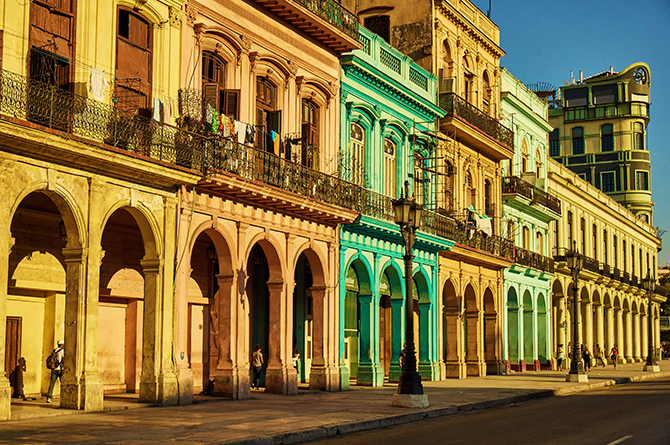 By Maxine Albert
Cuba is sizzling. It's hotter than ever, and I don't mean the temperature. The history, art, music, vintage cars, colonial architecture—and, of course, cigar making--are all fantastic. With a vast array of flora and unspoiled eco-systems and plentiful wildlife, Cuba is a great Caribbean hotspot for nature lovers as well as culture vultures. We begin our journey in Havana to explore old streets and get a taste of the local life.
Back in the 50s, wealthy playboys, beautiful models, socialites, jet-setters and Hollywood stars such as Frank Sinatra, Ava Gardner, and Marilyn Monroe frequented glamorous Havana with its glitzy casinos, swanky hotels, and swinging nightclubs. Marlon Brando loved to play the conga drums. "The discovery of Cuban music almost made me lose my head," exclaimed the legendary actor. I felt the same way when I saw the movie The Buena Vista Social Club, with those suave romantic ballads crooned on Havana's streets. The music, so rhapsodic, stirred my being; its sultry Latin sound is the very heart and soul of this storied island.
FEEL THE MAGIC
You feel the magic the moment you arrive. Havana has an aura of romance and mystery, with its breezy seawall promenade, royal palm trees, fragrant orchids, and grand Neoclassical, Art Nouveau and Baroque buildings with ornate carvings and wrought iron balconies—many being restored for Havana's 500th-anniversary celebration in November. You can't help but be enthralled by the 50s vintage American cars—Thunderbirds, Chryslers, Cadillacs painted in vivid Technicolor shades, many in mint condition, used as taxis. A 1957 Chevy Bel-Air was my means of transportation in the enchanting city.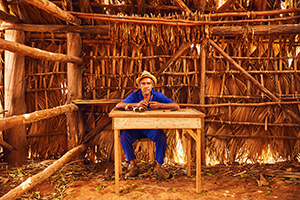 I turned to Cuba Candela to organize my visit, as I wanted an authentic off-the-beaten-path experience. They choose my residence in Havana, a stylish European-looking mansion remade into a small splendid boutique hotel in the upscale Miramar District, with vibrant art photos, voguish décor and a beautiful sitting room with piano, perfect for pre-dinner daiquiris. My room on the upstairs floor was more like a private suite, done in gorgeous hues of scarlet and featuring a spacious veranda with loungers and scenic views.
I took in the city's wondrous sights with my guide Cynthia, a personable local and consummate professional. Being with her was like having a friend who knew everything about the locale. After viewing historic Cuban art at the Museum of Bellas Artes, we walked the winding cobblestone streets and glorious historic squares of Old Havana, lush Plaza de Armas, and the lively, tree-lined Paseo del Prado, marveling at the architecture. Music is everywhere: in bars, cafes, from musicians on the streets and wafting from apartments with open windows. Passing a group of men playing dominoes on a makeshift table outdoors, we wound up at a private terrace for sunset mojitos serenaded by a trio on guitars and bongos playing Cuban classics including those beautiful Buena Vista Social Club songs.
SIGHTS & SOUNDS
That evening we had reservations at the recently opened Tierra Restaurant within the VIP section of Fabrica de Arte, a former cooking oil factory and now the hippest spot in Havana. The menu features a variety of international dishes from Portuguese beef, Greek lamb moussaka, to Grandmother Carmen's confit pork dough from the fields of Cuba. After dinner, we were escorted into the art gallery-nightclub space where a fashionable crowd meandered about various rooms with art exhibitions, music concerts with bands, solo singers, a dance area (with classes) and trendy bar serving up the best rum cocktails.
During the next few days, I discovered a fascinating side of Havana: walking a picturesque neighborhood in Central Havana with a resident who calls himself a spiritual warrior who knows everyone. We visited his favorite spots along the way greeting a talented street artist as well as his mother, a barber, at her shop.
We also met a popular tattoo artist at his workshop; dabbled in a psychic reading using sacred stones by Yoruba priests (a religion with descendants from various West African Countries); and experienced what Cuba is all about. Then it was onto the art studio of a renowned cartoonist-poster artist, took a private salsa lesson with famous dancer Elio and couldn't resist cruising around the city in a gleaming purple 1951 Chevy Deluxe convertible, sporting sunglasses, with cool music blasting on the radio—a signature Havana experience.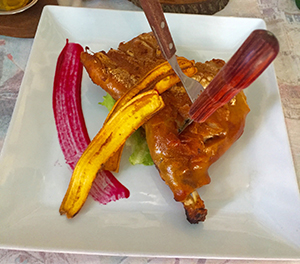 INCREDIBLE DELIGHTS
The restaurants were first rate with creative chefs serving up modern and traditional fare that will delight any food lover's palate. Some standouts: Ivan Chef Justo, an antique and photo-filled 18th-century colonial mansion with the best suckling pig in town; El del Frente with a rooftop terrace and luscious grilled lobster; and chic La Guarida, for tastiest papaya lasagna and snapper carpaccio. Nights in Havana are sexy with steamy jazz haunts like La Zorra y El Cuervo. Lovers stroll the seafront boulevard, the malecon, caressed by gentle breezes off the bay. On the streets and in salsa clubs such as Casa de la Musica people dance the night away.
ON THE ROAD TO TRINIDAD
After a few fabulous days in Havana, we headed to Trinidad, Cuba's gorgeous perfectly preserved colonial town, a UNESCO World Heritage Site with brightly colored buildings, a neo-Baroque main square and cobblestone streets with donkeys and horse-drawn carriages passing by. We checked into a junior suite at La Casona, an atmospheric, terra cotta 6-room lodge with private terraces, lovely gardens and mountain views on the edge of town that's also a working farm with horses on site.
By day, I wandered the charming town streets filled with quaint shops and outdoor markets displaying local wares and also hiked trails to waterfalls with ponds for swimming, in the surrounding hills. Nights are dreamy with outstanding cuisine served in elegant converted mansions such as Sol Ananda and its Restaurante Museo 1514 which has a live band and salsa dancers who invite guests to join. After dinner, the action is at the outdoor Trinidad branch of Casa de la Musica in the main square with music every night where locals and visitors alike kick up their heels as they rumba, salsa, and cha-cha.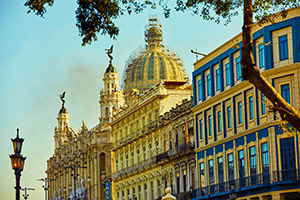 PLANNING YOUR TRIP
I went to Miami based-travel company Cuba Candela, specialists in creating the top unique, culturally rich, bespoke trips that stay within the guidelines U.S. citizens have to meet. They arranged everything including hotels, restaurants, night venues, transportation, a remarkable itinerary with an expert guide and fashioned a trip that gave an authentic insider experience of the real Cuba I could never have done by myself. Info: cubacandela.com.
JetBlue offers direct flights from JFK to Havana and also provides service to other cities in Cuba, such as Santa Clara, the closest airport to Trinidad. If you haven't arranged your visa beforehand, you can buy it from the airline when you check in at the airport. Info: jetblue.com.