AROUND TOWN
Williamsburg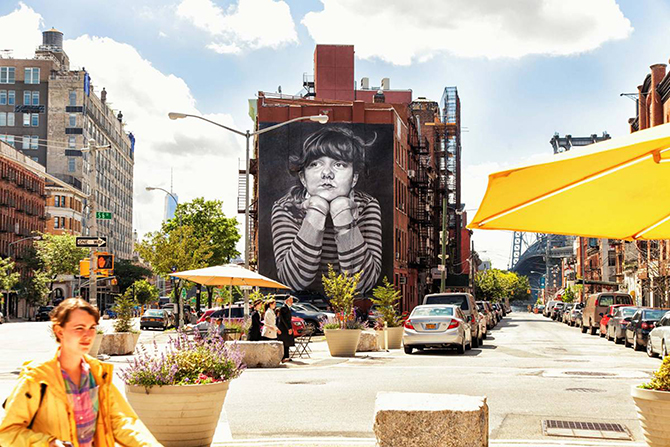 By TJ Johnson
Williamsburg is back! With all the L train concerns over the years, prices had been steadily going down and sales slowed down in Brooklyn. Now that the L train madness is over, you may have waited too long to pull the trigger on your new apartment, because Williamsburg is seeing a spike in sales and prices once again.
There are still a number of reasons to call Williamsburg your home. As you walk through Williamsburg, experiencing trendy shops and stopping in to eat at one of many amazing restaurants, you seem to get more hip the longer you stay. Here, some places to consider.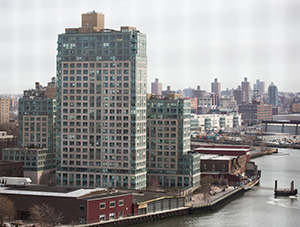 Schaefer Landing North 440 Kent Avenue
WILLIAMSBURG LIVING
There is a lot of happenings in Williamsburg, and most of which is easily located near transportation. Here, some places to consider.
Schaefer Landing North Located at 440 Kent Avenue, this post-war high-rise condominium is within walking distance of the Williamsburg Bridge and the waterfront.
Residences feature floor-to-ceiling windows and high ceilings, providing breathtaking views of Lower Manhattan and the East River. They are finished with hardwood floors, and several apartments have terraces. The kitchens are equipped with stainless steel GE appliances, and are finished with marble and granite countertops. The bathrooms boast double vanities and glass showers with granite, limestone, marble and slate tile finishes.
Not to be overlooked are the amenities which include a bike room, children's playroom, courtyard, fitness center and garden. Residents can enjoy the services of a full-time doorman and garage parking. Schaefer Landing North also features a business meeting room, lounge space and a rooftop deck. Pricing for 2 bedrooms start at $1.2 million.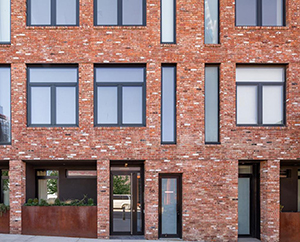 56 South 3rd Street
56 South 3rd Street If you like the loft-like feel and want to live in Williamsburg, this would be the place to look. It's located on the quieter side of Williamsburg, but it's still surrounded by hip bars, restaurants, and shops. 56 South 3rd Street has been impeccably and thoughtfully designed to create six massive and unique lofts. Reconstructed in 2013, 56 South 3rd Street features four floors to house the six apartments. These elegant new homes feature expansive living and kitchen areas, high ceilings, oversized windows, laundry rooms and private outdoor spaces. The building also includes a large, communal rooftop deck. Presently, there is a 2400-square-foot loft available for $3,495,000.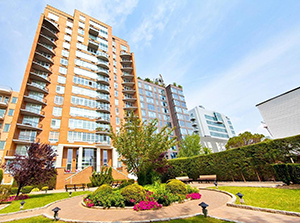 20 Bayard Street
20 Bayard Street One of the most standout buildings in Williamsburg is 20 Bayard Street. This beautiful 17-story building is known for being the tallest building on McCarren Park, but it's not just the building's height that gives it the wow factor; the condominiums it houses are equally spectacular. The homes here offer some of the best views of the park, and the Manhattan skyline, making them extremely sought after for anyone wanting to live in Williamsburg.
While the building has been designed by Karl Fischer, the interiors of 20 Bayard Street feature the designs of Andres Escobar. The apartments feature high ceilings and maple plank floors, along with floor-to-ceiling windows through which the aforementioned stunning views can be seen. Spacious and elegant, the apartments also have well-equipped kitchens and bathrooms, with state of the art appliances, fixtures and finishes. Pricing for 1 bedrooms start at $900,000.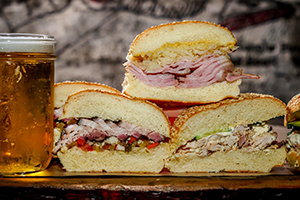 Fette Sau BBQ
BROOKLYN BITES
With so many amazing places to eat in Williamsburg, it's hard to cover them all. However, I will tell you about two favorites—that never disappoint.
Fette Sau BBQ Located at 354 Metropolitan Avenue in Brooklyn is one of the best barbecue restaurants you'll ever visit. Everything from the ambiance to the food is absolutely fantastic!
In the early spring of 2007, Joe Carroll opened Fette Sau with a bar focused on local craft beer and small production American spirits. The menu is simple and focused on the meats, all of which are heritage breeds raised naturally by small family farms and contain no antibiotics or hormones. The barbeque is one part Central Texas and one part New York Deli. The meat is ordered by weight and served on butcher paper. All the traditional barbeque cuts are served along with plenty of not-so-traditional menu choices like beef tongue pastrami, pork belly, and veal heart. Info: fettesaubbq.com.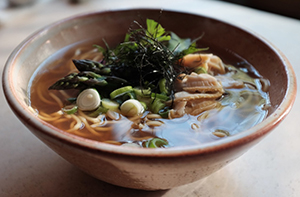 OKONOMI // YUJI Ramen
OKONOMI // YUJI Ramen My other go-to place is located at 150 Ainslie Street. Being a frequent visitor of Japan, I'm always excited to find a place that offers a traditional Japanese breakfast. This place is fantastic, offering the Japanese breakfast and dinner at night. If you are in Williamsburg you should definitely give Okonomi // Yuji Ramen a try. Info: okonomibk.com.
---
Thelonious "TJ" Johnson is a licensed broker with Brown Harris Stevens, teamed with Ogden Starr, who enjoys sharing his tips on his favorite city. If you are looking for a residence in Williamsburg—or anywhere else throughout the city—contact him for any of your buying or selling needs. Info: bhusa.com/real-estate-agent/thelonious-tj-johnson.