HOME DÉCOR
The Latest Trends From The Experts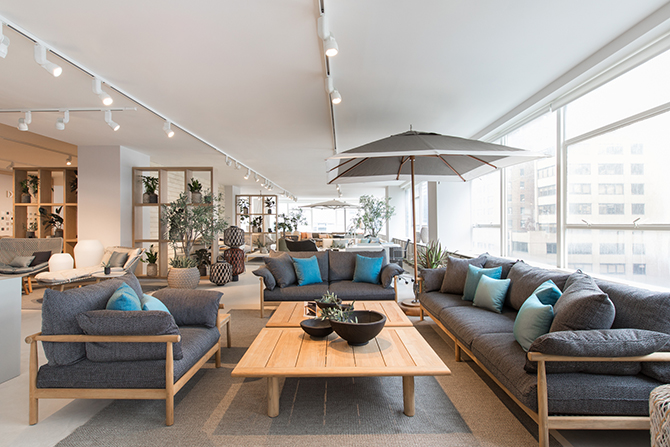 Dedon NYC Showroom ©Federica Carlet
By Isabelle Harrington
Trends, whether we subscribe to following them or not, provide a necessary outlet for experimentation and conversation. Some are fleeting while some leave a lasting impact. Here, the latest from the recent Decoration & Design Spring Market and Kips Bay Decorator Show House events.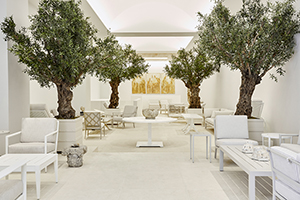 Mckinnon and Harris DDB Showroom ©McKinnon and Harris
OUTDOOR LIVING
People are spending more time in their homes and investing in creating a sanctuary. That might explain why outdoor furniture and textiles are one of the largest growing categories in the design industry. The Decoration & Design Building (DDB) has a curated collection of internationally renowned outdoor furniture showrooms, including the likes of McKinnon and Harris, Kettal, Walters, Vondom, Dedon and Gloster, as well as countless showrooms now carrying high performance outdoor textiles from fabric to rugs. Now considered an extension of interior spaces, the "outdoor room" can be appointed with all the comforts of home, including weatherproof technology. The Christopher Peacock showroom is redesigning their terrace with Janice Parker Landscape Design, featuring David Harber sculptures and enhanced by Architechnology Design's smart home system utilizing DDB's Crestron and Lutron brands.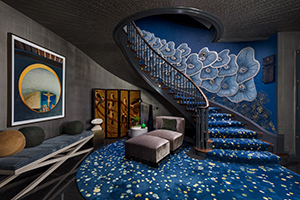 Richard Rabel Kips Bay Entry
©Nickolas Sargent
WALL MURALS
A trend that has been on the rise over the last several seasons, wall murals are becoming a designer's go-to wow factor for commercial, residential and hospitality spaces. They have the ability to transform a space and transport the mind, providing an escape-like experience. The iconic designer known for her worldly, layered and curated interiors, Charlotte Moss employed an oasis-like scene in the Kips Bay Show House master bedroom she recently designed for an imagined well-traveled couple.
At Schumacher, they recently introduced their take on the trend with Iksel's latest collection, which premiered at DDB's market event as an Experiential Event. "The mural panels offer a way to make a statement in any room…and are a great value which allows anyone to use a trend in their home," said Schumacher's Regional Director/NY, John Amato. Many other DDB showrooms such as Élitis, Osborne & Little, and Gracie offer their take on the wall mural trend.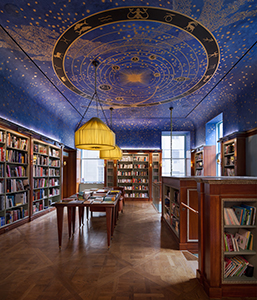 Atelier Bookstore ©Atelier Bookstore
PAINT EFFECTS
Gone are the days of flat paint that gets lost in the overall design of a space. With an infusion of craftsmanship, paint can be transformed into a one-of-a-kind feature and focal point of any space. DDB newcomers from France, Ressource House of Paints and Atelier Premiere both offer distinctly different approaches to paint; the former specializing in lime washing and texturizing, with the latter in faux finishing and gilding. Paint effects, including but not limited to plaster texture, high gloss finishes, faux detailing and color blocking were spotted on just about every floor of the Kips Bay Show. To name a few, Cullman & Kravis' celestial dining room with its lacquered and gold speckled walls, J. Cohler Mason's shimmering textured plaster giving new depth the Benjamin Moore's pearlescent paint, the understated bathroom by Pappas Miron enveloped with Ressource House of Paints signature lime wash, Richard Rabel Interiors + Art statement-making stairway, Vicente Wolf's high gloss, high impact aubergine-hued bath, Gluckstein Designs' faux decorative trim, and Young Huh's aptly named artist's loft that takes paint to new heights.
FEMINISM IN DESIGN
Female Retreats are a reoccurring, industry-wide trend that we hope is here to stay. Throughout the Kips Bay Show, we saw a record number of female-focused spaces, juxtaposing sophisticated pastel palettes with traditionally masculine shapes, and innovative interpretations as to how a women's retreat or sanctuary should appear and operate.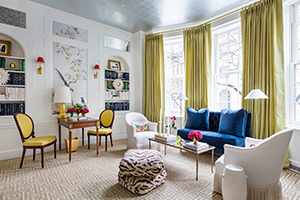 Paloma Contreras Kips Bay
©Nickolas Sargent
In his recent Kips Bay space, Designer Corey Damen Jenkins focused in on this female initiative and speaks to the importance of creating supportive and conducive environments for the modern woman. "Male designers are in a unique position to be an advocate for what women need in a household," said Jenkins. "I wanted to do a Ladies Library where today's woman can do it all, from taking care of households to running their businesses. Women are the backbone of society, which doesn't always give them the resources to carry out the responsibilities like it should. They want their own command centers. The houses with man caves are over," explained Jenkins. In addition, traditional concepts of feminism are challenged and explored by Paloma Contreras, Eve Robinson, Robert Passal, and Sarah Bartholomew.
The DDB is doing their part to support women in design as well. "It is an honor to support and be a part of the global dialogue that is redefining feminism," said Alyssa Abrams, Senior Marketing Manager of D&D Building.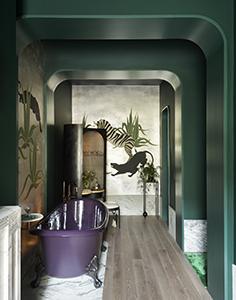 Studio DB Animal Motif
©Matthew Williams
ANIMAL MOTIFS
Animals, be it prints or full forms, are an ever present stand-by in design. This season, however, we are seeing an explosion of representation from across the animal kingdom. Sheila Bridges Design dedicated her jewel-box of a space at the Kips Bay show to (wo)man's best friend while Studio DB accented their moody and glamorous bath with life-size depictions of exotic animals. Paloma Contreras featured a menagerie of birds while J. Cohler Mason made a big impact with tiny creatures, insects, another micro-trend emerging this year. Notably, the industry as a whole has seen a rise in animal prints, mirroring the leopard craze currently taking over the fashion world with no sign of slowing down.
---
For more information on the Decoration & Design Building, visit ddbuilding.com; for Kips Bay Decorators Show House, visit kipsbaydecoratorshowhouse.org.