RESTAURANT ROUNDUP
HERE'S TO DAD
By Patricia Canole
Give the man of the house a break from the barbecue this Father's Day and take him out for brunch, lunch or dinner. We've rounded up the best places to take him to dine, from eateries featuring steaks and more.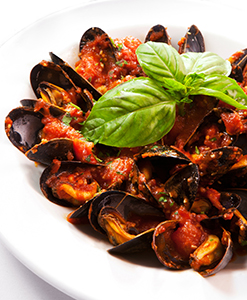 PATSY'S ITALIAN RESTAURANT
This favorite West 56th Street eatery is pure elegance and warmth—made famous by The Chairman of the Board himself, Frank Sinatra—and operated by the Scognamilla family. But what makes it a lasting NYC institution is not so much the celebrity clientele, but the food. This is where they know how to make the red sauce—from marinara to pizzaiolo.
According to third-generation Chef Sal Scogmanillo, many guests love all things stuffed including the Veal Rollatini Marsala with Mozzarella, Parmigiano-Reggiano, and Prosciutto or the Trio of Ravioli, each separated with lobster, spinach, and mushrooms. A big hit is the Stuffed Artichoke filled with a mixture of garlic, bread crumbs, Gaeta olives, capers, and anchovy.
Make sure Dad orders the signature Veal Meatballs and Spaghetti—a genuinely unforgettable dish. Chef Sal re-created his grandfather's Patsy's recipe and considered by many to be tender and flavorful. Served with a simple tomato and basil sauce, it's a Number 1 in our book. Other entrees include Striped Bass Marechiare in a light garlic sauce with tomato and white wine. Or perhaps the Chicken Pizzaiola with Mushrooms and Peppers served in marinara sauce (hot cherry peppers are optional) will score points.
Be sure to toast the man of the hour with fine wine. The varietals are impressive and reasonably priced. Info: patsys.com.
---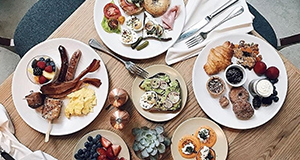 JAMS RESTAURANT
A trailblazer among chefs, Jonathan Waxman opened the original California-inspired Jams on the Upper East Side in 1984. It was New York City's first parlay into American cuisine with something more creative and more healthful than a classic diner (think: Californian cuisine). Jams was an instant hit and carved the way with farm-to-table New American cuisine. Today, with its brick walls and modern décor the restaurant vaguely recalls the previous version through photos of the 1980's venue and a menu that line the walls and the smattering of dishes from the original.
Classics such as Tarragon-laced Chicken or Seared Scallops are both solid choices. New selections dad will love are Grass-fed Strip Steak, Maine Sea Scallops, or a perfectly done Pan Roasted Black Sea Bass. The weekend brunch is a favorite with a menu of Signature Pancakes, Mini-Blinis topped with Smoked Salmon, Caviar, and Crème Fraîche. There's an extensive wine list spanning the U.S. and Europe. Info: jamsrestaurant.nyc.
---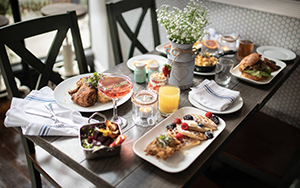 NORTH FORK
Styled with Long Island's North Fork in mind, this West Village eatery is all about locally sourced food and wine. At the weekend brunch, those ingredients go into dishes like Sweet Potato Toast, Chicken and Waffles, and the "Brexit" Full Irish Breakfast complete with Blood Pudding. The menu—created by Chef Chris Fusaro formerly of Talde in Jersey City—intrigues with even more tasty surprises. Look for Grilled Octopus with Pineapple-Ginger Salsa, Diver Scallops with Purple Sweet Potato Puree, and Slow-Roasted Herb Chicken with Biscuits. The rustic yet modern setting is inviting and will make you want more. The well-prepared menu is served in a rustic yet modern setting inspired by the North Fork region of Long Island where people shop the local farms and vineyards. Drinks from nearby wineries and breweries are also available. How comfortable is that! Info: northfork.com.
---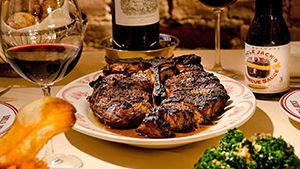 UNCLE JACK'S STEAKHOUSE
This restaurant, which has been open since 1996, cultivates the atmosphere of a venerable New York institution—mahogany bar, pressed-copper ceiling, speakeasy décor. We visited the flagship Uncle Jack's in Bayside (there is a Manhattan outpost on Ninth Avenue). Start with a toast to dad with the handcrafted cocktail or the famous Bloody Mary (it's potent!). Then order a selection of appetizers for the table including Lollipop Lamb Chops sprinkled with bread crumbs, garlic, and rosemary; Bluepoint Oysters; and a delicious Buffalini Mozzarella in a balsamic reduction sauce. There's more to come. Porterhouse is the specialty, but there's also the Prime Rib, as well as the Filet Mignon. All meats are cooked perfectly, the char exactly even on both sides.
And for those wanting to brunch instead, there are plenty of tasty options. Try the Lemon & Mascarpone Pancakes with Maple Syrup and the B.F.F. Steak & Eggs (any style you wish) served with Rustic Hash and Salsa Verde Herb Salad. Whether it's a brunch or dinner, end the feast with the delectable Apple Strudel or the favorite New York Cheesecake. Info: unclejacks.com.
---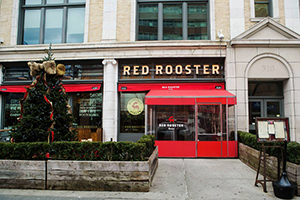 RED ROOSTER HARLEM
A neighborly and refined addition to Harlem, Marcus Samuelsson's Red Rooster is both a gathering place for locals and a world-famous destination restaurant. The comfortable restaurant feels like a loft, with an open kitchen, walls decorated with artwork and shelves crammed with a collection of nostalgic knick-knacks. The menu is as eclectic as the décor, focusing on soul food but tracing a direct path to the chef's Swedish and Ethiopian roots. Appetizers and main courses will delight the senses. To start, try Helga's Swedish Meatballs, a staple from the chef's early days at Aquavit. Cornbread with honey butter harkens to the South as do three standout main courses: Blackened Catfish, Creamy Macaroni, and the Signature Fried Yard Bird (chicken) served with Mace Gravy A side of smoked collard greens is a must. You'll want to leave room for the Sweet Potato Donuts, or Cheddar-Crust Apple Pie washed down by a mug of rich African java or fragrant green tea, so you can linger and enjoy the atmosphere. There's a wine list including bottles from Austria, South Africa, and Argentina. Info: redroosterharlem.com.
---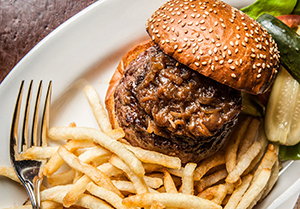 MINETTA TAVERN
This 85-seat eatery in the heart of Greenwich Village has had history on its side; since the 1930s, the bistro-like restaurant has been home to many a poet and writer, sports stars and celebrities. But then restaurateur Keith McNally (of Balthazar fame) took over. After a complete restoration, he revamped the menu too, turning it into an old-school palace of meat. Enjoy a caramelized onion-topped Black Label Burger or a choice of two steaks—a Côte de Boeuf and a Strip—that could rival steakhouses uptown. Other standouts include a Filet of Trout Meunière, Roasted Lamb Loin, and Prawns with Celery Root Rémoulade. There's also the well-liked Pasta Za Za with Pancetta, Parmesan and a Fried Egg. Weekend brunch, which offers plenty of egg dishes, burgers, among other entrées, is a slightly easier time to nab a table. The wine list is extensive; the cocktails, as one would expect, are classic. Info: minettatavernny.com.
---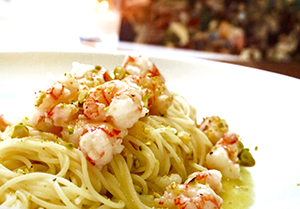 MAMO
MAMO has all the ingredients to delight the palate and the eyes of its patrons. The décor features exposed brick, clean white lines, oversized vintage movie posters, and a beautifully designed marble bar.
Executive Chef Salvatore Marcello curates the incredible menu. Originally from Naples, Italy, Salvatore was born into a family of cooks and bakers, igniting his passion for food at an early age. Start with Come a Capri (heirloom tomatoes, burrata, and basil) or Fiori di Zucca Ripieni e Fritti (stuffed zucchini flowers with tomato and mustard sauce). Continue your dining experience with an entrée of Petto di Pollo Arrosto con Verdure Alla Girglia (roasted chicken breast with grilled vegetables, balsamic and rosemary sauce). For those who want lighter fare, try one of the renowned pizzas such as its Foccacia al Tarfuto with Parmesan, Cantal, and Truffle. Or, perhaps the thick juicy burger will do just fine. And be sure not to miss the velvety Tiramisu for dessert. Info: mamonyc.com.
---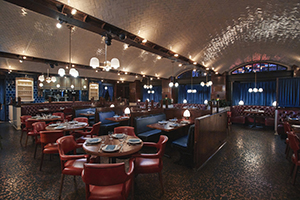 THE STANDARD GRILL
The restaurant is now helmed by celebrity chef Rocco DiSpirito, a James Beard award-winning chef and New York Times best-selling author. After nearly a decade away from the New York restaurant scene, Chef Rocco made his return late last year with a menu of healthy and indulgent options from the extensive fresh daily raw bar and Japanese-style binchotan grill. Guests can expect wood-fired vegetables, steaks and other meat dishes as well as his signature items like the Peconic Bay Scallops & Uni dish first served at the chef's critically acclaimed Union Pacific restaurant. A definite must is the memorable Truffle Risotto with Red Shrimp. The menu celebrates sustainable, fresh, organic and local ingredients from purveyors he knows and trusts and includes a robust selection of vegetarian and gluten-free options. Info: standardgrill.com.