LEXINGTON, KENTUCKY
History, Horses…And Bourbon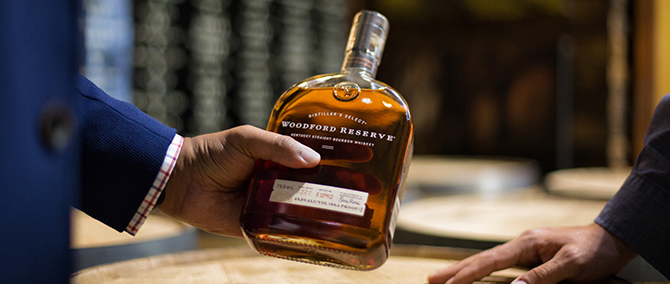 By Ruth J. Katz
When I first visited Lexington nearly a decade ago, I was struck by the spectacular aerial approach to the aptly named Blue Grass Airport. The rippling terrain is blanketed by a neatly trimmed tapestry of intense Kelly green, accented with a staccato dot of a majestic oak or sycamore, and all demarcated by snowy-white, rectilinear patterns, formed by the post-and-rail fences. (For the record, there are 450 horse farms in the region.) Enthralled by the topography, I later learned that the peripatetic, former CBS news eminence grise, Charles Kuralt, in his 1989 book, On the Road with Charles Kuralt, had declared that this was the most striking airport descent he'd ever seen. It is a fitting introduction to such an outstanding destination.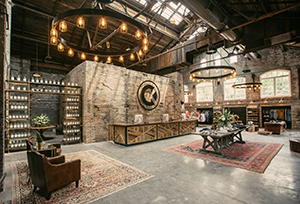 Castle and Key Distillery
Of course, most people know Lexington as the epicenter of bourbon, and to underline that, there are 14 bourbon distilleries within 45 miles of the charming downtown, including the renowned Woodford Reserve. As a testament to that, the Bluegrass Tavern in downtown's Cheapside district stocks more than 800 bourbons for savoring! A staggering 95 percent of the world's bourbon is aged in Kentucky, and at any given moment, there are more than 7.5 million racked bourbon barrels. (And here's a tidbit to drop at cocktail parties: During Prohibition, nearby Buffalo Trace Distillery was one of only four stills with a government license to produce "medicinal whiskey." Ahem.) Insider tip: Tour the gardens at Castle & Key Distillery; they are both manicured and wild—painstakingly replicating the original grounds from nearly 150 years ago—handsomely executed by Lexington's star landscape architect, John Carloftis. And, of course, tour the distillery, too! It is worth noting that while bourbon is Kentucky's king, there are 18 craft beer breweries within a stone's throw of downtown. (Psst: The city has created a Brewery Passport for checking them out.)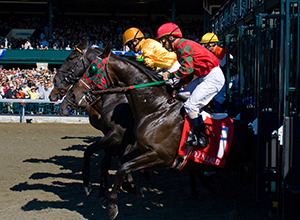 Gate Start at Keeneland
RACE TO THE FARMS
Of course, the Thoroughbred reigns supreme and there are tours at many horse farms. Racehorses are generally cremated, and only the head, heart, and often the hooves are interred, but at Claiborne Farm, the legendary Secretariat, winner of the 1973 Triple Crown, is buried in toto. When the celebrated Man o' War retired to stud in the Bluegrass, visitors flocked to see him and when he died, there were 63 ledgers with over 1.3 million signatures! At Coolmore America, two Triple Crown winners, American Pharaoh and Justify, stand for stud and are star attractions.
Do not omit the Kentucky Horse Park, set on 1,200 acres of prime Bluegrass farmland, with three museums, horse-drawn tours, carriage rides, horseback riding, pony rides, and much more. The National Horse Center at the Park is the national headquarters to more than 30 equine associations. Keeneland Race Course, a National Historic Landmark, is ground zero for all things horse-related for the pros, including the most important Thoroughbred sales each year. Races take place in April and October (this year, October 4th through 26th), and if you are there then, reserve a table at lunchtime in one of the facility's dining rooms, so you can savor the delicious cuisine while you place your bets and watch the action on TV.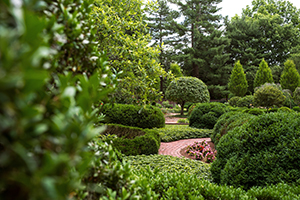 Ashland Henry Clay Estate Gardens
SEEKING HISTORY?
There are four extraordinary estates to visit: Ashland, the home of the statesman, senator, Speaker of the House, and Secretary of State Henry Clay, is a National Historic Landmark and features 20 wooded acres and an English parterre garden. The Mary Todd Lincoln House, a Georgian-style brick structure, was the former First Lady's childhood home  and is one of the oldest structures in town. Hopemont, the Hunt-Morgan House built in 1814 for the first millionaire west of the Alleghenies, is a striking, Federal-style edifice and a living museum with its period garden and its own Civil War Museum. Built for a grand-nephew of Daniel Boone, Waveland, a State Historic Site, is a stellar example of Greek Revival-style and was the heart of a hemp plantation (replete with its slave quarters), pre-Civil War.
Not into unfurling the past? Want something a bit more animated? "Meet the Family" proclaims the sign outside the pen where the American Guinea Hogs Lucy and Sally frolic in the singular Shaker Village at Pleasant Hill, the largest restored Shaker community in the United States, with 3,000 acres of farmland and 34 restored 19th-century buildings. It is an extraordinarily educational and entertaining attraction, with 72 hotel rooms (traditionally outfitted with trademark Shaker furniture), and a hospitable dining room, the Trustees' Table, with its seed-to-table menu. (Devotees flock here for the iconic coleslaw and the pimento cheese spread.) The Village, another National Historic Landmark, offers dozens of inventive daily activities.
One last juicy morsel: Margaret Mitchell's inspiration for Belle Watling in Gone with the Wind was the real-life, notorious, local madam Belle Brezing, who ran a high-class, Victorian-era brothel in Lexington.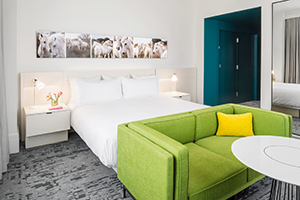 Stylish Room at 21c Museum Hotel
WHERE TO STAY
The 21c Museum Hotel is a gracious, modern facility with outstanding art in its many galleries. One of seven properties in the 21c Group, it is the brainchild of Laura Lee Brown and Steve Wilson, contemporary art collectors and preservationists. Each hotel is home to carefully curated art exhibitions, and each has an artistic army of plastic, four-foot-tall penguin sculptures, which you can bring to your room or table. Another choice is the Kentucky Castle, built over fifty years ago as a private residence, and today a welcoming inn.
For more information on Lexington, Kentucky, visit visitlex.com and visithorsecountry.com.
© 2019 Ruth J. Katz all Rights Reserved