GUATEMALA IDYLL
Welcome To A Tropical Paradise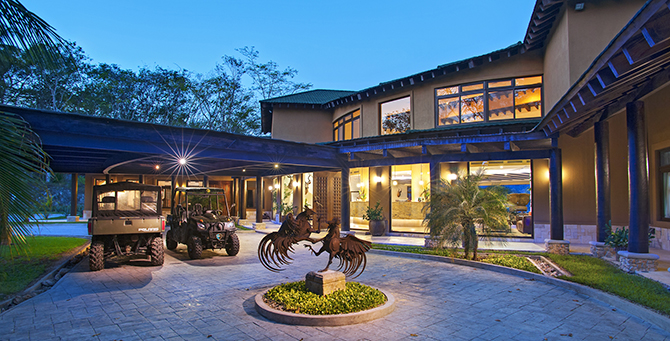 By Sherry Amatenstein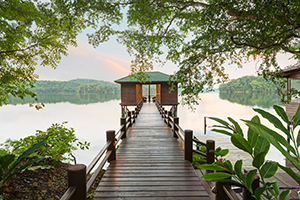 There is a sudden 'thump' on the blue roof of our pontoon. We squeal with delight—mostly!—as the 'thumper' hops inside, screeching as she races around, sniffing at tote bags, then hanging upside down off the boat's stern. Our visitor, Lanchera, is one of the residents of Monkey Island, a 30-acre reserve for rescued spider monkeys run by our hosts Las Lagunas Boutique Hotel, an intimate eco-hideaway in the Peten region of Guatemala.
Lanchera's primary objective in her pontoon foraging is the bucket of bananas and beets brought along by our guide/naturalist. While the monkey consumes, the humans alternately watch Lanchera and the entertainment on the island: monkeys swinging in trees. Our visitor stays onboard as we finally motor away on tranquil Laguna Quexel. The guide explained that monkeys often grab a ride to another of the resort's islets. Sure enough, she hops out when she reaches her preferred destination. "Hey, why doesn't she have to pay a fare?" I giggle while thinking, 'I must have done something right in a former life to be on this amazing trip!'"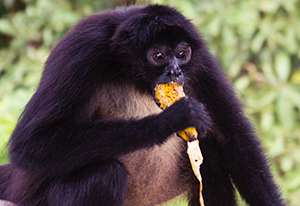 NOT ALL MONKEY BUSINESS
Spread across over 300 acres of lush jungle between Belize and Mexico, Las Lagunas is a magical retreat. Here the focus is on conserving the native species of Guatemala which include quetzal (exotic birds), toucans, ocelots and, of course, spider monkeys. The hotel has 19 private casitas featuring a deck and Jacuzzi, rain shower, and spectacular sunrises and sunsets unimpeded by a single building. The free-standing casitas, each with its own walkway are over-water which encourages peaceful sleeping even for the insomniac! There is a half-moon shaped infinity pool, full-service spa, open-air restaurant Shultan serving gourmet fare (try the native Blanco fish) and occasional serenades from snowy egrets perched on treetops. Don't miss the 915-square-foot museum featuring 600 Mayan artifacts at a time collected throughout the country over 60 years by the resort's owner.
The property offers numerous opportunities to either laze around in style or hike, bike, birdwatch, kayak or an ATV tour of Las Lagunas' natural reserve. It also provides guests a 60-minute trip to the jungle-shrouded ruins at Tikal, located an hour and change away in Flores. With so much architectural bounty, it's incredible to learn only a small portion of the ancient kingdom, which was likely home to 90,000 inhabitants, has so far been excavated!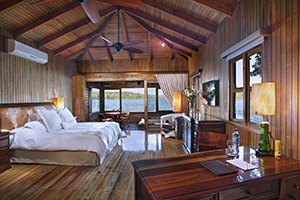 ANCIENT MEETS MODERN WORLD
Stroll through palaces, monuments, ball courts, and public squares. Trod softly and you might glimpse ocellated turkeys, monkeys, foxes, and hear the warbling of the many bird species who call Tikal home. A special treat for film fans: Temple IV, at a neck-craning 212 feet was the stand-in for Yavin 4 where Luke and Hans Solo land the Millennium Falcon in Stars Wars Episode 4: A New Hope. Two tips you'll thank me for: Hire a guide and go early in the day as the kingdom can get very hot!!
If your appetite for ruins is not sated, consider visiting Yaxha, the third-largest Mayan ceremonial city in the country. Located 18 miles southeast of Tikal and spread out over nine plazas, Yaxha, which means "green waters" has several pyramid temples and 40 stelae spread over nine plazas. While it received no visitation from Luke Skywalker, Yaxha was the site of 2005's reality show Survivor: Guatemala—The Mayan Empire.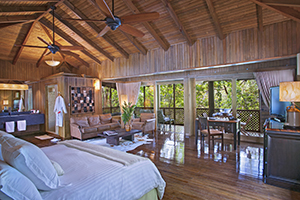 Flores also holds more modern pleasures. The town proper boasts cobble-stoned streets, colonial architecture, and copper-colored roofs. You don't need your hiking shoes as the island is only five blocks wide in any direction. Perched on Lake Peten Itza, the island is connected to the mainland and its sister town Santa Elena via a causeway bridge. While in town, taste a pupusa (thick corn tortilla with numerous tasty filling choices), hail a Tuk Tuk (a three-wheeled taxi), check out the outdoor markets and cute shops. Another day rent a canoe or hire a boatman to ferry you to Jorge's Rope Swing, a family-owned spot replete with diving board, platform, hammocks, and yes—a rope swing.
While every aspect of my Guatemalan idyll was memorable, perhaps the best part was experiencing the sunrise each morning. I watched a cascade of colors emerge over the lagoon while listening to the music of the rainforest's animals ushering in a glorious new day.
For more information on Las Lagunas Boutique Hotel, visit laslagunashotel.com.