AROUND TOWN
NOMAD
By TJ Johnson
NoMad is one of the fastest-growing neighborhoods in Manhattan, and there isn't a slowdown in sight. When the NoMad Hotel went up in 2011 and a condo building located at 241 Fifth Avenue opened, that seemed to be enough to spark interest and create a boom in the once-commercial area.
NoMad is also becoming a notable neighborhood for families. With three elementary schools—PS 11 William T. Harris, PS 33 Chelsea Prep, and PS 116 Mary Lindley Murray—plus plenty of playtime at Madison Square Park in pristine condition make NoMad a prime choice for family living. Of course, NoMad is also a great place to live if you are single or have just moved to the city. Centrally located, it's also the bedrock of new restaurants, hotels, and residential developments always sprouting up making it the happening fun-filled neighborhood it is today.
LIVING LARGE IN NoMAD
Let's explore some of the residential buildings in the neighborhood.
---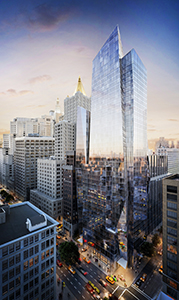 400 Park Avenue South
400 PARK AVENUE SOUTH
This is the epitome of ultra-modern, ultra-urban, ultra-luxury living. World-renowned architect Christian de Portzamparc designed this 40-story condominium. The building is stunning. Dual glistening glass peaks erupt into the sky, offering extraordinary views of the Manhattan skyline.
Luxury amenities abound in this massive tower. They've included the basics: a fitness center, 24/7 concierge service, garden courtyard, rooftop terrace, children's playroom, bicycle storage, individual storage lockers, and lounge. There is also an indoor lap pool with a Jacuzzi spa, steam room, media room, screening room, and golf simulator.
Pricing starts at $2.3 million for a one bedroom.
---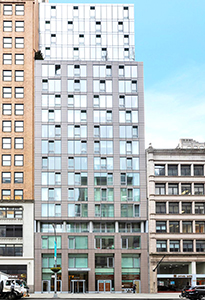 241 Fifth Ave
241 FIFTH AVENUE
The 20-story condominium and the mid-rise building offers up 46 contemporarily designed residential units. Pristine views of Madison Square Park can be seen through oversized windows, which (paired with high ceilings) allow for ample space and sophistication. The residential lobby is tastefully modeled with a concierge desk and chic decor. Kitchens come fully equipped with stainless steel appliances and dishwashers.
The building has been crowned with a rooftop deck, and the top floors of the development have been set back from the street, allowing for terraced duplex apartments. Private screenings can take place within the building's screening room, and a fitness center is also included as an amenity.
Pricing starts at $1.25 million for a one bedroom.
---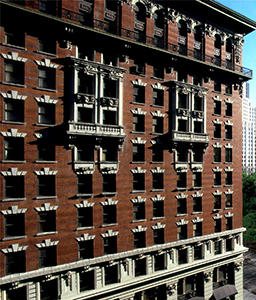 The Grand Madison at 225 Fifth Ave.
THE GRAND MADISON AT 225 FIFTH AVENUE
If classic pre-war is more your style, then I would look at The Grand Madison. Located on the northern edge of Madison Square Park in Manhattan's Flatiron District, the Grand Madison is one of Manhattan's most attractive pre-war apartment buildings. Built in 1906 in a Renaissance-revival style, this pre-war 12-story mid-rise has an elegant limestone base and ornate stone carvings below the roof. Once The Brunswick Hotel, and more recently recognized as the New York Gift Building it offered beautiful showrooms for retailers, which speaks to the classic style that can still be found here.
In 2006, it was converted into 200 luxury condos and renamed The Grand Madison. Hardwood flooring, chef kitchens, marble bathrooms complement the high ceilings found in the Grand Madison's apartments. This full-service condo conversion process also entailed a gut renovation for the building itself. New HVAC components, elevators, and windows were added, as well as duplex apartments on the upper floors.
This classic building combines Old New York-style with modern amenities. The Grand Madison offers 24-hour white-gloved doorman and concierge service, hall porter service, and a landscaped interior courtyard offering residents additional exposures and more natural light. This pet-friendly condo building also offers a rooftop deck and a state-of-the-art gym.
Pricing starts at $1.75 million for a one bedroom.
---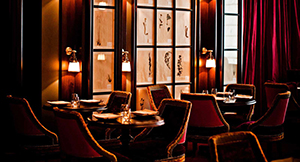 Nomad Restaurant
DINING OUT
There are a lot of great places to sit down and have a memorable meal, and there are also plenty of options for when you simply need something quick. So whether you're heading out to meet colleagues or looking for easy and fast, you'll always find it in this neighborhood. Here are some a few of my must-go favorites.
If you're in the neighborhood, you must stop at the NoMad Restaurant, located in the NoMad Hotel at 1170 Broadway. Featuring sophisticated, modern, French-inspired food, order with confidence because everything is delicious!
My next favorite is Upland, located at 345 Park Ave South, this restaurant never disappoints! Built around a California-style culinary philosophy that takes heavy cues from the seasons, Upland balances a familiar rusticity with a smart global approach, all enhanced with a New Yorker's eye for detail. The menu offers an artful array of starters, entrees, and sides, each plate accented with Chef Justin Smillie's enticing and urbane touch.
If you are looking for different and like bowls of food, I would check out Inday located at 1133 Broadway. Modern, counter-serve Indian eatery for seasonal and build-your-own bowls with a choice of proteins. So delicious and a great on-the-go spot.
---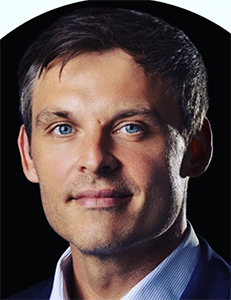 ABOUT TJ JOHNSON & THE STARR-JOHNSON TEAM Thelonious "TJ" Johnson and the Starr-Johnson Team at Brown Harris Stevens are always available for all of your buying and selling needs in New York City.
For more information contact Thelonious "TJ" Johnson.
Brown Harris Stevens Residential Sales, LLC
Partnering Worldwide
130 Fifth Avenue, New York, NY 10011
Direct: 212-317-3687; Cell: 646-236-7901; Fax: 212-319-3925
Email: tjohnson@bhsusa.com
Visit him: bhsusa.com/thelonioustjjohnson
Member of Luxury Portfolio International
Member of the Real Estate Board of New York