THE RITZ-CARLTON RESIDENCES LONG ISLAND
The Best Of Both Worlds In North Hills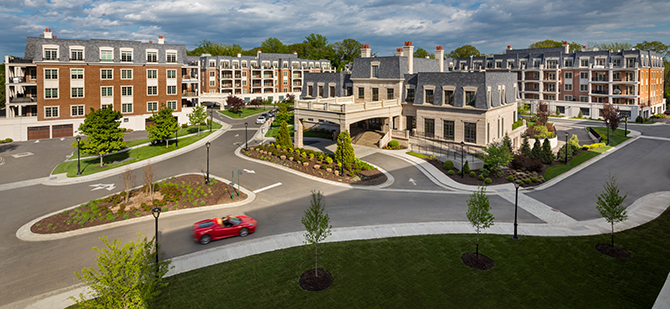 By Natasha Bazika
Whether you're a New York transplant or were born and raised, everyone knows that New York City is a giant melting pot, brimming with life, crowds, skyscrapers—and it's only getting bigger.
In an effort to deal with the growth, many of Manhattan's elite tastemakers are migrating to Long Island and are taking us with them. From interior designers to architects, Manhattanites are fawning over the luxury residences popping up beyond the picturesque island proving that you can really have the best of both worlds.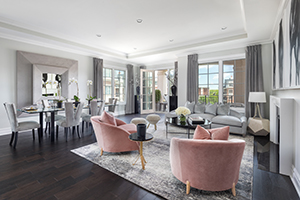 LONG ISLAND'S NORTH HILLS
Did you know you can still revel in a five-star lifestyle outside of Manhattan? And no, we're not talking about the Hamptons. North Hills is a quaint village in Nassau County, with a not so quaint residence complex. The Ritz-Carlton Residences Long Island, North Hills is set within one of America's most legendary enclaves—the North Shore. For over a century, those with a penchant for the good life have been drawn to the area for its natural beauty, social and cultural experiences. Today, New Yorkers and beyond are noticing the lifestyle and are making the move to bigger and better things, all while being within 20 minutes from the city.
A SPACE OF YOUR OWN
Upon arrival, residents drive through a gated palace with 244 luxury condominiums spread over 17 acres of lush green grass. The Clubhouse stands front and center and is the gateway for all amenities including a golf simulator, board room, indoor and outdoor pool, fitness center and yoga studio, theater-style screening room, lounge and bar and many more. Think of it as your personal reception. As for residence amenities, the list is long with a grand entrance gallery, pet-friendly attitude, club rooms, play grounds and more fitness centers. The property provides an extraordinary lifestyle to its residents, enhanced by the legendary services the Ritz-Carlton is known for.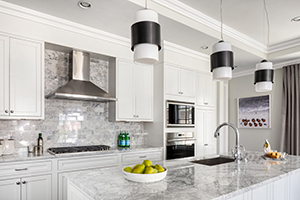 While each residence is unique in design, they all have certain things in common. A grand kitchen is equipped with stainless steel sub-zero refrigerators, five-burner gas wolf cooktop, under counter wine storage, instant hot and filtered cold water and the choice of marble, granite and quartzite countertops—just to name a few. The bathrooms are clad in statutory marble and feature a 6-foot Bain Ultra soaking tub and double vanities. The separate water closet is the extra space you deserve and the glass encased shower is a luxury on its own with rain, handheld and body spray features. However, the piece de resistance is the private outdoor space. From oversized terraces to open air penthouse balconies, residents are treated to views of the green surroundings, Clubhouse and water fountain as well as having an adequate space to entertain outdoors.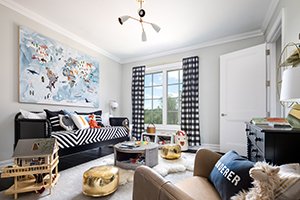 As is expected from the Ritz-Carlton, residents will enjoy exclusive services from valet parking to dog walking and housekeeping. Furthermore, the commute to Manhattan is a mere 20 minute train ride on the LIRR, but you can leave the car at home because there is a Cadillac Escalade shuttle to the train station available to residents, as well as a 24/7 concierge—in case there is anything else needed.
Pricing starts at $1.86 million for a 2 bedrooms and $2.6 million for a 3 bedroom home.
For more information on The Ritz-Carlton Residences, North Hill, visit theresidenceslongisland.com.
---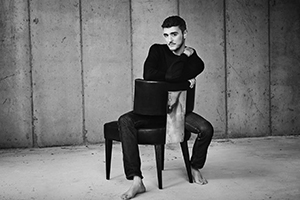 MANHATTAN-STYLE DESIGNS
Interior design is influential to Manhattanites, especially when considering a home. To cater for the Manhattan buyer, The Ritz-Carlton Residences Long Island, North Hills partnered with celebrated interior designer, Ryan Korban, to design model units.
Incorporating pieces from his first furniture collection, Korban designed a two-bedroom, two-and-a-half bathroom model unit with the stylish New Yorker in mind. Korban is no stranger to style with a past in the fashion world including A-list clients such as Alexander Wang and Kanye West. But when it came to designing his furniture collection, he said, "I wanted to show that you can still live in a certain way without having an apartment on Park Avenue. You can have a sexy coffee table and live the family way."
He proves this with the soft velvet furnishings of gray suede dining chairs and blush lounge chairs which provide an opulence to the room, while the grey velvet curtains hang subtly in the background and affords depth. In the master bedroom, a four-poster bed becomes the centerpiece, rising to meet the high ceiling. Korban's use of his signature muted palette allows each piece to exist in the space, rather than outshine. His emphasis on beauty, comfort, and entertaining clearly encompass the interests of a New Yorker, with all the intention of understanding luxury and a space that feels lived in. Info: ryankorban.com.