COARSE: NO MENU. NO PROBLEM!
DINING WITH AN ELEMENT OF SURPRISE!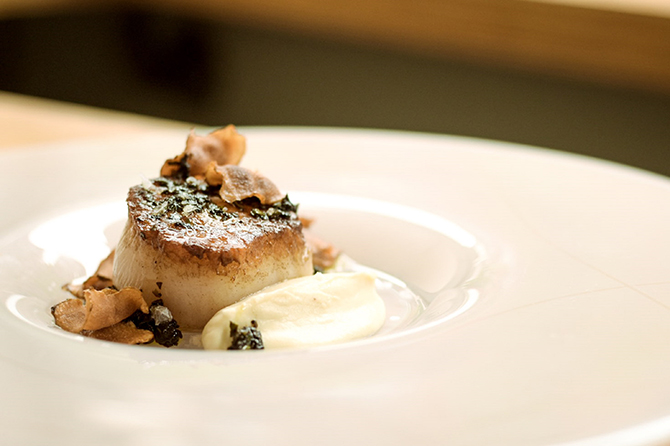 ©Kevin Hermosa
By Anne Raso
Coarse is a truly unique dining experience as it touts an eight-course "spontaneous tasting menu"—you're not going to know exactly what you'll be getting but you are in great hands with experienced chef/owner Vincent Chirico. Simply put, guests pay $99 per person for eight small mystery courses with wine pairings (as well as a "welcome Prosecco").
Chef Vincent's talented staff will discuss any allergies or food preference before the magic starts happening in the kitchen. If you need just a little hint of what you'll be eating before you go to Coarse, go to their site to see what the base of each dish will be—just don't expect more than just one or two words for each (you'll see "duck" or "almond" or "tuna" but nothing beyond that).
Chef Vincent admits that one of his greatest challenges opening up Coarse was getting folks to "trust us completely on their culinary journey from food to wine." Your eyes will open wide when you see all the beautifully presented and very unique farm fresh dishes.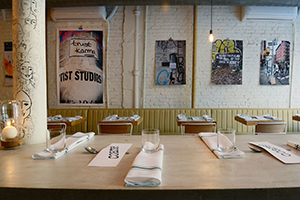 DEFYING DESCRIPTION
Chef Vincent (who has worked with top chefs including Marcus Samuelsson, Rocco DiSpirito, Daniel Boulud and Jean George Vongerichten) explains, "We discuss any dietary restrictions in real time with the guest and devise a menu for them on the spot. We are not stuck or contained to any format or menu. We cook what we're able to freshly source, which changes almost daily. Every time you come back to Coarse, it is a new culinary experience."
There is simple reasoning behind what some traditional New York foodies might consider total madness! Says Chef Vincent, "I think one of the most important things in dining is the experience. When patrons come to Coarse, they're trusting us with more than just the experience-they are trusting our culinary chops. They don't know what we will cook or serve them, but they trust us. Coarse has become a place for people to come and enjoy a tasting menu experience with creative food and wine pairings without spending hundreds of dollars per person. It fulfills my longstanding vision to create a 'tasting menu' restaurant that is fun, exciting, and most importantly, affordable!"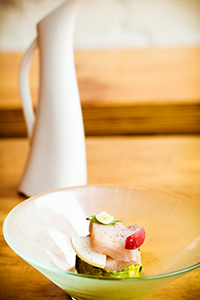 ©Kevin Hermosa
MIXING IT UP
Two-and-a-half-year old Coarse—which is a simple storefront operation with exposed brick walls seated on the cusp of the West Village and the Meatpacking District—has no pretentiousness. Chef Vincent doesn't really want the tag Modern American that it has been given in the food media. (A few outlets even describe Coarse's cuisine as "Japanese Italian fusion."). He reveals, "I never really planned any particular type of cuisine or fusion here—that said, I am Italian and have worked in mostly French restaurants. I've also done some Japanese training. I would guess that is what netted this result. I love Japanese simplicity and Mediterranean flavors and that comes through in the food we make."
Chef Vincent does not mind Coarse being called a farm-to-table eatery, however, he is very hands-on with the purchase of all kitchen provisions. He remarks, "We use local (items) as much as we can. We use companies like Natoora who help in this process as well. I develop relationships with local vendors and do the bulk of the purchasing to ensure quality."
AN ADVENTUROUS CLIENTELE
While being in a trendy neighborhood that you might think would only attract young foodies, Chef Vincent says that Coarse does not have a 'typical clientele.' He tells New York Lifestyles, "One of the refreshing things about Coarse is that there is no typical type of client. We get all types of people coming in. I believe our diners are certainly a bit more adventurous and open-minded, trusting us to deliver palate-pleasing choices. We embrace that. Word of mouth has helped Coarse become the spot for in-town business associates, friends and family, and so much more."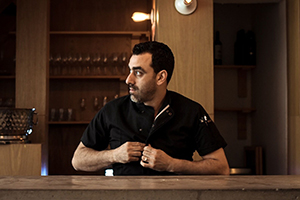 Chef Vincent
The aforementioned spontaneous tasting menu is available with or without wine pairings and Coarse also serves an exceptionally reasonable multi-course lunch for $49. A completely vegetarian tasting experience is available as well. Amazingly enough, Chef Vincent is also willing to bring his unique off-the-cuff menus right to your home for dinner parties, etc. Overall, Chef Vincent is happy about how his business has landed on Manhattan's current "hot list" but there are some difficulties below the surface. He says that it is "a big challenge to balance business and artistry. With the insane fixed costs in NYC, it is challenging to offer an excellent product at a reasonable price point (as we do). My accountant and I have many conflicts here!"
Guests are presently nudging Chef Vincent about what new dishes will be appearing come fall. Well, since Coarse is all about surprises, Chef Vincent has to be a little elusive! He will say this much, though: "I can't divulge new dishes because in part we're still working on them, and in part, that's the fun of Coarse! What I can say is that we are working on some really unique new dishes that include some interaction with our guests. Of course, they will include new fall ingredients as they come into season. I can say we're definitely looking at things like Short Rib and King Crab."
Part of Coarse's surprise is that there is a communal table in the center of the dining room and guests have the option of being seated there or getting their own table. It is said that great friendships over food have been struck up there. We'll definitely return!
For more information on Coarse, visit coarseny.com. Reservations are very strongly recommended but not necessary.