ON THE MARK
This Chic Hotel Emits A Royal Glow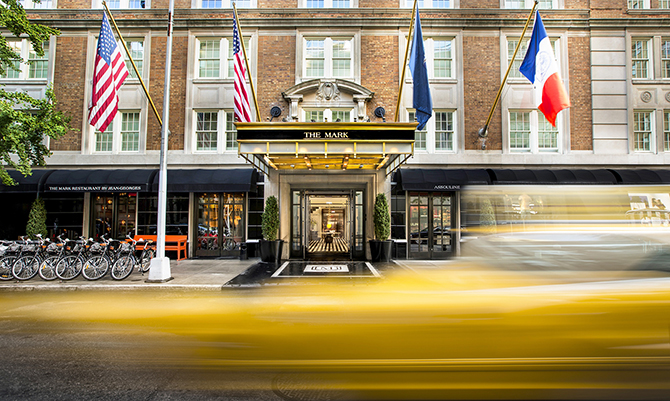 By Bailey Beckett
A few months before Duchess of Sussex Meghan Markle gave birth, she gathered with friends for an intimate baby shower on New York's Upper East Side. Well, intimate for a member of the Royal Family.
In truth, the setting was the Penthouse Suite at The Mark Hotel and those friends just happened to include Serena Williams, Amal Clooney. and Gayle King. It was a star-studded affair, for sure. But not uncommon at The Mark, which has been attracting the elite since its $150 million makeover a little over ten years ago.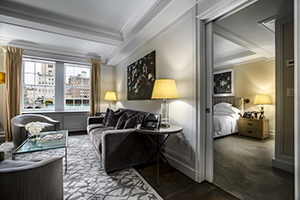 Garden Suite - Francesco Tonelli
A FEAST FOR THE SENSES
Nestled discreetly on the corner of East 77th Street and Madison Avenue, The Mark Hotel is a feast for the senses, thanks to an extensive renovation by Jacques Grange. The designer enlisted Pierre Passebon of the Galerie du Passage in Paris to curate objets d'art, furniture and lighting fixtures for the hotel, which grew to include lobby fixtures like an Op Art monochrome striped marble floor; Zaza side table lamp made of pear wood and bronze by Anne and Vincent Corbiere; swirling Ge‐Off Sphere chandelier by Ron Arad; Jaryka coffee table by Eric Schmitt, who also made a double ring chandelier made of plaster and wrought iron that sits above its stairwell; Sister Margaret sofa and club chairs by Paul Mathieu; and rock crystal wall scones by Mattia Bonetti.
The 118 rooms and 40 suites are just impeccable. Designed in soothing tones of brown and beige, rooms feature paintings and photographs from artists as varied as fashion designer/artist Karl Lagerfeld, and Todd Eberle. It's no wonder Vogue uses the hotel as its headquarters every year in May for the Met Gala a couple of blocks away at The Metropolitan Museum of Art. For three days the hotel is a celebrity catwalk (Giselle! Beyoncé! Rihanna!), coordinated by fashion empress herself Anna Wintour. The editrix famously camped out at The Mark in 2012 after Hurricane Sandy left much of New York in the dark. Thankfully, there's more to do here than primp and pout.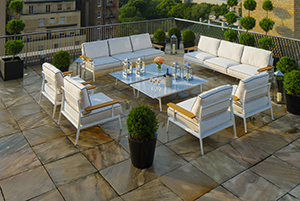 The Mark Penthouse Rooftop Terrace ©Todd Eberle
SPECIAL FEATURES
The hotel is a virtual stay-cation in the city, treating guests to on-property features like a second-floor beauty salon by Fredric Fekkai, a shoeshine stand by John Loeb; the chic Mark Bar off the lobby, filled with specially made furnishings by Guy de Rougemont and Vladimir Kagan. Then, of course, there's The Mark Restaurant by Jean-Georges Vongerichten, featuring innovative European classics as well as world-class wine collection showcased in a cooper and glass wall. There's even an Assouline bookstore off the lobby. During warmer months, look for pedicab rides to Bergdorf Goodman; a private sail on The Mark's own yacht around Manhattan, catered by Jean-Georges; specially prepared picnics in Central Park; and even a gourmet hot dog stand outside featuring treats by, you guessed it, Jean-Georges.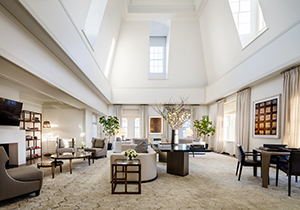 The Mark Penthouse Living Room ©Scott Frances
The pièce de résistance is the hotel's 10,000 square foot Penthouse Suite, encompassing the entire length of the 16th and 17th floors. At nearly six figures per night, it's also New York's most expensive. The suite, also designed by Grange, includes five bedrooms, six bathrooms, a great room, library, formal dining room, gourmet kitchen, and four fireplaces. It also features a 2,500 square foot terrace overlooking the city skyline, Central Park and The Metropolitan Museum of Art.
So, grab that Centurion card and come on over. You only live once!
For more information on The Mark Hotel, visit themarkhotel.com.