FRENCH DELIGHTS
A Leisurely River Cruise Through Lyon & Provence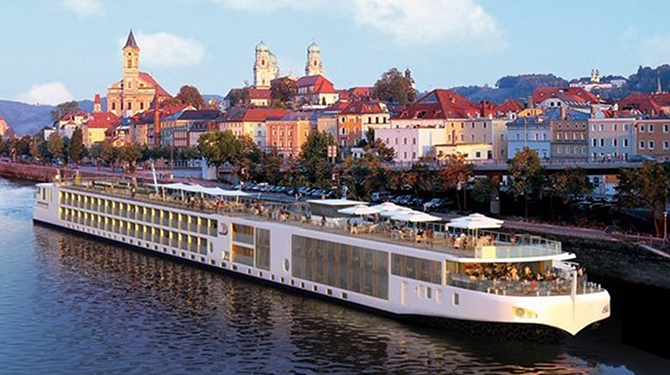 By Kristie Kellahan
My quest to leave no cheese behind begins at the covered food market, Les Halles, in the beautiful French city of Avignon. Strolling the aisles and chatting with stall-holders about their creamy goat cheese, truffle salt, fresh cherries, and just-baked brioche, I'm delighted by the Gallic way of artfully infusing life with daily pleasures. In a country where more than a thousand kinds of cheese can be enjoyed, the people live to eat, and not the other way around.
Avignon is the starting point for Viking River Cruises' seven-night cruise along the Rhône. Foodies and wine connoisseurs are well catered for as our lovely ship, the Viking Delling, ambles along with stops in charming medieval villages and some of the prettiest cities in the south of France.
Days are filled with outings to Beaujolais wine country, olive oil tastings, truffle hunts and cooking classes where the secrets of Provençal cuisine are revealed.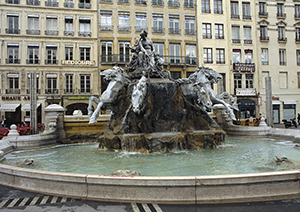 A BEAUTIFUL EXPERIENCE
On the Tastes of Lyon shore excursion, we stop first at Cafe Jeannine & Suzanne. Named for owner Sophie's two pastry-making grandmothers, the patisserie produces sweet delights that are almost too exquisite to eat. Next, we ooh and aah at chocolatier Louis Simart's creations. His original invention, chocolate Lyon "cobblestones" are irresistibly nutty, creamy and crunchy.
We learn about wine-and-cheese pairings at Bistro Martine, a typical Lyonnaise brasserie where a plaque above the door crows that author Albert Camus chose to celebrate his wedding here in 1940. At Epicerie Abel, we stuff delicious charcuterie in our mouths and consider the merits of moving permanently to France.
Back on-board the Viking ship, all meals are included, as well as wine and beer with lunch and dinner. The house red and white comes from Famille Perrin, one of the leading winemaking families in the southern Rhône Valley. On the shore excursion to the famed Châteauneuf-du-Pape wine region, we tour their vineyards and cellars. A tasting follows.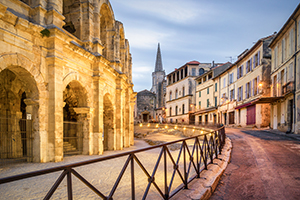 Provence Lavender Fields Morning
The area is known mostly for bold, big-bodied red wines, but the region also produces some terrific, fresh whites. With just 2,000 residents and 320 wine producers in the CDP region, it seems everyone and their uncle is somehow involved in the grape business. Our guide Sylvain, who hails from a long line of winemakers, says the best wine to buy "is the one you like." With that in mind, many guests take the opportunity to buy several bottles to take back to the ship. The perfect spot to toast the day is on the ship's Aquavit terrace. Located at the bow of the ship, the space offers an alternative to dining in the main restaurant for lunch and dinner. The al fresco option is relished by many guests, who sit out and enjoy meals with an emphasis on regional cuisine. Salad Lyonnaise (frisée lettuce, a poached egg, hot bacon, croutons, and Dijon vinaigrette), zesty bouillabaisse and coq au vin casserole hit the spot.
EXCURSIONS & MORE
The Delling is a classy vessel, presented with the elegant forms and colors of Scandinavian design (Norwegian businessman, Torstein Hagen founded Viking). The clean and simple design is a soothing foil for the lavish extravagance of French cathedrals, museums and town halls along the route.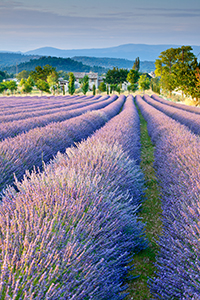 Provence Lavender Fields Morning
Staterooms (there are no inside cabins) feature plenty of blond wood, bathrooms with heated floors, and comfy beds that invite afternoon naps. There are no casinos, no kids, and no tacky group activities. And with a maximum of 190 passengers, the ship never feels crowded.
Viking prides itself on the quality of its shore excursions, offering a thoughtfully curated selection that adds to the cultural enrichment experience of cruising. Many are included in the cruise fare; seven are complimentary on this trip.
All guests are invited to join a walk in Avignon to the Pope's Palace and to take in a panoramic tour of Lyon. An escorted outing to the medieval village of Viviers is included, as is a steam train ride to a scenic plateau in Tournon-sur-Rhône.
One of the optional tours was designed for the budding artists in our group. Vincent Van Gogh and Paul Gauguin lived and worked in Arles towards the end of the 19th century; inspired by the light, the cafes and the Roman amphitheater. The day-long excursion, Arles in Van Gogh's Footsteps, includes visits to some of their favorite haunts, as well as a painting class with a local artist. Participants return to the ship, triumphantly holding aloft their creations.
ALL ABOARD
Viking River Cruises' Lyon and Provence adventure includes all meals, wine and beer, and seven guided tours. Pre- and post-cruises extensions are available to Paris, the French Riviera, and Burgundy's vineyards.
For more information on Viking Cruises, visit vikingcruises.com.