THE SUITE LIFE ON CELEBRITY SUMMIT
The "Modernized" Ship Steps It Up For The Retreat Guest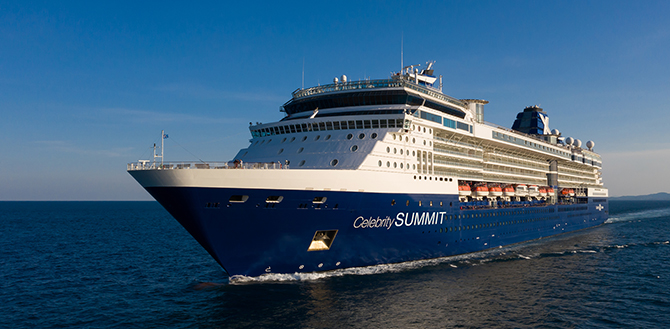 By Stacey Zable
Celebrity Summit re-emerged at Cape Liberty, NJ, this year after an impressive "bow-to-stern transformation" that is part of The Celebrity Revolution—a $500 million commitment to fleet-wide upgrades and modernization. Among the changes to the 2,158-guest ship were the additions of amenities and features dedicated to The Retreat suite class guest to make them feel like, well, a celebrity. Look for Celebrity Summit to sail the Caribbean this winter from San Juan and return to Cape Liberty for Bermuda, Canada/New England and Iceland and Greenland sailings May through October 2020.
Here are five reasons to book The Retreat on Celebrity Summit that we found during our 7-night Bermuda cruise from Cape Liberty. It proved that the suite life is most definitely super sweet.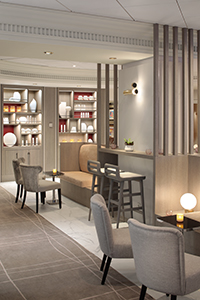 The Retreat Lounge
The Retreat Lounge
As soon as you arrive at the port it begins with priority check-in, which usually means no waiting. You are whisked into The Retreat Lounge on Celebrity Summit to meet your concierge upon boarding. In-suite services include a personal butler who can unpack and pack your clothes (if you wish) and handle all individual requests. Added as part of the modernization and open 24/7, The Retreat Lounge may be where you'll find yourself the most while sailing Celebrity Summit. This inviting guests-only lounge is manned by an exclusive concierge to handle all reservations and arrangements necessary onboard or while in port. Complimentary beverages and small bites at select times make it perfect for pre-dinner, or throughout the day when you want to grab a bottled water, soda, coffee, or cocktail. The relaxing lounge is designed as an escape, where you can leisurely chat, enjoy board or card games, watch television, or read your favorite best-seller novel.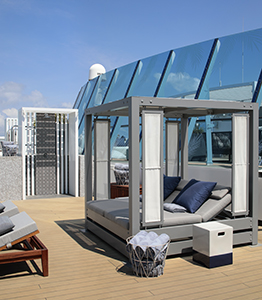 The Retreat Sundeck
The Retreat Sundeck
Another exclusive spot is The Retreat Sundeck. This expansive outdoor area is located at the front of the ship and features lounge chairs, outdoor beds, a hot tub, and a small space to dine on a lunch menu. Attendants offer complimentary fruit skewers to quench your hunger and are available to take your drink orders (though not complimentary here) while you enjoy the sun. Celebrity Summit also has an outdoor swimming pool with hot tubs and sundeck as well as an indoor pool with pulsating massage water features and hot tubs in the peaceful space of the Solarium reserved for guests ages 18 and older.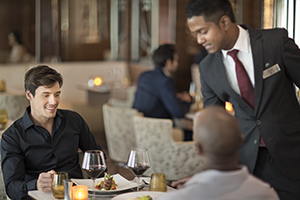 Luminae
Dining Choices
The intimate Luminae suite-guests-only restaurant is open for breakfast, lunch, and dinner. Its modern cuisine menus created by Celebrity's Michelin-starred chef are exclusive to the restaurant. Open seating allows you to eat when you want, and efforts are made to pair you with the same wait staff, so they know your likes and dislikes. You may also order from the menu offered at the Cosmopolitan Restaurant main dining room and even choose to dine there any time you wish. The ship boasts nine dining venues when you want to step outside The Retreat's dedicated restaurant. The Retreat guests can also dine at no additional cost at specialty restaurant Blu, offering "Clean Cuisine" (based on availability with AquaClass guests getting priority). For quick bites, the Oceanview Café buffet provides another choice for early morning to late-night dining. The Spa Café, with its lighter bites inside the Solarium, became a favorite spot for us mid-day. Specialty restaurants available for an additional fee are Qsine for its globally-influenced menu, Tuscan Grille for Italian dishes, and Sushi on Five featuring a menu of sushi and noodle dishes. Café al Bacio & Gelateria is the place for gelatos and Italian ices at an extra charge, plus pastries and specialty coffees.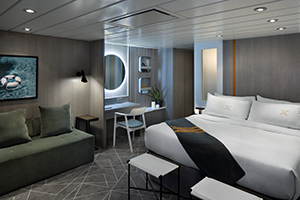 SkySuite Bedroom
Suite Choices
As part of the revitalization, all staterooms and suites on Celebrity Summit have been completely redesigned. There are four classes of suites with amenities including such luxurious touches as celebrity's exclusive bedding, large flat-screen televisions with free on-demand movies, tote bag, and welcome aboard fresh flowers and bottle of champagne or sparkling wine depending on suite category.
The Retreat guest not only has access to the above exclusive offerings but can be a part of the regular ship activities and entertainment. Our relaxing days at sea were spent at The Retreat Sundeck or the Solarium and playing trivia. The nightly karaoke, live music in the lounges, and shows in the theater were ideal ways to enjoy our evenings.
For more information on Celebrity Cruises and the Summit, visit celebritycruises.com.