COMING TO LIFE
The Transformation Of BedStuy
By Bailey Beckett
There was once a time that the Bedford Stuyvesant neighborhood was not associated with words like "picturesque" or "luxury." How times have changed. As gentrification spreads throughout the New York area, the Brooklyn enclave is fast becoming a worthy destination—for residents, businesses, and real estate agents hopping on the trend.
Nowhere is this more evident than in a five-bedroom, four level home at 114 Monroe Street. Designed and built by architect Rafi Elbaz, the building is located on a tree-lined block on the Clinton/BedStuy border. "Restrained sensibility" is how agents at Douglas Elliman describe the impeccable property, designed with discipline and an exquisite eye for space, light and movement. Measuring 4,200 square feet above ground, the two-family home also includes five and a half baths and an upper triplex with five outdoor spaces incorporating green roofs. The cellar below contains both the mechanical room and a Zen-like recreation room with full bath, wet bar and its own cast-in-place rock garden. On the garden level, there is a two bedroom/one bath apartment.
No design detail is overlooked. The space features hand-applied muted patina ash European wood windows and door package, pickled wide-plank oak flooring, and comprehensive smart home technology. Natural stone, concrete and porcelain terra cotta tiles adorn bathrooms and accessory floors throughout the home, in addition to recreated exposed brick, hand applied mineral concrete wall treatments, custom black steel entry closet doors and a magnificent custom steel staircase with American walnut treads. The open kitchen includes custom built American vertically grained walnut cabinets, concrete Caesar stone counters and all the requisite high-end appliances and fixtures.
New York Lifestyles talked with Rafi Elbaz about this unique property.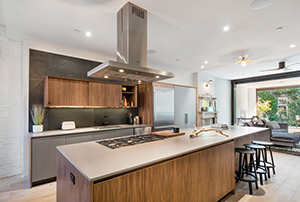 114 Monroe Street Bedford-Stuyvesant ©Douglas (Doug) Bowen Douglas Elliman Photography
What made you choose this particular home?
The house appealed to me because of its historical value, construction and detail. The lot size is large, and southern light and proximity to the corner allows a more open look and feel.
Tell us more about the renovation?
This is a gut renovation job where we added a floor and a bulkhead, a back extension and a lower cellar light well. It's a complex urban job; however, the complexity reflects in the intricate result.
Urban renovations are complex on many levels, from permitting and dealing with city agencies to working in confined space to dig, create foundations and deal with neighbors which are naturally impacted by it. One has to manage and negotiate all at once. It's a craft by itself.
How is it to live in a home you are renovating?
Knowing how intricate the renovation was, we enjoy the results thoroughly. We planted green roofs on our outdoor spaces (7 in total) which keep the house cool in summer and very comfortable in winter. We watch the hummingbirds and enjoy the wellness it produces. We sip coffee at the morning south facing deck and enjoy sunsets on our glorious roof deck.
What design elements can you share about the home?
The kitchen has walnut wood and Caesar stone concrete countertops, and European appliances such as Miele, Bosch and Liebherr. Our living room has a fireplace by Napoleon, lights by RH, exposed painted brick and metal details. For the backyard, we utilized the heavy timber beams we salvaged from the building to build and grade. It utilizes rainwater collected in barrels and underground piping to retain water for a slow release back into the ground. The rooftop and outdoor spaces have green roofs with sedums and herbs with rain retainage systems to promote connection to nature and well-being. And the bathrooms include Moroccan hand-crafted tiles and a variety of natural stones combined with the finest fixtures such as Duravit Hansgrohe and Chitterio.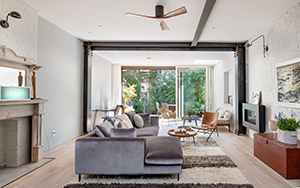 114 Monroe Street Bedford-Stuyvesant ©Douglas (Doug) Bowen Douglas Elliman Photography
What do you think a buyer will enjoy most from the home?
Modern living with natural comfort and light. A connection to nature with wonderful plantation, herbs, hummingbirds and butterflies. They can experience the benefits of sustainable and ecological living with a positive impact and year-round comfort.
Pricing: 3.95 million.
For more information on 114 Monroe, contact Doug Bowen at Douglas Elliman-- thedougbowenteam.elliman.com.