HOME DÉCOR 2020
The Latest Trends From The Experts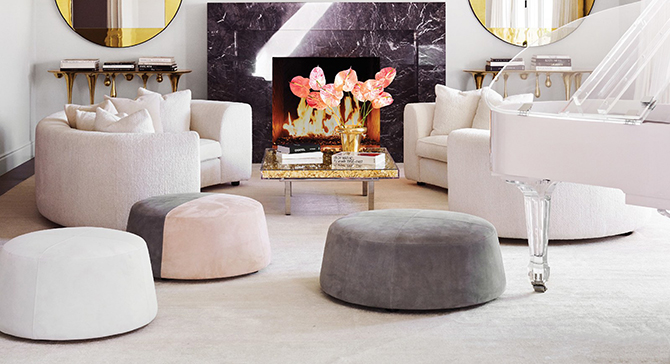 Kylie Jenner's Living Room by Designer Martyn Lawrence Bullard ©Architectural Digest
By Alyssa Abrams
This season's design trends are bold, highly personal and timely. As the Senior Marketing Manager for the iconic Decoration & Design Building (DDB), I identified the top trends while producing the DDB's industry-leading Fall Market 2019 featuring the theme DESIGN 2020.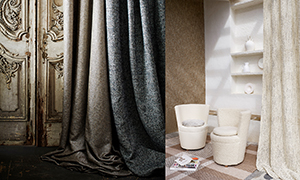 de Le Cuona's Flint from their Savage Couture collection (left) and Pierre Frey's varying versions of bouclé from their Natecru Wools II collection (right).
BOUCLÉ IS THE NEW MONGOLIAN
Remember a few years ago when nearly every interior had to have a Mongolian rug, throw, or pillow? The luxurious and indulgent, yet nearly impossible to maintain textile has given way to a new iteration that is more refined and plays perfectly into our collective need for comfortable elegance.
• Design icon Martyn Lawrence Bullard applied Schumacher's version to Kylie Jenner's living room sofas and the rest is history.
• Renowned for their wools and indulgent textiles, de Le Cuona's bouclé is offered in a variety of options: their Seahorse, Savage Couture, and Cascade iterations are relaxed, yet luminous as light bounces off the looped surfaces.
• Rounding out the trend, the peerless leader in high-end textiles and French craftsmanship, Pierre Frey presents their take on upholstered chairs, pillows, and graceful drapery in a variety of piles. The collection "highlights this noble and universal material while emphasizing its incredible diversity."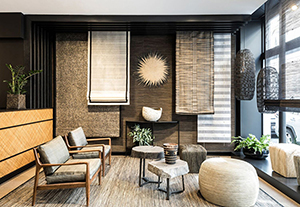 CMO
BIOPHILIA
Biophilia is a very 2020 term described as a human's innate tendency to seek connections with nature and other forms of life. We see this play out in interiors in both obvious and subtler ways. Adding plants and flowers to a space immediately improves the emotion of the environment, as does capitalizing on natural light. However, even incorporating natural fibers like raffia, bamboo and banana leaf can add an element of organic serenity.
CMO Paris
• With the industry opting for natural materials or nature inspired designs, the trend is more accessible. One such brand is D&D Building newcomer, CMO Paris having recently joined Élitis in their showroom on the 6th floor. Their handmade natural fiber, sustainably and ethically sourced wallcoverings and textiles bring the outside in.
• Another subtle opportunity to bring nature indoors is hard wood floors. I.J. Peiser's Sons Fine Wood Floors employs the highest quality wood and finishing techniques to create artisanal works of art for the floor. Their signature Dara Fumed Oak product is offered in a wide variety of natural finishes as well as exotic wood species. Each hand-finished plank varies subtly in tone resulting in an overall beautifully natural appearance.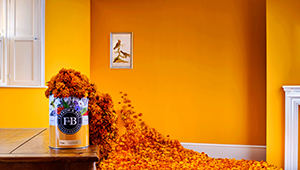 Image courtesy of Farrow & Ball Dutch Orange No. W76 from Farrow & Ball x Natural History Museum London collection.
SPICE UP YOUR LIFE!
The signature colors of this season's DDB Market were spice colors including turmeric, ochre, and saffron which are seeing saturation across several industries. In design, they have taken on the role of bold accent color applied to everything from sofas to walls.
• Farrow & Ball is setting the pace with their recent collaboration with Natural History Museum in London. Their take on the tone is a deeply complex yellow-orange color aptly named Dutch Orange No. W76.
Bridging two trends—rich spice hues and the aforementioned biophilia—the collection is comprised of colors plucked directly from nature. The story of the Colour by Nature collection has been over two centuries in the making, beginning with the publication of Werner's Nomenclature of Colours, a ground-breaking classification of recording the exact hues from across the natural world, becoming a resource for scientists and artists alike including Charles Darwin.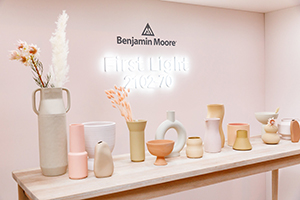 Benjamin Moore reveals First Light 2102-70 as their Color of the Year 2020
• Although Benjamin Moore's soft and subtle First Light named as their color of the year for 2020 may seem a surprising choice, the hue lends itself as a backdrop to the bolder, brighter, richer spice tones of the moment. The multi-dimensional pink has hints of color from across the spectrum, making it an unexpected neutral foundation.
For more trend spotting and design industry coverage, follow @danddbuilding on Instagram. Although the DDB Markets are Trade only, consult your Interior Design professional or the DDB's Design Professionals Service. For more information on the D & D Building, visit ddbuilding.com.