MY NEW YORK STORY
Kristen Tomlan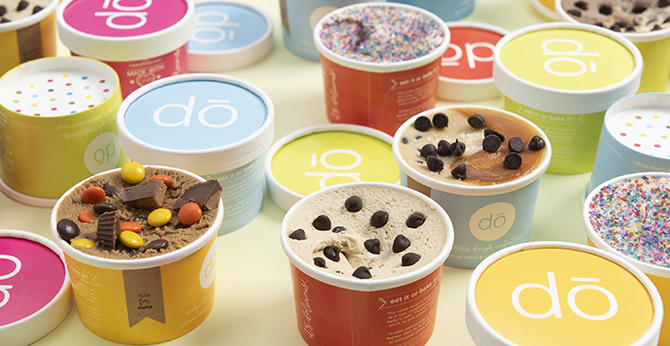 By AP Connolly
Remember when your mom told you not to eat that raw cookie dough? Well, times have changed thanks to Kristen Tomlan of DŌ, Cookie Dough Confections, who perfected a safe-to-eat cookie dough, thanks to a substitute pasteurized egg product. How times have changed.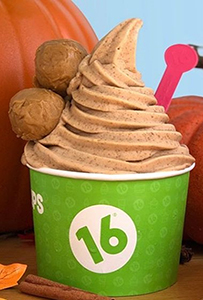 Since launching several years ago, Kristen has moved to a new baking space, hired a full team, and business has never been better. DŌ also has a popular Instagram account (@cookiedonyc) that has tongues wagging all over New York City and beyond. Add to that, Kristen has authored Hello, Cookie Dough: 110 Doughlicious Confections To Eat, Bake & Share which came out this fall. Kristen recently invited us to see her in action and to find out more about the woman behind the dough.
Tell us a little bit about yourself! Where did you grow up?
I'm originally from the Midwest—I grew up in a family of four kids in the suburbs of St. Louis, Missouri. After high school, I moved to Cincinnati to pursue a design degree at the University of Cincinnati's School of Design, Art, Architecture & Planning (DAAP). From there, I went on to live in New York City to work for a global brand strategy and design consultant before I started DŌ!
Was cooking/baking always in your DNA? Who or what is your biggest inspiration?
Growing up with three siblings in St. Louis, I always found an escape in the kitchen baking alongside my mom who is a cookbook author herself. I often satisfied my sweet tooth by creating sugary treats to share with family and friends. Even through college, I became the resident baker, always crafting new creations in the kitchen.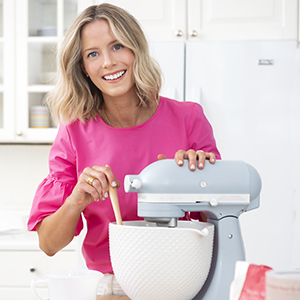 Kristen Tomlan
Tell us the biggest challenge you've faced, personally or professionally?
There's been a handful of challenges over the years! The most significant was when I was diagnosed with a life-threatening condition called Stevens-Johnson syndrome in 2014. I was hospitalized for 21 days. It changed my outlook on life and ultimately pushed me to start my own company.
Today, running a business every day has become a new challenge!
One of the biggest blessings and challenges since opening the shop has been the demand for DŌ! We could barely keep up! We had to figure out how to organize the line outside in the best way as to not disturb our neighbors but still keep order. We hired more employees to help ensure that we could make enough cookie dough to satisfy the demand of our customers and also assigned individual employees to be line managers to help keep the process running smoothly. I think with all challenges, it's about confronting them with perseverance, hard work, and determination.
If you could go back a decade, what advice would you give yourself?
I would tell myself not to sweat the small stuff. I'm very much type A, and when I was younger, everything had to be perfect. Since I've started my business, I've learned that I can't control everything and have to be innovative and adaptable with the good, the bad, and the ugly!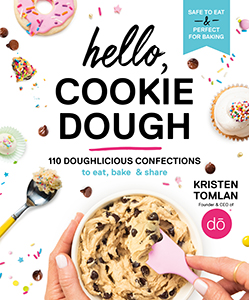 What are some learning experiences that helped shape you/your company?
I think the best learning experiences have come from mistakes. Each one provides a learning opportunity and the ability to evolve as a business owner, friend, etc.
What was your "ah-ha" moment when you knew DŌ would become a reality?
I have always loved cookie dough, but my light bulb moment was when I was out with my friends in Philadelphia. We went to this cute cookie shop and decided to forego the fresh cookies and buy some of their unbaked cookie dough. We then sat in our car, passing around a tub of cookie dough, and I thought, why is this not a thing? Why can't I go into a store and order cookie dough without feeling bad about it or worrying that I would get sick from it? Then the idea for DŌ was born.
How does Kristen Tomlan relax?
I typically work out first thing in the morning to help manage stress (The Class by Taryn Toomey is my favorite weekly ritual), and I pour myself a margarita at the end of the day!
How many flavors do you now have at DŌ and what's on the menu for the holidays?
We have 20 flavors that include fan favorites like the Signature Chocolate Chip, Brookie Dough and Cake Batter. My personal favorite is Heavenly. We also feature a variety of gluten-free and vegan flavors too! We have a seasonal flavor that changes monthly, and then for holidays, we always introduce a few more!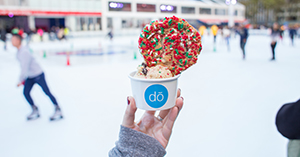 Finally, some good advice to budding entrepreneurs in NYC. Tell us your best career advice.
Follow your passion. It is that simple. Go after your dreams and listen to your gut.
For more information on DŌ, Cookie Dough Confections, visit cookiedonyc.com and check out their seasonal pop-up at Bryant Park!