Love, Motherhood & Looking Fabulously Fit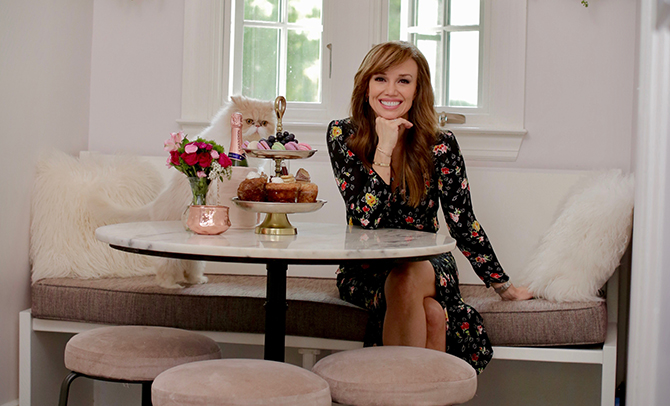 ©J. Adam Giece
By Patricia Canole
How do you start an interview with someone who converses with celebs, authors, musicians, movers and shakers for a living? Sara Gore co-host of New York Live has been doing this for over 10 years. A testament to her skills, indeed. She makes it all look so easy! So deep breathe, I did what any sensible person would do! Ask questions Sara would ask. A few quick tips from the master and we were underway.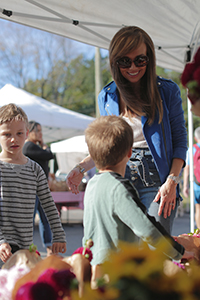 ©J. Adam Giece
An Emmy winning lifestyle host for NBC and their independent production arm, LXTV, Sara has logged over three thousand hours of live and taped television over the course of the past decade. As host of NBC's hugely popular and Emmy award winning show Open House, a weekly syndicated real estate and design show, she invites viewers into the country's most lavish (and in some cases, celebrity) homes, giving her loyal fans both advice and inspiration from the industry's best designers, in demand brokers, and home improvement experts.
Sara also co-hosts New York Live, NBC4 New York's daily lifestyle series, airing weekdays at 11:30 am. The show, which celebrated its 10th anniversary last year, has become a programming benchmark for other NBC affiliates to launch a similar format. Together with co-host Jacque Reid, this dynamic duo serves up a daily dose of the very best New York has to offer from the latest fashion trends to celebrity news and interviews, top food and restaurant choices, and entertainment.
Originally from upstate New York, Sara graduated summa cum laude from Marymount Manhattan College. Early in her career, Gore pursued her passion for food by working as personal chef, food columnist, running her own catering company, and as a line cook for renowned chef/restaurateur, Jean-Georges Vongerichten.
To learn more about Sara Gore, follow her life and food on Instagram and Twitter @sara_gore.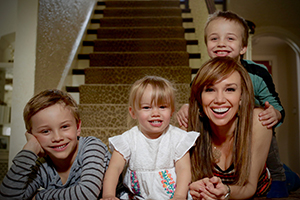 ©J. Adam Giece
Wife…mother…TV host. How do you balance it all, Sara?
Good question! Lots of lists! It is a juggling act and I do feel like my life is a circus at times—in a comically chaotic way. Having three young kids, I've become very good at multi-tasking. Being a mom forces you to realize how much you can handle all at once. Really, I try to focus on what's in front of me while still planning what's coming up next. Don't sweat the small stuff, right!
How did you and your filmmaker husband, Matthew, first meet?
Blind date! We were introduced by a makeup artist who worked with me at WNBC at the time and she had done the makeup on his first film. He boldly asked her for an introduction and the rest is history. Although, he will tell you I made him work for it.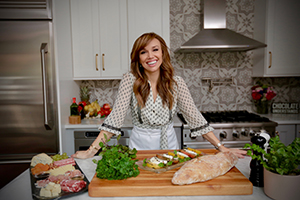 ©J. Adam Giece
Does New York City play a big part in your relationship/story?
I think dating here is an interesting thing. It's phenomenally hard to date in New York. From what I now hear from single friends, it's become even harder. I also think because real estate is so expensive it fast forwards some relationships. I think you make a decision quicker about whether or not you want to give things a serious try and live together first...because after all the rent is just too damn high!
We went on our first date in August. Our second date was a month later and a few months after that, I think he moved in with me. We were engaged in 10 months. Everything moves fast in New York!
How do you still make time for romance?
With three young kids and both of us working as hard as we do, it's hard to find time for romance which is why it's important to make time for it. We've gotten better about date nights now that our youngest is at an age where she can speak up for herself and we feel better about leaving them with a sitter. We try to have a date night a few times a month which usually entails a nice dinner or getting dressed up and going to an event together.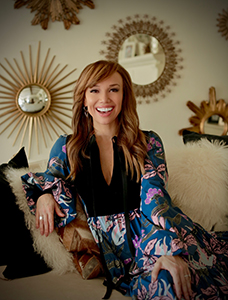 ©J. Adam Giece
How do you celebrate Valentine's Day with your family?
We do a lot with our kids that could be classified as an adult evening. Typically I will make a really nice meal for the whole family and there's always dessert! I like to include them in cake making or try to get them involved in decorating in some small way. They are always eager to play with the balloons that I blow up before they get displayed, or helping me make things festive. It's all in the little details. Things are always more special when you put a little extra love into it. You don't have to spend a ton of money to make someone feel good.
Is there someone who inspired you to get where you are in your life?
My parents were very supportive of me. My mother though is who I get my creative drive from. She has always been an energizer bunny creating memories for us and being the force that brought family together. She can bake you the best pie, knock down a wall, or wallpaper your bathroom at the drop of a hat. She's the reason I had my own set of power tools by the time I was 20.
Fashion plays an important part of your career. Do you have a favorite designer?
I work with a lot of the same designers because I find what fits me well and feels good and I tend to be loyal to them. But I'm always about finding someone new. I wear a lot of Chiara Boni La Petite Robe, Black Halo, Veronica Beard—who happens to be my sister-in-law—and Pamella Roland is my go-to red carpet designer. I have just started getting into A.L.C., Saloni, and Smythe. They have some really gorgeous stuff as well!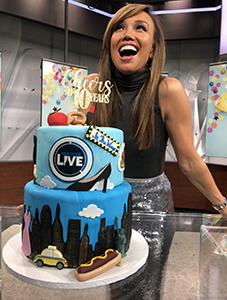 Courtesy of Sara Gore
How would you describe your personal style, both on-air and off?
I would say my on-air style is more of a sophisticated, sometimes playful chic. My off-air is a paired down casual/bohemian-style. In my personal life I might be in a high-waisted jean (they make your legs look longer!) and a converse sneaker or a wedge. Naturally, I'm always in a heel on set. I think my shoes are where I spend the most money on myself. I love a nice shoe!
Being a chef, what is your go-to recipe for a quick weeknight dinner?
Having cooked in restaurants, having been a personal chef, and having a catering business I have an extensive repertoire of dishes for different occasions. But now that I'm a mom, I would say my everyday/weeknight meals may be a little less labor intensive than they used to be but I still pay attention to presentation—even for my kids. Since we all eat with our eyes first, no matter our age, I try to mix it up. There is always a protein, a vegetable, and a grain or starch. Of course, theirs is always a dessert. I like to share them on my Instagram stories. I made a delicious prosciutto-wrapped chicken breast stuffed with spinach and gruyere with a lemon pan sauce the other day. Oh, so good. Sounds fancy, but really it's simple. Let the quality of the ingredients shine through.
Now going into your 11th year on New York Live, how do you and the producers keep it so current and unlike other lifestyle shows?
We live in the absolute best city that always provides us with the greatest content. We just get to tell its story.
What is it about this job that feels so right?
I feel like we have a lot of loyal viewers and every day I feel like I'm just talking to my friends. I love what I do. I love who I do it with. I am grateful every day that I get to do a job that still allows me to see my kids off to school and make dinner for them when I get home. I don't feel like I have to miss out on their lives. The cherry on top is that I actually like going to work!
Do you have a favorite workout routine?
I wake up early and work out in my basement. I turned the kid's playroom that they never used into my home gym and I couldn't be happier. I like to start my day knowing that I hit my move goal by 6:45am. Then the rest of the day is just gravy!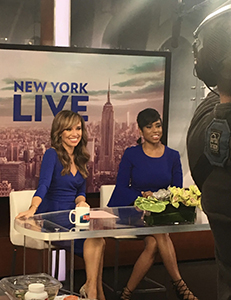 Courtesy of Sara Gore
What's your biggest challenge as a working mom to three?
Just making time for myself and giving each one of them equal time and attention. Every day as a parent you question whether or not you are doing this whole parenting thing right! It absolutely is the hardest job in the world. Sometimes you are going to crush it and sometimes you are going to fall short. I try to remind myself, it's OK. I'm just doing the very best I can.
Do you have any strategies for getting picky eaters to dig in?
Make things look familiar and kid-friendly while introducing them to new things. I don't make separate meals for my kids. I use the same ingredients and maybe package them in different ways. I always tell them, this is not a restaurant. You don't get to place an order. They'll eventually eat it (and almost always like it).
With so much emphasis today on climate change and conservation, how do you educate your own children to keep the planet green?
I think with kids you need to focus on things they understand and teach them what they can do to help no matter how small. It's important not to run water unnecessarily. Turn off the lights when you leave a room. Put recyclables in the right bin. I show them how to plant a garden and about foods that we can grow ourselves. At this stage, it's about the little things.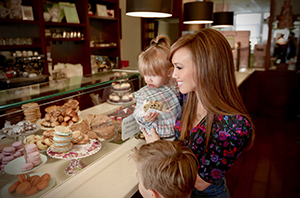 ©J. Adam Giece
For visitors to the Big Apple, what are your must-dos with kids?
New York City has some of the greatest museums and zoos. We just took them to the T-Rex exhibit at the Museum of Natural History. They also love the Planetarium there. We've visited the New York Botanical Garden—there are always great things to do there. They love the Fall Festivals and Holiday Train Show. And what kid doesn't love a zoo—Central Park Zoo and the Bronx Zoo are definite musts. Beyond that our kids love any place for sweets! Serendipity, Black Tap, and Magnolia (for banana pudding or hummingbird cake) are a few good spots.
What projects are you currently working on for 2020?
I'm relaunching my podcast that I do with my husband from our absolute favorite hotel, The Carlyle. My husband made a documentary on the Carlyle called Always at the Carlyle. We started the podcast as a lead up to its release and had so much fun doing it together with such great response that we are going to continue starting this month! Take a listen. It's called Last Night at the Carlyle; we record it from the corner booth in Bemelmans Bar with Earl Rose on piano. I'm also going to start doing some cooking videos for Food Network Kitchens and their new streaming app. There are more projects in the works, so stay tuned!
Do you have other dreams?
Who doesn't? I would love to own a little patisserie or bistro with a curated home goods shop attached. It would be small and charming with just the right things to make it feel special.
SARA UPCLOSE
If you had to create a slogan for your life, what would it be?
"How hard can it be?"
What is the last show you binge-watched?
The Marvelous Mrs. Maisel.
If you could go anywhere in the world right now, where would it be?
Somewhere warm! I'm just so over the winter.
What three words describe you best?
According to my husband I'm passionate, genuine, and nurturing.
What is the best piece of advice you've ever received?
It's OK to respectfully decline.
What was the first thing you remember saving up money to buy on your own?
My first car!
What's the best gift you've ever given to someone?
For my kids it is usually the gift of a good time. Making their birthdays special and certainly a cake that I've put way too much time into, but just the right amount of love.
What quality about yourself would you like to pass on to your children?
I hope my children are nesters and nurturers like I am.
What's your favorite sports team?
New York Yankees
What's your favorite comfort food?
For savory, a really good juicy burger with melted blue cheese. For sweet, I like a really decadent and creamy chocolate peanut butter pie. Sounds delicious right about now. I'll take one of each. A decadent double header!