DON PEEBLES
The Future Of Real Estate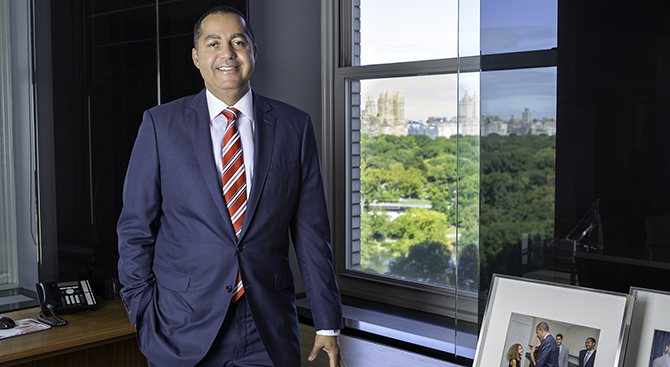 Don Peebles Work ©Nicole Periera
By Peter Elston
In an era where social responsibility, social inclusion and making change are often seen as buzz-phrases, R. Donohue (Don) Peebles is creating change and making opportunities happen in communities by leveraging his expertise and entrepreneurial skills in real estate investment and development. Don Peebles and the New York-based Peebles Corporation uniqueness is guided by his own principles of Affirmative Development™ to empower women and minorities to close the wealth gap—with the aim of developing not just land or buildings, but opportunities and people as well.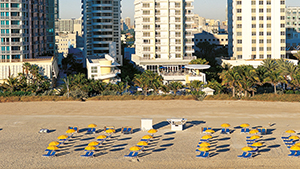 The Royal Palm Hotel, Miami Beach
The industry leader is a frequent guest commentator on CNBC, CNN, FOX News and FOX Business Network. He's authored two books entitled The Peebles Principles and The Peebles Path to Real Estate Wealth that provide rules and principles for individuals striving to succeed in real estate. In the book, Peebles is optimistic, and believes everyone's career goals are achievable. As a child, raised by a single parent in a middle-class home, then achieving multimillionaire status by the age 27, Don Peebles believes that dreams really can come true.
Peebles and his wife of 30 years, Katrina Peebles, have two children: Chloe, a high school Junior and nationally competitive equestrian. Their son, Donahue III, was recently appointed as the chief of staff of The Peebles Corporation.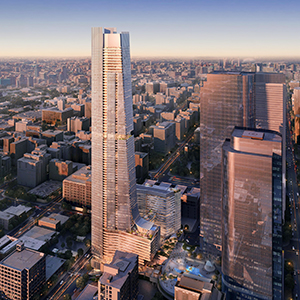 Angels Landing Partners - Signature Tower, Los Angeles ©Handel Architects
New York Lifestyles recently sat down with Peebles to discuss the secrets of his success and what he sees in the future for real estate.
How did you get into real estate?
I was exposed to real estate as a child by my mother who got her start in real estate as a sales agent. Within two years she started her own firm which she ran for about four years. She then went on to work at Fannie Mae where she worked for three years. Shortly thereafter, my mother started her own appraisal business around the time I graduated high school. After initially planning on a career in medicine, I quit college after my freshman year to become a real estate sales agent in Washington, DC and at 23 started my own appraisal business. In 1986, at 26, I started work on my first building.
What are the biggest challenges when starting off in real estate?
Securing a deal that is compelling enough to attract capital.
What are some the residential real estate trends you see for 2020?
Authenticity is leading the way. In LA and Miami the big glass box contemporary houses are out and the homes with historic or traditional character and design details are in. The record high sales price in 2019 for a single family home in LA was the sale of a traditional architecture-designed house. On the condo side, both views and traditional/historic design will be the top price drivers. Smaller and more efficient space will lead markets as millennials and Gen Xers use resources with smaller, more efficient units which are more affordable and at the same time drive price per square foot for the developer. A win-win. Tomorrow's apartment and condo buildings will have smaller unit square footage than in past trends by 25 percent, but more and larger and higher quality amenities for residents.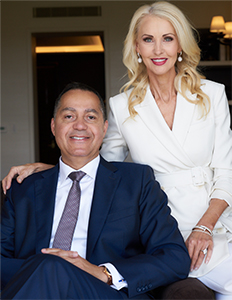 Don & Katrina Peebles
©Noah Stone
What are some the commercial real estate trends you see for 2020?
Retail will continue to experience significant declines and vacancies. Repurposing of that space will become the focus in 2020. Office space will gain strength for new space that is environmentally sustainable with significant amenity spaces for tenants. Class B and C office buildings will continue to decline and in supply-constricted markets the buildings will be repurposed or demolished and the sites redeveloped.
What are some of the keys to being successful in real estate in 2020?
Creativity. Thinking out of the box and looking to the future. Identifying your customer and meeting their current and future needs and desires will lead to success.
Where do you see The Peebles Corporation in the next 5 years?
To be a market transformer by building unique projects in global markets and be a part of changing the face of the industry by utilizing our upcoming private equity real estate fund to support emerging developers with a high concentration of women and minority entrepreneurs.
For more information on The Peebles Corporation, visit peeblescorp.com.