ON STAGE
Broadway Stars Share Their Off-Time Stories
By Lori Zelenko
With social distancing and isolation being our new normal, we asked Broadway stars to share their personal stories with New York Lifestyles to let us know how they are staying healthy while spending time away from the footlights. We're hoping to be in the audience to see them on stage again soon, but for now, here are their insights.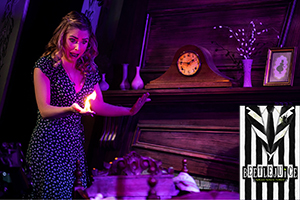 KERRY BUTLER in BEETLEJUICE ©Matthew Murphy, 2019
BEETLEJUICE: THE MUSICAL
Kerry Butler
She currently stars as Barbara Maitland, the sweet ghost, in Beetlejuice: The Musical. Her other credits include Belle in Beauty and the Beast, Mean Girls, Rock and Ages, and Little Shop of Horrors.
I have been spending my time with my family. With two children, I'm trying to make it fun and reasonable for them. Sometimes we pretend we are going to exotic places like tea in England, dinner in Mexico, next up Italy!
I love painting watercolors. I've even offered my Instagram followers a free class and found myself painting with people from all over the world on Zoom.
Lastly, to keep in shape, I found this old power yoga class I used to do when I was younger. I recently tried to do it and had to stop three times! My goal for the end of quarantine is to be able to get through this yoga class without stopping!"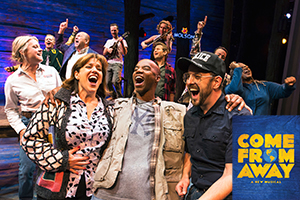 The cast of COME FROM AWAY, ©Matthew Murphy, 2016
COME FROM AWAY
Sharon Wheatley
Sharon originated the role of Diane and appears on the cast album. Previous Broadway includes Avenue Q, Les Misérables, Cats, and The Phantom of the Opera.
I am working hard to find the joy. I do find this is a daily practice with unpredictable results, but mostly I am making the most of the time I have at home with my family. What that looks like is quite simple; with every opportunity, I try to see this period as a story I will tell later in my life.
We had fun and learned how to do school at home. We took long walks outside and enjoyed the warm spring air. We made bread from scratch. When the anxiety became too high for the kids, we created ways to combat their fears that felt fun and special, like building an elaborate blanket and pillow fort and allowing the kids to sleep on an air mattress on the floor of our room. Then, we walked the dogs and threw the ball again and again--for our dogs, it was never enough! We drew pictures at dinner and pasted them to the wall marking the number of days we were self-isolating.
Most importantly, we started to pray together as a family. We took the time to inform ourselves of what was happening in the world, but we also tried to remember perspective. Even on the worst days, we recognized that the only way out is through, and we made as many choices as we could to find the joy.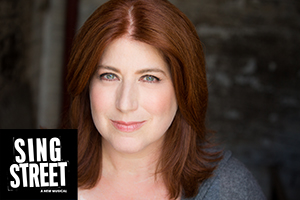 SING STREET - Anne Nathan
SING STREET
Anne L. Nathan
Anne was scheduled to star as Sandra in the Broadway musical debut of Sing Street this spring. She has been seen on Broadway in It Shoulda Been You, Once, Sunday in the Park with George, Chicago, Assassins, Thoroughly Modern Millie, and Ragtime. Off-Broadway.
I try to give myself a schedule for the day: Walking in the park, tuning in to Governor Cuomo's daily briefings, practicing the instruments I've accumulated over the years, reading, doing an online workout, and lots and lots of cleaning and organizing.
I also am a coach and teacher, so I have been seeing some students via Zoom and Skype. In the evening, I usually do a cocktail hour catch-up with some of my dear friends and family.
Like everyone, I'm also trying to live a healthy lifestyle. Cooking is a big thing! So far, I've cooked all the meals which I can promise you is a shocker. I am also working out several times a week.
I am trying to be there for my friends and family in a more profound way. I think with our fast-paced city living that can fall by the wayside a bit. I have loved connecting with so many people who have had an enormous impact on me. It's all about the human connection.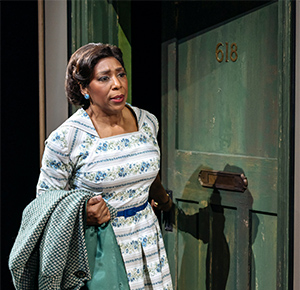 TINA THE TINA TURNER MUSICAL ©Manuel Harlan, 2019
TINA: The Tina Turner Musical
Dawnn Lewis
Dawnn plays Zelma, Tina Turner's mother, in the hit Broadway musical. But acting is just one of this multi-talented entertainer's accomplishments. She's also known as singer, voice actress and songwriter. Best known for her role on TV's sit-com A Different World, she's been seen in many roles through the years.
"I've been filling my time with writing music—two new songs so far! And I am doing Zoom and FaceTime chats trying to encourage and pray with people that have tested positive for COVID-19. I'm also preparing post-quarantine Youth Program events for my A New Day Foundation and rescheduling the Financial Literacy for the Broadway Community Seminar that was initially scheduled for March 23rd. When the dust settles, I know many in our community will have lots of questions on how to revitalize their finances.
For fitness, I've been riding my bike and dancing up a storm to the non-stop DJ Parties by D Nice and Quest Love! I've also been bingeing on a ton of excellent TV series, that I don't usually get to watch because of our show schedule.
But what's special is when I'll be joining my dear friend, actress/director Iona Morris—daughter of Mission: Impossible's Greg Morris—who has organized a Day of Sweets. Together we will be bringing baked goods to our selfless healthcare workers to show our appreciation for their service and care of those suffering from COVID-19.