LUXE SPA TREATMENTS
At-Home Therapies From Mexico's Finest Resorts
By Patricia Canole
It has been a stressful time as we all do our best to practice social distancing and to stay at home as we transition to a new normal. One of the routines I've missed is a day at the spa—whether local or destination. A soothing facial and body scrub can be so relaxing, drifting you away from all the world craziness (even it's for just a few hours). Until you can make that much-needed reservation, here are some luxurious at-home treatments from some luxurious south-of-the-border resorts. No exotic ingredients needed here. You probably have these items already stored away.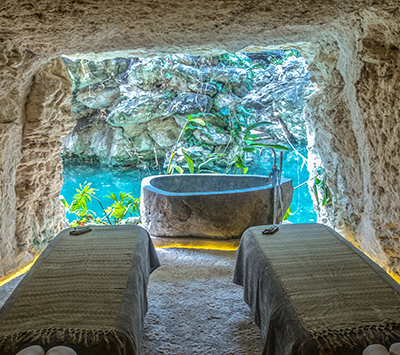 MULUK SPA & WELLNESS
Hotel Xcaret México
In harmony with the environment and inspired by ancestral traditions, Muluk Spa & Wellness is a mystical and natural sanctuary that offers a holistic experience that leads you to complete renovation through relaxation and stimulation of the senses and health. In most cultures, water symbolizes purification and fertility. In Mayan mythology, one of the signs of the calendar associated with water is muluk, the cosmic seed, linked to moon cycles and represented by a drop of water. The origin of the word spa—salus per aquam means health through water. Info: hotelxcaret.com.
Treatment: Coffee and Cinnamon-Infused Anti-Cellulite Body Scrub
What You Need: Ground coffee (1.5 oz), brown sugar (1.5 oz), powdered cinnamon, coconut oil (1.5 tbsp).
Directions: Mix all four ingredients. With wet skin, apply the mixture to your body in circular motions from bottom to top. Let the scrub rest for 10 to 15 minutes before rinsing. Post shower apply a moisturizing cream.
---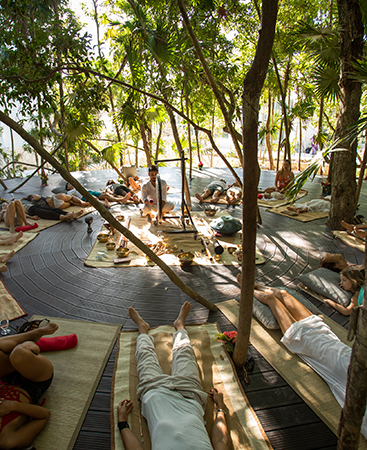 THE HOUSE OF AïA
Palmaïa
Imagine a mystical place born from the complexity of contemporary Mexico. Set between the tropical jungle foliage and the turquoise waters of the Caribbean Sea sits The House of AïA. The resort offers a level of seclusion often associated with far-flung island resorts and an atmosphere of tranquility you would find at a yoga retreat. Re-establish the connection between your mind and body through yoga and guided meditation while immersed in the vibrant jungle energy of the Mayan Riviera. Guests can indulge in spa treatments, including ayurvedic treatments, Temazcal ceremonies, steam room sessions, and relaxing massages. Info: thehouseofaia.com.
Treatment: Meditation Tips From Shaman Balder
What You Need: Connect with nature and yourself in a comfortable seat and an open mind.
Directions: Before starting your session, make sure you are comfortable and have excellent support to maintain your posture. If necessary, continue lying down. Look for a suitable place, and merge your body and mind with the environment around you, let the sounds that are not under your control be the ones that relax you, and lead you into your meditation. Soften the body by relaxing your breath. Start with the muscles of the face, especially your tongue, letting it fall inside your mouth without touching any of the teeth or palate. Continue relaxing each muscle until you reach the feet. Focus on the body's internal movements, and once you have completed the steps above, start to feel the flow of your blood, the beat of your pulse. Follow the air path from the nostrils to the lungs and back, and finally pay attention until you can feel every heartbeat. At this point, you will be ready to enter meditation.
---
KINAN SPA
Belmond Maroma Resort & Spa
Grounded in ancient rituals, rare indigenous botanicals, and a holistic approach to healing, this is a jewel among Riviera Maya spas. There is so much on offer, from traditional Temazcal ceremonies that detox and purify to massages and wraps enriched with robust plants. Built with the spiritual guidance of a family of Mayan masons, Kinan Spa is a sanctuary aligned with the stars and positioned in harmony with nature. Many of the exclusive treatments use rich local ingredients, such as chocolate, honey, and powerful Mayan herbs. The spa embraces the concept of "slow beauty" which comes from within and spreads throughout your body and soul. Info: belmond.com.
Treatment: Avocado Mask
What You Need: One-half avocado, honey (1.5 tbsp), small bowl.
Directions: Remove the pulp from the avocado and place it in the small bowl with honey. Stir well until you get a paste. Apply the mixture to a cleanse face and leave for 10 minutes. Remove with water. Apply your favorite moisturizer.
---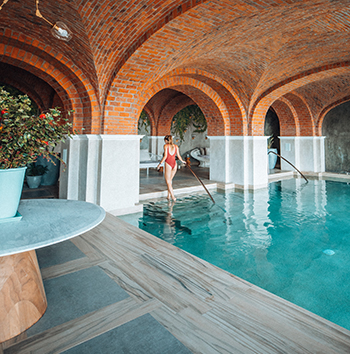 MILAGRO SPA
Vista Encantada Spa Resort & Residences
Experience the ancestral wisdom in the use of herbs and plants on the healing and life-giving energy for spirit and body in different remedies that Milagro Spa incorporates unique Mexican experiences. One of the spa's signature treatments utilizes natural ingredients leaving sign soft, smooth, and supple. Info: www.vistaencantadaresort.com.
Treatment: Honey Polish
What You Need: White Sugar (4 oz), honey (3 tbsp), olive or almond oil (2 tbsp), small bowl.
Directions: Mix the sugar and honey in a bowl with a spoon until you have a thick paste. Add the olive almond oil and stir until it has fully integrated into the scrub. Wash your face and remove all makeup before applying the mix. Apply the scrub to your face in circular movements without applying too much pressure and avoiding using it in the area around your eyes. Relax and leave the scrub for approximately 10 minutes. Rinse off with warm water. Apply moisturizer.
---