ON STAGE
Listening In The Dark
By Lori Zelenko
With Broadway dark, we thought we would re-live some of our favorite recent shows. What better way than binge-listening to the cast albums? So, until the lights shine once again, enjoy these cast albums of hits that barely opened in NYC from this past season. Just for good measure, we have added in the ultimate Broadway fix, Hamilton, a must-have this July when patriotic spirit runs high. So, pump up the volume! And get ready to dance if not in the aisles then at least in your living room.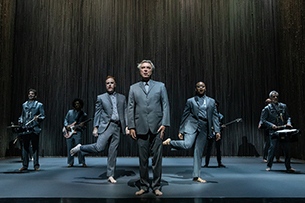 AMERICAN UTOPIA
You may ask yourself, "How did I get here?" to quote a line from the Talking Heads "Once In A Lifetime" hit tune, as you find yourself dancing to "Burning Down The House". Bet you will find yourself compelled to get on your feet—dance, scream, shout, and yes, maybe even applaud—the moment the first number in David Byrne's American Utopia ends. At once bringing back and updating the avant-garde music scene of CBGBs and the Mudd Club, the album mixes the familiar—hits from David Byrne's band, The Talking Heads—with music created just for the Broadway show.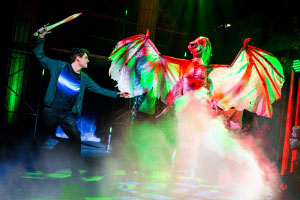 PERCY JACKSON AND THE LIGHTNING THIEF  
Teenagers in the house? Then this cast album is a necessity. The action-packed story revolves around Percy Jackson, who has newly discovered powers he cannot control. Big dilemma! Plus, there are monsters on his trail, and he is on a quest to find Zeus's lightning bolt, not to mention prevent a war between the Greek gods. Big plan for anyone, much less a teen. But normal is a myth when you are a demigod. Based on the best-selling Disney-Hyperion novel by Rick Riordan, this thrilling original rock score will engage parents and teens alike. There are superpowers inside all of us, here's a score to unleash them!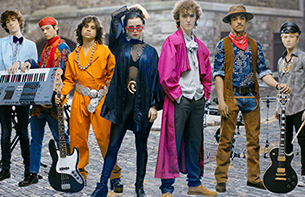 SING STREET
Celebrating the thrill of first love and the power of music, Sing Street embraces the new wave sounds of the 80s. Set in Dublin, Ireland, in 1982, when unemployment is raging, and thousands seek bluer skies across the Irish Sea, the show brings us sixteen-year-old Conor and his schoolmates as they turn to music to escape troubles at home and impress a mysterious girl. The critically acclaimed score is recognized as one of the most compulsively listenable cast recordings in recent memory. It is not all '80s-rock style catchy up-tunes; the authentic and affecting cast album has beautiful ballads.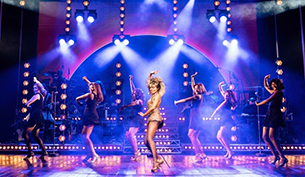 TINA: THE TINA TURNER MUSICAL
In a word: Electrifying! Tina's sass, unbelievable energy, tough girl/tender heart attitude, and vulnerability are belied by a powerhouse voice and a will to survive. Listening to Adrienne Warren, who embodies this adored superstar on Broadway and in the London recording of this bio-musical, you just can't get enough of her renditions of Tina's hits: "River Deep, Mountain High," "Let's Stay Together," "Proud Mary," "We Don't Need Another Hero," and of course, the mega chart-topper "What's Love Got To Do With It" –among 20 other unforgettable Tina Turner tunes. Pick a hit, listen even casually, guarantee you will be hooked.
HAMILTON AN AMERICAN MUSICAL
Combining hip hop with Broadway tradition, Lin-Manuel Miranda's groundbreaking, record-smashing musical about Alexander Hamilton, one of our country's previously unsung Founding Fathers, is a candid look at his success stories and personal tragedies too. No matter if you are a fan of Shakespeare or an aficionado of musicals such as South Pacific and Camelot, the relevancy here uncovers the foundation of American History lessons applicable to us today. If this album is not in your collection, the time to add it is now!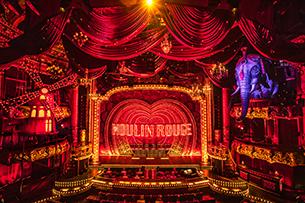 MOULIN ROUGE
Name a fave tune, one that's catchy and pop or maybe a ballad or two; it stands to odds that your choice is on the soundtrack of hit movie turned Broadway show, Moulin Rouge. The story, primarily of star-crossed lovers, speaks to love. And music…50 years of hits, from "Shake It Up" (initially popularized by Florence and the Machine) and "Lady Marmalade," a super-standard for Patti LaBelle to "Diamonds are Forever" with cinematic echoes of Dame Shirley Bassey. Not every song is as famous as the Rolling Stones "Sympathy for the Devil," there are a vast number of top 40 love songs never out of style, as well as new music written specifically for this production. And mashups making all unexpectedly fun.

SIX
Divorced, beheaded, died, divorced, beheaded, survived. From Tudor Queens to Pop Princesses, SIX reimagines the lives of the wives of Henry VIII as a modern girl band pondering their fates as if they had pursued their own lives and had not married him. The wives of Henry VIII—all six of them—come alive in the cast album, reclaiming their identities from their infamous spouse's shadow. Five hundred years of historical heartbreak are re-mixed into an exuberant celebration of 21st-century girl power. The female cast is backed by an all-female band, the "Ladies in Waiting."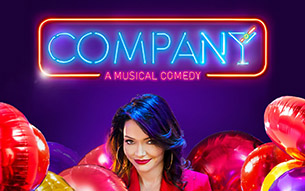 COMPANY
Phone rings, Door chimes. In comes Company! The quintessential musical comedy about the search for love and cocktails in the Big Apple is turned on its head as musical theater's most iconic bachelor becomes a bachelorette. At Bobbie's (played by Tony Award-winner Katrina Lenk) 35th birthday party, all her friends are wondering why isn't she married? Why can't she find the right man? And, why can't she settle down and have a family? This whip-smart musical, given a game-changing makeover for a modern-day Manhattan, features some of Sondheim's best-loved songs, including "Company," "You Could Drive a Person Crazy," "The Ladies Who Lunch," "Side by Side," and the iconic "Being Alive." The Broadway cast album is not out yet, but the 2018 London cast recording is terrific in the meantime.