In my home, the rule is: Do not step out of the apartment without a mask!  Not even to take out the garbage. To comply, my husband and I have given ourselves over to Giftgowns' collection of machine-washable cotton masks. Sold in curated bundles (9 to 5, Unisex, Classic Mask, etc.), as well as individually, we've found that the best way to ensure uninterrupted protection is to buy in bulk so you can toss them in the wash, especially when forced to interact with the unmasked. Worth knowing: Giftgowns also sells filters that slide into a built-in mask pocket, and recently the company introduced kid's masks in two sizes: 2 to 7 and 8 to 12. Info:giftgowns.com/face-masks.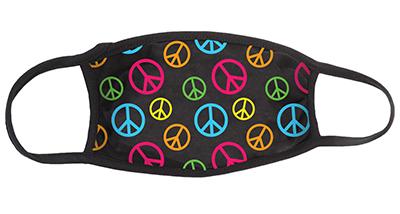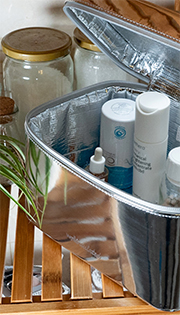 Mylar has never looked so upscale or been more practical than it does in the WELLinsulated collection of bags. Do these babies keep make-up from melting and maintain meds and supplement potency, even under super-sultry conditions? Yes, they do. Does the built-in cushioning protect cell phones, earbuds, chargers, and whatnot from scratches and extreme temperatures? Indeed. Finally, are the bags (which come in several sizes and designs), waterproof? You bet. I own one, and as a seasoned klutz, it has saved my stuff and dignity many times. Info: wellinsulated.com.
Red Bull cooling for an all-nighter; soft drinks fridging out en route to the hiking trail; family binge night stocked with juice boxes, beer, cheese, and fruit. The list goes on when it comes to the Uber Chill Mini Fridge XL. The look is retro—a little like a 1950s dryer—but the overall look, functionality, and color options make this compact innovation totally 21st century. Quiet and lightweight, the Uber Chill holds up to 12 cans or 16.9-ounce bottles. Or—and this to me is thoroughly awesome—it can be switched from cooling to warming, which means you can transport cookies and cupcakes from home to dorm (or bake sale) in all their fresh from the oven Info: uberappliance.com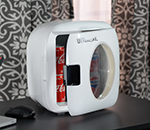 In-home workouts are so last month, with weights, yoga apps, and treadmills gathering dust in favor of binge scrolling, Hulu marathons, and refrigerator raids. Even venturing outside to walk, jog or bike has reached new ho-hum levels for both kids and adults, is why you might want to take a stand—literally—with ElliptiGO, a mash-up of elliptical and traditional biking that offers a low-impact/results-oriented way to exercise. Bottom line: you feel like you're "running on air." And yes, it is adaptable to year-round use via the company's Fluid 365 Stationary Trainer should you become addicted, which is a fairly good bet. Info: elliptigo.com.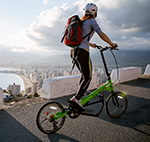 As we tentatively test the waters of wanderlust, our first thoughts turn to socialize with the friends and family members we've only visited on computer screens for several months. Hitting the open road or braving the friendly skies can be daunting, but a bit less so when your rolling, hard-shell luggage is equal parts clothes and wine—five 750ml bottles to be exact. VinGardeValise® Piccolo pretty much guarantees VIP guest status with its cool concept and genius wherewithal. Just keep in mind that you'll need to either check your bag or filler' up in duty-free shops when flying. Motorists, on the other hand, are good to go! Info: vingardevalise.com.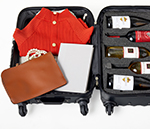 Whether it's the close quarters, challenges of homeschooling, cramped office, or heading out into the world, PandemicLand is the epicenter of stress, anxiety, and depression. Fortunately, Healium is dedicated to defusing our mental morass via integrated software described as "the world's first virtual and augmented reality stress management program powered by brainwaves and heart rate." From a Smartphone app to a 360-degree story experience, the end game is immersive serenity. For a sample of Healium's ability to replace stress with new visual realities, I strongly suggest visiting the company website: 
Info: tryhealium.com/stories.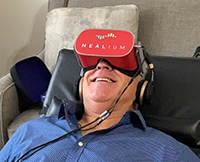 Yes, the bee puns are buzzing, honey, but not for edible purposes. SuperBee's sweet array of beeswax wraps and bags (plus some nifty extension products) are the ultimate eco-centric-kick-plastic-waste-to-the-recycling-bin products around. Plus, the Bee Team's design mavens have come up with a cavalcade of cool patterns making these handmade antibacterial and reusable wraps all kinds of stylish. Ideal for everything from sandwiches to fresh flowers to travel essentials, the wraps are made from 100 percent cotton, organic coconut oil, beeswax, and the surprise ingredient: tree resin for shape and stick leverage. I've been using a Beeginners Kit, and without question, I'm a bee-liever! Info: Superbee.me.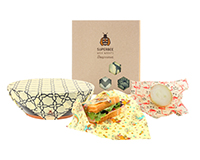 As summer melts into fall, the game's object becomes virtual brunches (Bloody Mary's, Screwdrivers), as well as après workday R & R (Martinis, Cosmopolitans), which leads me down the road to my latest passion, NEFT Vodka. Astonishingly affordable and boldly packaged in their signature unbreakable barrel Black or White (your choice), this velvety quaff—crafted in the Austrian Alps, has picked up all kinds of kudos from places like the Beverage Tasting Institute and VinePair. Not surprising, once you consider, it's been distilled three times. I suggest you set in motion your taste test. Nostrovia! Info: neftvodka.com.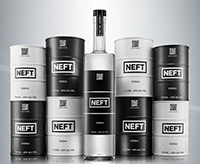 Wet hair and the towel that lavishes it with love: The Volo Beauty Hero. Evidently (and who knew?), our traditional terrycloth head wraps could cause breakage and other unsavory scalp-related things. From wee ones to teens to adults—be they poised for on-line schooling or video conferencing—need to address wet heads with a kinder, gentler towel….one made of microfiber that's soft and highly absorbent. And one that doesn't unravel every 30 seconds. The Volvo Beauty towel addresses these challenges by a) absorbing 50% more water than Towels 101, and a "grippy" tuckable strap that keeps the towel in place. Most impressive. Info: volvobeauty.com.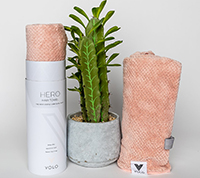 Post-drying, I suggest checking out an ingenious little tool called ForBabs' X-Static Brush that has become one of my hair-care staples. Its superpowers are its ability to a) fight frizz, even during humid days; b) tackle flyaway strands that refuse to be curbed; and c) eliminate multiple trips to curling irons, straighteners, and your hair product collection. To wit, the brush's design—created by Annette Crone—involves reloaded/replaceable anti-static sheets that do their job and then can be torn away while a new sheet awaits. I used it on my renegade frizzy bangs, and it did its job as advertised. Hello Zoom. Info: forbabs.com.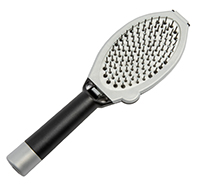 Fact: Quarantined skin needs help, and I'm not talking night creams or make-up as both are givens. No, I'm suggesting balancing one's distressed derma with KungFu Apothecary's Facial Tools, a dedicated group that works together to plump, soothe, and tone one's screen mien. The beautifully presented set is available in three crystal options "based on your own unique needs: Black Obsidian, Amethyst (my fave), and White Jade. The basic set comes with a facial roller, eye wand, and gua sha stone. Upping the ante, the expanded KungFu Ritual also features a facial cupping set and the company's sublime Yin and Yang facial oils. Info: kungfuapoothecary.com.