A Taste Of Campania
Discovering Italian Wine Varietals
By Jenny Peters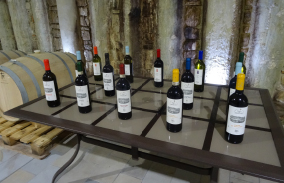 When you reach for Italian wine to serve or sip, what comes to mind? Tuscany, we'll bet, especially those famed Super Tuscans (Ornellaia, Sassicaia, Tignanello) often made with Cabernet Sauvignon, Merlot, and Syrah; or perhaps the Piedmont, where Barolo, Moscato or Barbera de Asti and sparkling red "friizzante" wines like Brachetto de Aqui and Fresia have also gained fame.
But we'll bet that wines from Campania, the region with 15 DOCs and four DOCGs (think AVA designations in America or AOCs in France, with DOCG being the highest Italian level a region can attain) doesn't leap to mind. Campania encompasses Naples, the Amalfi Coast, Vesuvius, Pompeii, and, moving inland, numerous wine-producing areas.

TENUTA DEL MERIGGIO WINERY

This winery lies east of Naples, in the hilly area between Avellino and Irpinia, right in Campania's heart. Their palate-pleasing wines with perhaps some unfamiliar names reflect the best of this lesser-known Italian wine region, where the Bruno Pizza family grows and bottles grape varietals on their estate.
White wine lovers, have you ever tasted a Fiano or a Greco? How about a big red Taurasi made from the Aglianico grape? If not, you're in for a treat, and if so, these wines are elegant, drinkable reflections of these grapes, many of which have been part of Italian winemaking since ancient days.
Taking a tasting flight with Tenuta del Meriggio gives a Campania wine novice a delightful journey into those grapes and the resulting wines. Their 2019 Fiano di Avellino DOCG is exquisite, an award-winning dry white wine made in stainless-steel tanks. An easy-drinking wine with beautiful structure, crisp minerality, and notes of peach, tropical fruits, and almonds is a perfect example of Fiano di Avellino, which many believe to be the best white wine created in Italy.
The winery's Greco di Tufo DOCG white wine gives the Fiano a run for its money, for that wine designation also vies for the "best in Italy" opinion. Another crisp, wonderful dry wine with a hint of fruity sweetness—pears and a touch of lemon—and the backbone of the minerality and balanced acidity characterize Campania's wines.
IMPROVE WITH AGE

Both Fiano and Greco di Tufo are white wines that improve with aging while being eminently drinkable, especially when paired with Mediterranean-style seafood, especially shellfish. As these wines age, they are robust enough to be quaffed with risottos, roasts, and even, as the winemaker suggests, "wild boar and porcini mushrooms."
Those robust dishes can also be paired with Tenuta del Meriggio's crowning glory, the Taurasi DOCG. Made with the Aglianico red grapes grown in the volcanic soil of the estate's hillsides in the region's Apennine Mountains amid the Taurasi DOCG, the wine by law must spend at least a year in the barrel. Their 100 percent Aglianico version spends closer to three years in the barrel, then another in the bottle. The result is one of Italy's finest reds, with flavors of cherry, plum, and pepper. It is a wine that can stand up to red meat, hearty portions of pasta, and that Naples (and American) staple, pizza; and with a price that's under $30, it's a real steal.
The pandemic has slowed the planned importation of Tenuta del Meriggio into New York wine shops, but all the wines mentioned here can be purchased at Tannico.com, with prices quoted that include customs and import taxes. Shipping is free for orders over $189, so we suggest you mix up a case of this fine winery's offerings and spend the coming winter months tasting the best of Campania.
For more information on Tenuta del Meriggio Winery, visit tenutadelmeriggio.it/en/.