A MERMAID TALE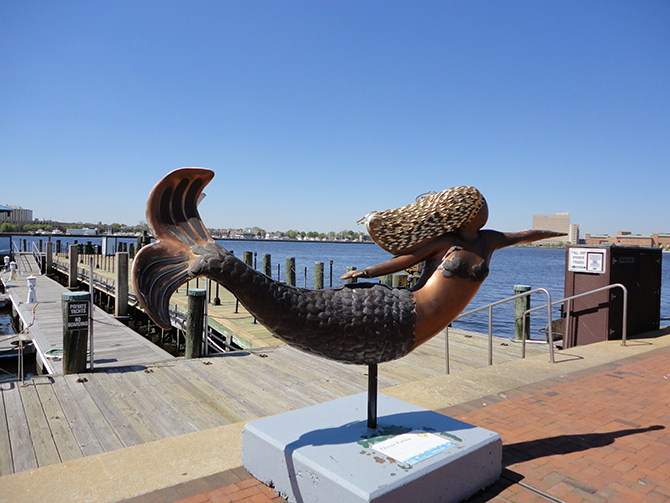 By Gretchen Kelly
Mermaids are mythical creatures that exist in folklore, our imagination—and in Norfolk, Virginia. Site of the massive Naval Station Norfolk as well as NATO's military united, the Allied Command Transformation unit, this place has long ties to the sea.
Sir Walter Raleigh sailed to these shores in the 1600s, searching for potential settlement areas (too bad he ended up choosing the ill-fated Roanoke Island in North Carolina). But by later Colonial days, Norfolk was firmly established as a strategic naval site and it has remained so to this day. Walking through the city, you'll see all kinds of officers and enlisted men and women in their white formal uniforms—something that reminded me of the 1990s film, No Way Out, where Kevin Costner was similarly spectacularly attired.
These historic ties to the sea led Norfolk to choose the mermaid as its mascot of a major urban renewal project 10 years ago. Over 100 mermaid statues were commissioned by local artists and you can now see them, "swimming" around the city and posing sirene-like in the most unexpected places, making a weekend trip to this Chesapeake bayside town a virtual mermaid safari.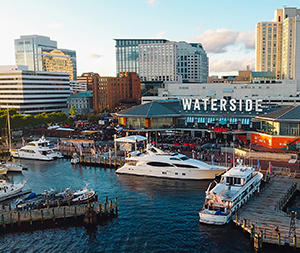 The Waterfront District
HISTORY UP CLOSE
My hotel, the Sheraton Norfolk Waterside Hotel (sheratonnorfolkwaterside.com) overlooks the beautiful Waterfront District, a walkable area of restaurants, bars and seasonal outdoor entertainment. Nearby, another mermaid was dwelling under a fountain of flowing water by Norfolk's massive Nauticus Museum (nauticus.org), a combination aquarium and ocean science discovery center that sits next to the docked USS Wisconsin warship—a mighty battleship you can tour, marveling at how many men were quartered in such small places on such a huge ship. Commissioned in 1944, she was decommissioned in 1951. In 1991 we was decommissioned after serving in WWII through the Gulf War and received a Navy Unit Commendation for service. Touring her, you definitely feel her long years of active service—from the rivets in her steel hull to her massive outdoor deck.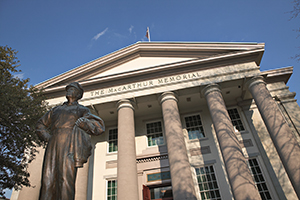 MacArthur Memorial
World War II buffs will want to visit the nearby MacArthur Memorial (macarthurmemorial.org), a museum, research center and also the mausoleum of General Douglas MacArthur, who is buried here with his beloved second wife Jean who passed away in 2000 at the ripe old age of 101. You can see the famed Jeep MacArthur rode around in (with corn cob pipe and aviators) as well as a wealth of other historical documents and items. The day I visited the attendant on duty at his tomb was a woman from Manila, a fact that the General himself would have been pleased about, given his love for those islands and his famed, kept promise, "I will return."
THE ARTS ARE ALIVE
Some of the mermaids I saw in Norfolk were swimming around the city's new NEON District, a vibrant arts community that has grown in an area that was formerly an abandoned industrial zone—(NEON stands for New Energy of Norfolk). The district also includes the Chrysler Museum and the Chrysler Glass Studio. The museum, founded by the car manufacturing family, is home to a treasure trove of art from ancient days through the modern era.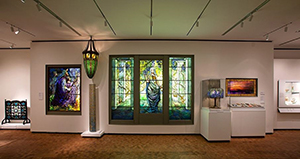 Chrysler Museum
The collection has a stash of over 30,000 pieces of art The New York Times says, "Any museum in the world would kill for" including European and American paintings from the Middle Ages to the modern era. It also houses one of the world's finest collection of glass and works by the art nouveau master, Louis Comfort Tiffany.
Given its emphasis on glass, the museum has an adjacent glass studio where a live demonstration of the art of glass gives you a glimpse of how strings and lumps of molten lava become beautiful, fragile art pieces. (I was even given a glass mermaid as a souvenir of my visit!).
After a morning of maritime history and art, I lunched in the NEON district at the popular Field Guide (fieldguide.is), a down home eatery housed in a former warehouse that specializes in local, organic foods and flavors with a hearty emphasis on comfort feel. Tops on the menu: The catfish sandwich that would have made any mermaid sigh in contentment.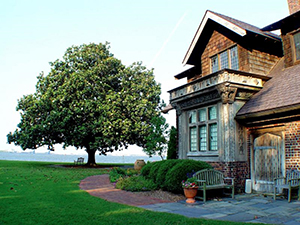 Hermitage Museum
LUSH GARDENS AND MORE
After a satisfying mid-day break, my afternoon encompassed a visit to the Hermitage Museum and Gardens (hermitagemuseum.org) where this 1908 waterside house and 12 acres of gardens were being colonized by a temporary exhibit, Art of the Burning Man, the first installation exhibit of major works from the famed Nevada festival. I marveled at the intricacy of a strange tower festooned with images of Frida Kahlo that stood outside the house itself, as well as a massive shoe, featuring a winding staircase for scenic views of the surrounding lushness.
Inside the house (once the home of textile magnates, Florence and William Sloan), a combination of the Sloan's own collection of Asian art and decorative objects and smaller pieces from Burning Man stole the hours of the afternoon but there was still time to visit the Norfolk Botanical Garden (norfolkbotanicalgarden.org), just outside of town, a gorgeous 175-acre garden planted in 1938, largely by 220 African-American WPA workers who are memorialized with an exhibit and a moving statue of a woman planter here. Ironically, the planters that built the garden were not able to visit them during Jim Crow-era segregation times, a fact that the Gardens does not skirt but discusses openly with a large educational component on those times and on the women who made the earth come alive here.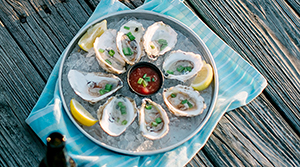 Oyster on the Halfshell
As mermaids drew me through the history, art and lush gardens of this Virginian landmark city, I ended the day back at the Waterfront District for dinner. Do you remember that scene in Splash where Daryl Hannah (the mermaid) munches happily on a lobster? That was me (only my crustacean of choice was Chesapeake she crab) at Todd Jurich's Bistro (toddjurichsbistro.com) - a fixture of fine dining in downtown Norfolk since the 1990s. This elegant eatery has views of the waterfront and a cellar of great wines that pair beautifully with the self-taught chef's classic cuisine. (The Bistro has hosted many of visiting celebrity, Harrison Ford, most recently, who should know good food as his son is a chef himself).
Once home, I thought of T. S. Elliot's Line in The Love Song of J. Alfred Prufrock: "I have heard the mermaids singing each to each." If you hear Norfolk's siren song of history, art, culture and great food and let it lure you to her shores, you're sure to want to return for more.
---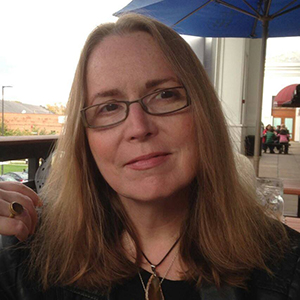 Gretchen Kelly writes on travel and hotels for The New York Post, TravelwithVal.com, Frommers.com, and many other websites and publications. She has appeared on FOX5's Good Day New York, BBC Worldwide News and Bloomberg News. She's been to over 80 countries.