Upscale Serviced Apartment Begins Welcoming Guests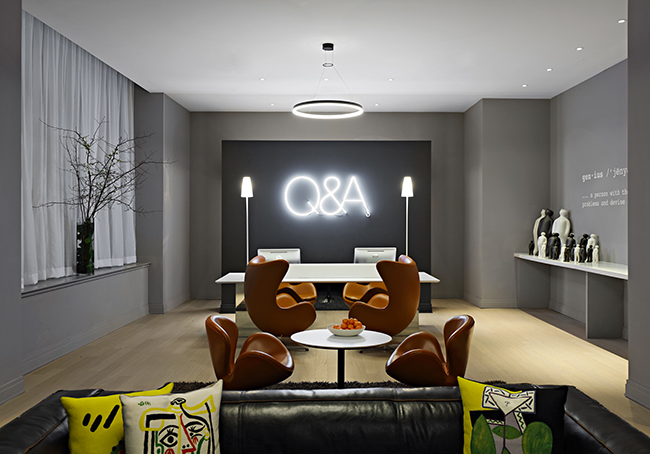 By Ross Warren
Q&A Residential Hotel, the first short-stay furnished apartment by Furnished Quarters, has begun welcoming guests. Situated in the heart of the thriving Financial District, this innovative residential hotel concept offers a new way to travel: short-stay, live-work suites, available for up to 30 days, allowing for shorter stays than traditional furnished apartments. Q&A Residential Hotel is located on floors three through six of the iconic Art Deco skyscraper, 70 Pine Street, a historic Landmark well known as the former AIG world headquarters.
Staying true to their "Stay Inventive" tagline, Q&A Residential Hotel brings a new category to the hospitality industry – an upscale residential experience where each of the 132 apartment-sized suites (ranging from 500 to 1,400 sq. ft.), feels like home. Standout features include a variety of thoughtful custom-built amenities such as a full-sized kitchen complete with top of the line cookware, dishwasher, stove; bespoke furniture and king size beds across all suite categories; smart TVs with streaming capability and more. Enjoying accommodations that average three times larger than typical New York City hotel rooms, guests of the property can feel like a resident, rather than a visitor.
In line with the inspirational vision behind Q&A Hotel, the aesthetic reflects innovation and dedication to creativity. Designed by the Furnished Quarters' in-house design team, led by Steve Saide, EVP of Design, in collaboration with Benjamin Noriega-Ortiz, the designer behind the Mondrian Hotels, including the Mondrian SoHo Hotel in New York and the Mondrian Hotel in Los Angeles, each apartment offers an upscale look and feel, with sleek décor comprised of items hand-selected from around the world.
The largely neutral color palate and thoughtfully curated furnishings have been chosen to ignite creativity among visitors. The purpose of the property itself is meant to serve as a solution for business and leisure travelers alike, who are seeking a home-away-from-home experience; the A to each traveler's Q, if you will. Expanding upon this unique concept, every suite category is named after a ground-breaking inventor who uncovered answers to questions of his time, with rooms featuring large-scale, artistic interpretations of each great invention's patent; Thomas Edison, the Wright Brothers, Benjamin Franklin are among the visionaries represented. Curious about the owl in your room? As intended. They're there to inspire curiosity.
Guests of the residential hotel can enjoy an array of convenient amenities and in-building offerings, including a La Palestra fitness and wellness center, artisanal Australian coffee shop Black Fox Coffee, which will serve up specialty coffee, tea, cold pressed juices and baked goods, and a 13,000 sq. ft. Urban Market featuring gourmet, high-end, prepared foods, modeled after the Brooklyn outpost. Additionally, admired restaurateur Ken Friedman and Michelin-starred chef April Bloomfield will operate a four-level dining and drinking complex atop the 66-story art deco landmark, set to open in early 2017.
For more information, please visit: QandAHotel.com
About Q&A Residential Hotel
The Q&A Residential Hotel is designed to serve the needs of today's business and leisure travelers. With 132 suites, Q&A's accommodations are, on average, three times larger than a typical New York City hotel room. Q&A is also unique in that every suite is a full-sized apartment with a full-sized kitchen. For more information or to make reservations, visit qandahotel.com