Agnanti Restaurant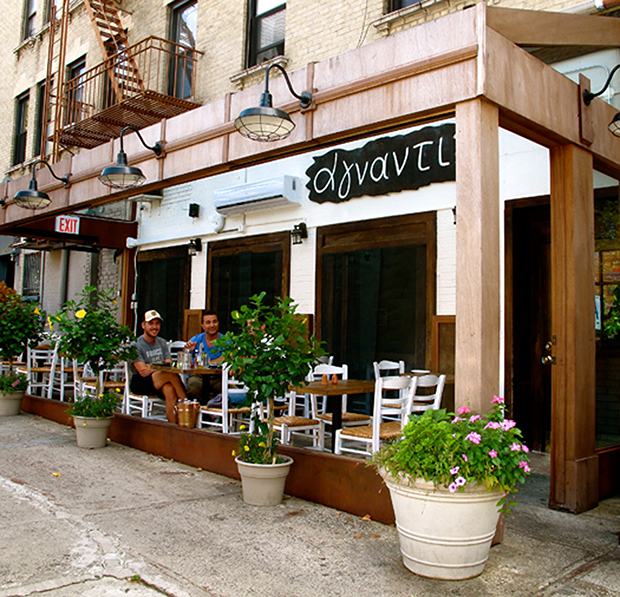 Story by Jon Haggins
Photos by Maybelle Webster
If you want a very special dining experience you have to visit Agnanti Restaurant in Astoria, Queens. The gracious owners are Maria Lambrianidis and chef Spiro Sidorakis of this special establishment.
The restaurant offers a traditional Constantinople, Greek dining experience. I felt as if I had landed in Greece, because the hospitality and friendliness of the owner and staff was very relaxed.
Agnanti Restaurant is celebrating 13 years off the beaten path on a quiet street in Astoria. It's a historical area, formally known as the land of movies. Quite a few celebrity guests have dined there such as: Patricia Field, Sarah Jessica Parker, Ivanka Trump, Gwen Paltrow and Greek Celebrity Anna Vissi.
Maria's daughter Faye dropped in and shared her enthusiastic personality. Agnanti chef Sidorakis and Faye have also cooked for Michael Bloomberg and appeared on Good Day New York with Rosanna Scotto as well as The Food Network.
A visit to this restaurant is a most enjoyable day trip from Manhattan. I spent 4 hours tasting various tapas. Each dish was sensational. This was my third visit and on each occasion they have maintained the same high standards for their cuisine.
We dined in the outdoor café, starting with Kafta, which is zucchini with feta cheese and a Greek Brochetta. Our lunch was accompanied with Kanenas, a red full body wine blended with a combination of Cabernet and Shiraz, a vintage Greek wine. They also have their own label wine.
The semolina cakes and seasonal fruit on Greek yogurt is always compliments of the house. Kesso yogurt is the best Greece yogurt. Chris Petsilas' brother-in-law produces and sells it to the restaurant. It's thick and it's the best. The Chalvas cakes are grainy with almonds and raisins, most delicious. Maria said, "I offer the most authentic Greek cuisine that represents multi ethnic culture from different regions."
Our appetizers included Ntakos, (which is Cretan rusk), fresh tomatoes, feta cheese, olives, capers, oregano & olive oil. This was a fabulous traditional dish ($12.00). From the hot selection we encountered the best grilled octopus, fresh, soft and eatable ($14.00). We also had Fish Meze, a grape leaf stuffed twith Alaskan Salmon ($9.50) and Kolokythokeftedes Mykonos (zucchini & cheese croquettes $9.50). These were sensational dishes.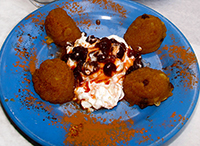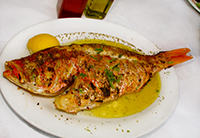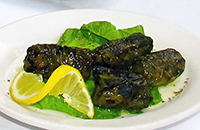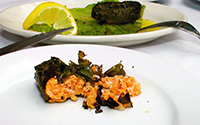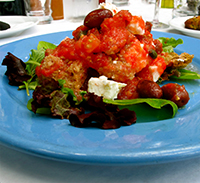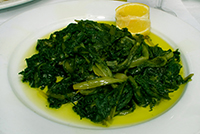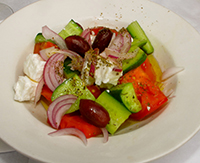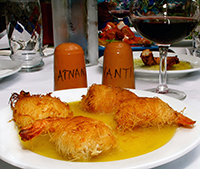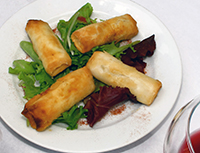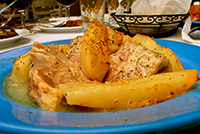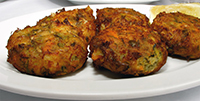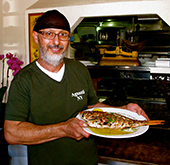 We sampled Katiki Agrafon, a fyllo dough spring roll filled with dried tomato and basil ($9.00). What a sensational dish. Other dishes brought to the table included: Horta steamed traditional seasonal greens, drenched with olive oil and lemon ($6.00) and Shrimp Kataifi (shrimp dipped in homemade mustard sauce and rolled in finely shredded pastry ($13.00). This dish was extraordinary. The main course, red snapper was ultra fresh and it's served from the grill and priced by the pound.  The Paidakia, grilled lamb chops ($25.00) were exceptionally tender. We topped off our lunch with a very small cup of Greek coffee that permeated throughout the restaurant.
I felt as if I was on vacation away from the city. The restaurant is located on a street corner next to a park with the best view of the east river. Imagine a clear sky, quiet breeze, sitting outdoors on a perfect day, totally relaxing with the best Greek cuisine and good friends.
We waddled like ducks out of the restaurant because of the abundance of extraordinary food we had consumed. What could be better than that? I can't wait to return for another fantastic dining experience.
Agnanti Restaurant
19-06 Ditmars Blvd.
Astoria, NY 11105
718-545-4554
agnantimeze.com