Brooklyn, Hip & Trendy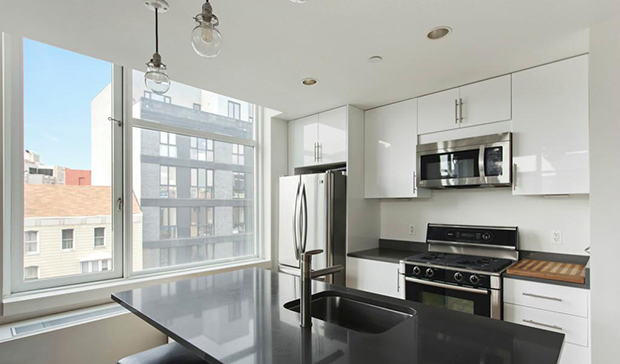 By Daniel J. Bollinger
This month I decided to take the L train right outside of Manhattan to what I call the most popular borough in the world right now, Brooklyn.
I toured a beautiful corner condo located at 1 Powers Street in the ultra-hip and very sought after neighborhood of Williamsburg. For me Williamsburg is one of the best places to live in the city for many reasons, some being: Williamsburg is one of the hippest and trendiest areas of Brooklyn with restaurants galore, unique shopping, a thriving artists' scene, and its proximity (3-4 subway stops) to one the central hubs of Manhattan, Union Square.
Brooklyn is undergoing more development than even Manhattan right now and Williamsburg has one of biggest chunks of that development pie. The apartment I viewed is a beautiful 1,000+ SF living space and is a great value for the list price of $1.195 million. The two-bedroom has an excellent layout with the bedrooms on opposite sides of the apartment for maximum privacy. The kitchen and living room separate these bedrooms and off of the living room there is a balcony.
The kitchen is well designed to fit the space with an island that includes the sink, which completes a perfect kitchen work triangle making it an efficient layout for those chefs who like to cook. The black and white color palette works seamlessly with the wooden floors (throughout). The salt and pepper kitchen motif really 'defines' the kitchen and does not detract from the living room but actually helps introduce it as you make your way through the apartment.
The bathrooms are equally impressive. The one thing that I really want to point out is the design of the master bath. Three kinds of tile occupy the walls: Elongated subway tiles cover opposing sides of the bathroom which make the space feel larger and more 'airy'. The tub's façade is tiled with large square tiles giving it more than just a "that's the tub" feeling. But the real piece de resistance of the master bath is the black tiling on the tub's inside wall. Matching accents of the vanity countertop and toilet tie the whole bathroom together.
Great views abound from every window of this condo and the balcony is situated perfectly over a main street. If people watching is your thing... there are many hours and hours of opportunity for that on the balcony of this condo. Overall this is a great apartment: the design, the location, the amenities, and the price make for a good investment if you are in the market.