Destination for Stars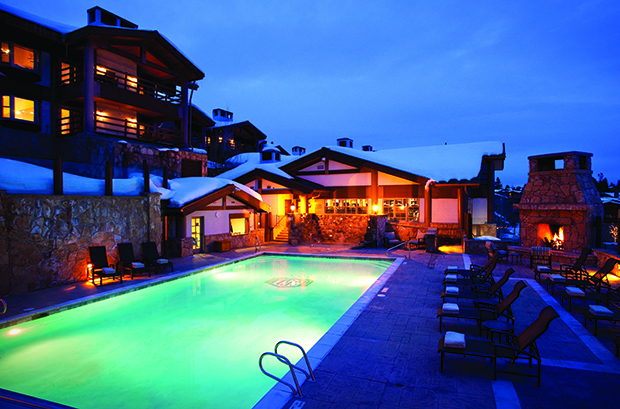 By Ross Warren
Arriving at the Stein Eriksen Lodge during ski season is an experience by itself. There is no snow on the walks; heating elements have been laced into the concrete to keep them clear. If you are arriving by car, you can drive directly into an enclosed parking area and leave your vehicle just below your accommodations.
Don't worry about the weather, an elevator will take you to your suite. And while the Lodge guards the identity of its guests, we learned that Kevin Costner had just vacated our suite. He could have stayed and enjoyed the time with us and never crossed paths... the suite was bigger than our home.
Named for famed Olympic skier Stein Eriksen, the Lodge is arguably one of the most upscale and beautiful resorts in the country. But don't let that fool you. The people here are real and anyone putting on airs would be a rarity.
One of the treats following a day of skiing, horseback riding, hiking, or spending time in the quaint old mining town of Park City, is the absolutely wonderful spa at the resort.
At 23,000 square feet with over 16 treatment rooms, the spa offers guests the ultimate in pampering and relaxation. Separate spacious relaxation rooms for men and women include access to a sauna, steam room and a hot and cold plunge.
Utah's only Forbes Five Star Spa includes two couple's treatment rooms, complete with private showers, tubs, and a shared private relaxation suite with a fireplace. Additional specialty rooms include two Vichy wet treatment rooms, manicure/pedicure stations and separate salon for hair and makeup.
The Spa is doing a Gold & Diamond Facial that actually uses real gold & diamond dust for a truly unique facial that can be paired with any massage or treatment in the spa.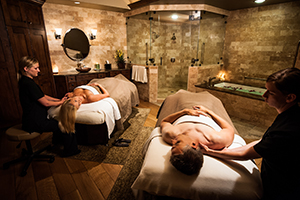 EXCLUSIVELY MALE
Each treatment is designed for complete relaxation and overall well-being. Always remember to discuss any physical concerns with your therapist in order to maximize massage benefits and avoid any problem. The Spa concierge will assist you in scheduling specific types of bodywork to complement your alpine activities.
HAIR CARE
Whether you are ready for a completely new look or are updating your current style, their Park City hair salon staff will work with you to create a look that compliments both you and your lifestyle. All hair services include access to the beautiful spa relaxation area, the option to change into a robe and slippers, a hair consultation, customized finishing, and a make-up, touch up, as well as a signature hand treatment and warm towel wrap. Price adjustments will be determined during your consultation based on the length and hair density.
Complimentary fitness classes for guests are also now available at the Verdandi Wellness Studio on-site at Stein Eriksen Lodge. Classes include pre and post-ski yoga as well as a number of cardio and toning classes.
Complimentary use of the following additional amenities are included with every spa treatment:
• Cardio fitness center
• Relaxation lounges
• Heated outdoor pool
• Private lockers
• Steam room and sauna
• Whirlpool
• Showers
• Personal care products
• Water, teas and tonics

For more information, please visit: www.steinlodge.com