Mt. Airy Resort & Spa Relaxation at its Best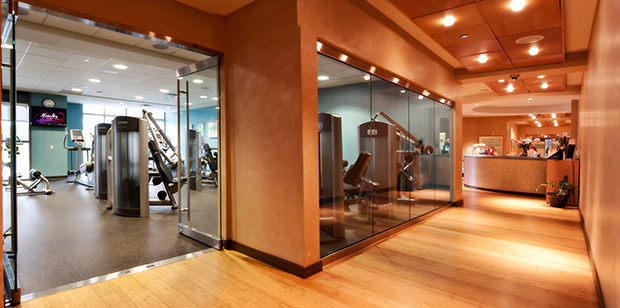 By Ed Curtis
New Yorkers, especially Manhattanites, tend to think of activities that they can easily get to by taxi or a five minute walk from their apartment or condo. What they don't often realize is that there is a whole world of possibilities out there.
Much of it is an easy ride from Midtown that will open up a host of activities or just plain relaxation.
Mt. Airy Casino Resort is one of those destinations. Barely an hour and a half from Times Square-a straight run on Rt. 80 through New Jersey and into Pennsylvania-offers great accommodations, a fantastic golf course right on the grounds and across from the main entrance, and a world class spa to chase away all the worries of the world.
Mount Airy Casino Resort (www.mountairycasino.com), Pennsylvania's first AAA Four Diamond-rated casino, boasts a luxury 18,000 square foot spa, offering guests the ultimate in relaxation and beauty treatments, set against the picturesque Pocono Mountains. Mount Airy Casino Resort created a 3 million dollar deluxe spa, to compliment the resort's diverse guest offerings, including fine dining, golf, first class hotel accommodations and the ultimate in entertainment and gaming.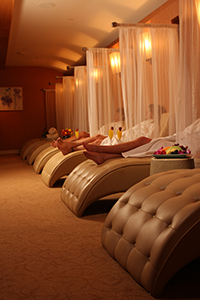 The spa design reflects the diversity of European tastes that resort owner Lisa DeNaples acquired during her extensive travel through Europe.  Blending international contemporary and colorful design palates with a touch of aqua, introduces a comfortable setting that puts guests at ease and amplifies the soothing and tranquil Pocono Mountain ambiance.
When selecting the services the spa would offer, Lisa DeNaples created a diverse menu capturing many global cultures and tastes to ensure that there were amenities for all guest palates.
Among the spa's signature services are its intensely popular Swedish massage. The massage features organic, natural body butter utilizing a blend of shea, cocoa and mango butters, organic aloe juice, rose, vitamins E and C, organic black willow bark, lavender and orange essential oils to enhance your spa experience. Also highly popular with guests is the bamboo Lomi Lomi Massage, which combines the benefits of bamboo massage with the rhythmic flow of Lomi Lomi. This one of kind massage allows your body to melt away into pure bliss.
Guests can also choose the spa's detoxifying clay wrap - to eliminate toxins and excess fluids. The Shiatsu scalp and sinus treatment is designed to help clear congestion and ease headaches.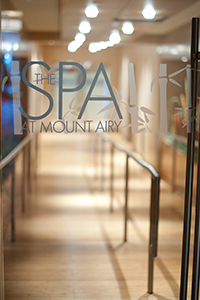 Naturally, the spa's beauty experts help guests look their most beautiful with customized skin care treatments for both men and women.
The steam and sauna rooms are bliss for couples and singles.
For invigorated and energized guests, the spa features a complete gym with state of the art weight and cardio workout equipment.
And after a relaxing experience at the spa, Mount Airy continues to deliver excellence with its men's and women's spa lounges.   The lounges boast sheer curtains for privacy, and an ornate hand crafted mosaic ceiling – which allows light to softly filter in – completing the ambiance of bliss.
After relaxing in the spa, try your hand in the casino. Mount Airy Casino Resort delivers the ultimate gaming experience with over 1,800 slot machines and 80 table games against the backdrop of Pennsylvania's picturesque Pocono Mountains.
Luxury hotel rooms and suites serve every need while guests discover a variety of signature restaurant options, including the recently opened Guy Fieri's Mt. Pocono Kitchen and Bistecca by Il Mulino.
This all-encompassing, full service resort destination for outdoor enthusiasts and gaming enthusiasts alike features an award- winning, lakefront 18-hole golf course; a $5 million, luxury, indoor/outdoor pool and entertainment complex – aptly called Get Wet; headline entertainment at Gypsies Nightclub and bar; banquet and conference center.