Big Apple Circus: One Ring Fits All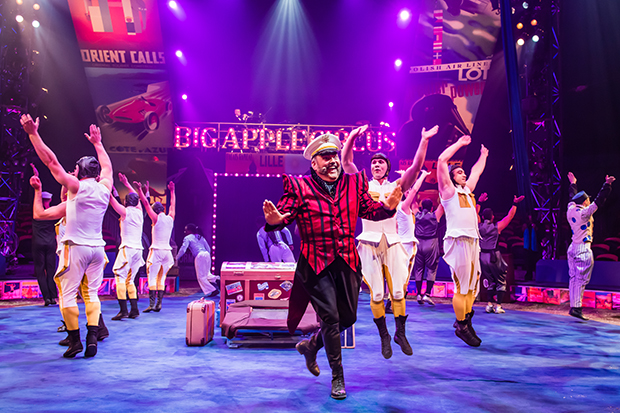 By Ed Curtis
Not all that many years ago traveling circuses were a familiar sight from the corn fields of Iowa to the open grassy lots of New York. Today, for the most part they have been consigned to the dust bin of history.
There were the venerable names such as Carson and Barnes, Hemmingford and Merriweather and the famed Clyde Beatty who transitioned to movies as a wild animal trainer. Now they are all gone, but the memories linger.
Picking up where they left off, the Big Apple Circus has brought the grand old tradition of the one-ring circus back to life. Actually, it has been doing it for more than 38 years.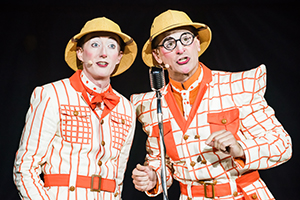 "We wanted to bring the circus close to the people," commented Mark Lonergan, the shows artistic director. "Our one-ring brings the guests right up close to all of the action. There isn't a seat under the canvas that is more than 50-feet from the action." Of all places where you'd never expect to see a circus tent, Lincoln Center, in the heart of New York, the Big Apple will be entertaining ladies and gentlemen and kids of all ages, until Jan.10.
You won't find lions and tigers, elephants and gorillas at Big Apple, but what you will find is lots of heart.
Lonergan notes, "we are a non-profit and because of that we are able to do things the big boys can't."
Among those activities is consideration for those with special needs. There are wireless audio headsets for the hearing impaired. This uses a state-of-the-art infrared transmission system that provides a play-by-play description of all the action in the ring.
American Sign Language interpreters are strategically positioned in spotlighted areas to translate the auditory aspects of the performance. Audiences may also choose a large print or Braille descriptive program, each of which describes the acts and performances. Special performances have been designated as "Circus of the Senses," and are aimed particularly at youngsters who have been physically and mentally challenged. Special interest is taken in autistic boys and girls.
The "Big Apple Circus Embraces Autism," provides performances with modified lighting and sound as well as a staffed calming center to meet the needs of children in the autism spectrum. Inclusion of all is a core value of the Big Apple Circus, dedicated to delivering the finest entertainment to everyone, regardless of physical or cognitive ability or economic circumstances.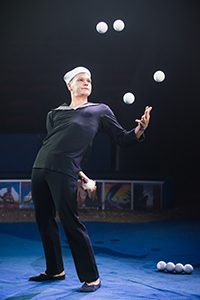 A "touch session" after the show offers a unique opportunity for pre-selected groups of visually impaired children to go into the ring to meet the artists and literally feel a clown's nose, a juggler's clubs, or the silky coat of a performing dog.
"Circus for All" distributes free and subsidized tickets to schools and non-profit organizations serving children from low-income families, enabling many of them to experience the excitement and wonder of the circus for the first time.
The "Circus After School" program teaches children life skills such as teamwork, responsible risk-taking, and perseverance, through a structured program of learning and performing circus arts.
Unlike Las Vegas, what happens outside the ring is as important to the Big Apple Circus as what happens inside of it. Community involvement is important. Performers brought some 225,000 children visits in hospitals by Clown Care Clown Doctors who made their lives a bit more fun, if only for a brief time. More than 10,000 seniors in residential care facilities were entertained by Vaudeville acts and children were taught to juggle, walk on stilts and develop teamwork.
For information, go to: bigapplecircus.org/circus-of-the-senses
"While we don't have the big animal acts," Lonergan noted, "we have major small animal performances. Jennie Zidbel is our animal trainer and does amazing things with horses and dogs. She lives on a farm in upstate New York and spends her off time working out new acts for her animals."
Lonergan noted that while every year is different, performers spend the off-season honing performances, acrobatic skills and specialties so that when the season picks up again, they are in tip-top shape to perform.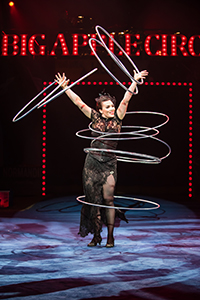 There are still spectacular moments during the performances. No circus is complete without aerialists, jugglers and clowns…and Big Apple provides these in spades. Sergey Akimov is an aerialist, Alexander Koblikov is an international juggling sensation and ninth generation circus performer Chiara Anastasini does wonders with hula hoops.
The Dominguez Brothers perform, defying the laws of gravity, with a thrilling act on the spinning wonder wheel. China is represented by The Energy Trio who balance on their hands in amazing positions. From Africa comes the Zuma Zuma acrobats and the Dosov Troupe soars on teeterboards.
This year's show, The Grand Tour, brings audiences back to the Roaring 20s, the advent of modern travel, when the most adventuresome began to tour the world in ships, planes, trains and automobiles.
An international cast of professional circus performers has been assembled from Africa, Asia, Australia, Europe and North and South America where circus families are a long-standing tradition. The greater majority of circus performers come from generations who chose that life and they have been honing their craft since childhood.
The Big Apple Circus has become a New York institution with national impact. It has been embraced by nearly two generations of visitors since co-founders Paul Binder and Michael Christiansen brought their juggling act to New York from the streets of Paris.
Their comedic juggling act was a hit in the French capital and they soon found themselves on stage at the prestigious Nouveau Cirque de Paris. They returned home to New York and had a vision to entertain and improve the lives of millions of American children and their families.
A year later they found a site for the first tent-raising in lower Manhattan's Battery Park. The project was so successful that it soon led to creation of the Big Apple Circus.
Each year a totally new show is developed. The performances have prompted the venerable New York Times to comment: "These performers, many from circus dynasties, preserve an important tradition reinforced by the nonprofit Big Apple Circus' commendable community-service activities, notably the Clown Care Program, which entertains hospitalized kids. This company... doesn't only have awe-inspiring acrobatic skills; it has a lot of heart."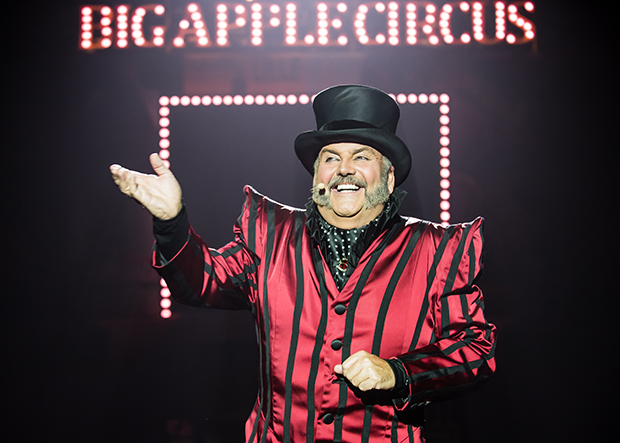 For more information and run schedules visit the
Big Apple Circus online at: www.bigapplecircus.org