A Draw for Manhattanites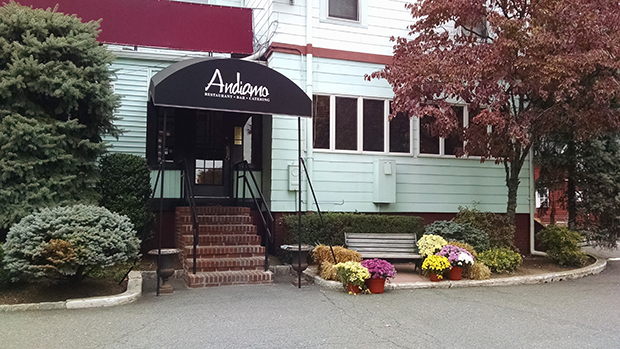 By Sandy Nesoff
There was a time when no one would venture west of the Hudson River for a night out with dinner at a good restaurant. That began to slowly change about 15 years ago when a handful of New York restaurateurs moved across the river to Bergen County, New Jersey.
They took a gamble because the river could be a barrier to drawing their loyal clientele, but the advantage of rents that were thousands a month less expensive, the opportunity to have beautifully landscaped areas and ample parking outweighed the risks.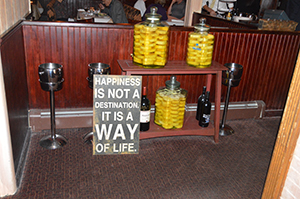 In large measure the loyalty remained and famous faces-Yankee baseball player Don Mattingly (now manager of the LA Dodgers), TV weatherman Spencer Christian, soccer star Pele and a host of others, found their way over. Today New Jersey dining is as good as it gets anywhere else. A new generation of restaurateurs has stepped up to take advantage of the opportunities.
The Dickstein family, owners of Andiamo Restaurant in Haworth, NJ is a prime example. Literally minutes from the George Washington Bridge, Andiamo has drawn a very loyal following from a wide area.
It's not often that a family has as much input into a restaurant. New York's Empire Steak House is one example with the three Sinanaj brothers, Jack, Jeff and Scott producing one of the finest eateries in the Big Apple.
Andiamo boasts host Don Dickstein, his wife and head chef, Linda, and their son, Alan who seems to know as much about the business as they do as he goes from one position to another with ease. Alan will frequently work behind the bar while Don handles host chores.
Some 25 years ago Don, with no restaurant experience, took over The Antlers restaurant that had truly seen better days. In short order he learned the ropes and had Andiamo up and buzzing with diners who came back on a regular basis. Word spread to New York and the path to Andiamo's door even helped the toll coffers of the Port Authority.
Both Don and Alan continuously work the room, stopping at every table to say hello to old friends and to make new friends. Chef Linda will frequently leave the kitchen and weave her way through the dining room as well to gauge the satisfaction of her customers. A family run operation has its benefits for both the family and the clientele because the owners want to make sure everything is in order and everyone is satisfied.
The famed Zagat Dining Guide has called Chef Linda's weekly specials: "Specials that are truly special." She comes up with a new menu week after week offering dishes that are truly special. And she offers an extensive menu ranging from an expertly crafted thin crust pizza to sizzling steaks cooked to perfection.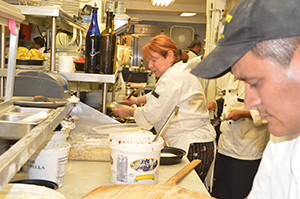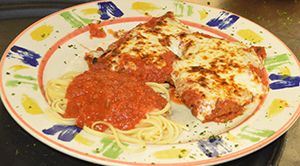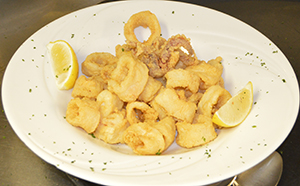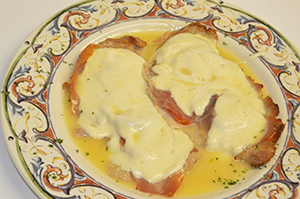 One of her signature dishes is a simple meat loaf that is anything but simple. When Andiamo's web site makes note of the fact that "Chef Linda's famous meatloaf" is on the menu for that night, the parking lot valets get a work out as cars line up on the roadway waiting to get in.
There are special events such as the regular comedy night that draws huge crowds eager to participate in the fun. There is a wide range of menu items with prices that would put a New Yorker into shock. And that's because they are priced amazingly low compared to what they are accustomed to in The City.
The Andiamo Salad can be ordered for one to three people at $9.95 per person. The Classic Caesar at $10.50 is a treat, nicely prepared and sprinkled with pepper. Fettuccini Alfredo is smooth and creamy and would please Chef Alfredo himself.
Jump in for a Prime beef dish and choose from three options ranging in price from $39.95 to $42.95. Beat that. The steaks are wonderfully crafted, tasty, juicy and tender. The Veal Linda ($23.95) with beefsteak tomatoes, red onions and two cheeses in lemon butter drizzle is a classic.
Alan chimes in with Veal Alan, layered with roasted red pepper, spinach, melted mozzarella and mushroom marsala at $24.50. Don is the only one who seems not to have a dish named for him.
In warm weather there is an outdoor deck very popular with diners. It fills up quickly so if you'd like to dine Al fresco call ahead early. In fact, call anytime before you go because the place fills up regularly.
The Dickstein's are a community-minded family. Every September, for the past 15 years, they have sponsored a motorcycle rally to raise funds for a variety of good causes, ranging from vests for policemen to hospitals and parochial schools. The run starts at the restaurant, winds through a number of towns and then across the George Washington Bridge, making a U-turn at the far end and returning to the starting point for after-run festivities. They regularly draw more than 1,000 motorcyclists from throughout the region.
Andiamo was a winner in the Best of Bergen award, an honor that was truly earned.
Andiamo Restaurant
23 Hardenburgh Road
Haworth, NJ
(201) 384-1551
www.andiamorestaurant.net
NYLM Rated: 4/5 stars