Station LIC Tom Cruise's Final Cocktail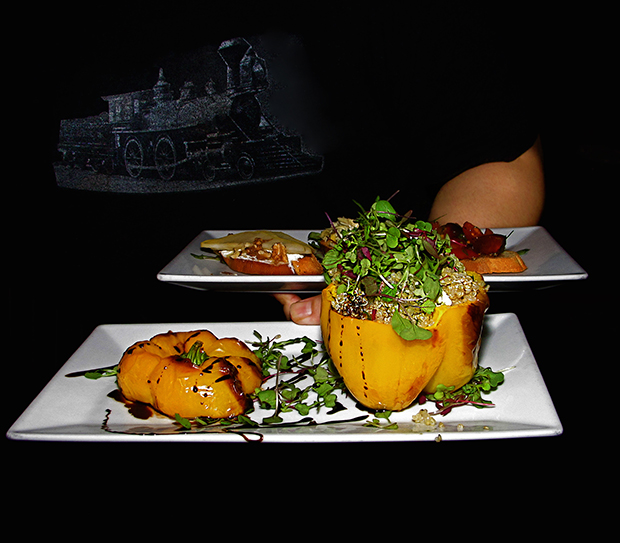 By Jon Haggins
Photos by Maybelle Webster
Atmosphere along with good food helps the ambiance of any good restaurant.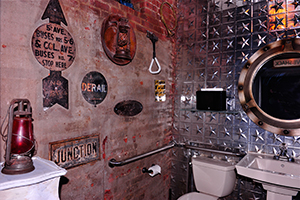 Station LIC (Long Island City) restaurant is just one stop on the number 7 subway train from Grand Central Station to Long Island City. The restaurant is decorated with lots of train memorabilia behind the bar and in its bathrooms.
Station LIC is a modern American eatery and bar that was inspired by an early 20th century train station as a nod to its location directly above the number 7 Vernon-Jackson subway station. It's very much a neighborhood "joint." The floor to ceiling wall-to-wall glass windows allows light to illuminate the restaurant. The lively recorded music sets a friendly mood.
The restaurant offers contemporary American cuisine with Italian and Spanish influences. The high ceiling, exposed wood beams and original brick walls, combined with modern fixtures and oversized art, creates a comfortable, inviting space that is part dining room and part bar/lounge. It's where Tom Cruise flung his final cocktails in the 1988 film "Cocktail."
Gregory Okshteyn, the owner, said, "People come from far and near. It's a meeting spot where everyone comes to have a great time." Live jazz is featured every Wednesday from 8-11pm.
Phloenpak, from Thailand, our waitress was extremely friendly and helpful with our selection for the evening.
We started with a crostini, the chefs choice of three seasonal spreads atop toasted baguettes and a plate of tender octopus over a bed of white beans, frisee (curly endive) and garlic with chili oil. The soup d'jour was black bean soup with feta cheese, poblano peppers, roasted tomatoes, chili and black pepper.
Our main course was a house specialty, the "Ponzi Burger." The restaurant is known for it's "Ponzi" Burger – grass fed beef, pepper jack, potato, bacon and secret sauce (with onion rings). It's a play on the Ponzi scheme where the customer gets a free burger and has to buy one for someone else. We complimented our burger with a Cabernet Sauvignon.
The chicken was a pan-seared breast placed over tender greens with lemon, Mache (corn salad), and a plate of seared wild Alaskan salmon, complimented with seasonal vegetable risotto, gremolata (a garnish made with chopped parsley, garlic, and grated lemon zest, served as an accompaniment) and topped with an herb oil. Let me not forget the yellow stuffed pepper filled with celeriac (celery of a variety that forms a large swollen turnip like root that can be eaten cooked or raw It's also called celery root), sautéed quinoa, spinach, feta, onion and sprouts.
Our sides included crispy smashed potatoes with herb extra virgin olive oil, cracked pepper, and sea salt, crunch green salad with haricot vert (a green bean with a very narrow edible pod and very small seeds), asparagus, zucchini, lemon zest, parmesan, spicy broccoli rabe (a vegetable related to the turnip, grown for its broccoli-like buds and bitter-flavored greens), chili flake topped with an extra virgin olive oil.
To complete an enjoyable dining experience, we ordered warm chocolate cake that melted in our mouths with a scoop of vanilla ice cream. We can't forget the bread pudding, also with vanilla and chocolate ice cream on the side.
It was certainly worth a short trip to Long Island City to experience another great dining experience.
Station LIC Eatery & Bar
10-37 Jackson Avenue (at 50th Avenue)
Long Island City, NY 11101
347-832-0056