Michael Flatley Sets His Final NY Tour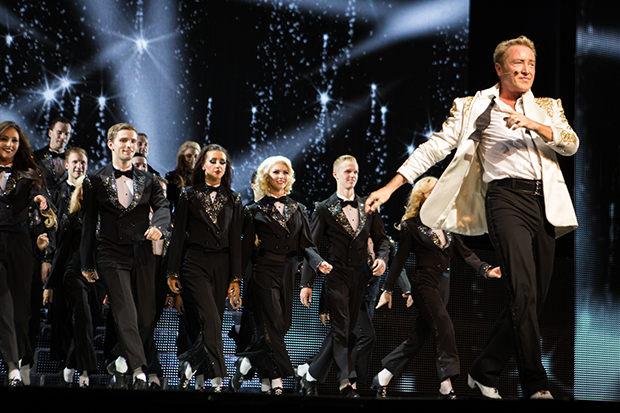 By Bob Nesoff
Michael Flatley, who wowed audiences around the world with his acclaimed and energetic show, Lord of The Dance," is coming to New York for his final appearance before he retires.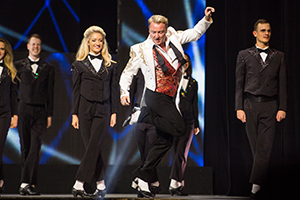 Flatley, whose feet become a blur as he stands and taps or moves across the stage, seemingly floating while a staccato from his flashing shoes runs through the audience, has sold out venues wherever he has appeared.
His amazing talent has cut across all ethnic lines. While his specialty is Irish Step Dancing, a glance around any theater in which he is playing, immediately shows the non-denominational appreciation for his talent.
But the years of hard-stepping have taken their toll and he wants to stop before his performances suffer. Flatley has always felt that he has to give his audiences the absolute best performance.
"Physically I'm a mess," he says. "I've got a bone chip in my right foot that breaks spontaneously, my hamstrings hurt and there's spinal damage."
The 56-year-old is still able to give it his all, but he feels the aftermath.
In 1989 he set a world record, dancing at an amazing 28 taps per second. In 1998 he broke his own record when he managed 35 taps per second. His feet move so fast that other professional dancers marvel at his ability.
Step dancing is a staple of Irish culture, but for the most part it remained in Ireland and at ethnic festivals in other countries, including the United States. Young Irish children learned to step dance for the entertainment of their ethnic fellows.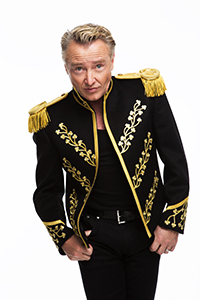 Then along came Michael Flatley and Irish step dancing became an international phenomenon. But to date, no one has been able to match his precision and ability, much less the speed with which his feet move.
Following an acclaimed sold-out run in London, Live Nation and Michael Flatley present the Broadway and New York premiere of Lord of the Dance: Dangerous Games, created, directed by and starring international sensation Michael Flatley in what will serve as his swan song as a performer, celebrating his Broadway debut with the 20th Anniversary of Flatley's Lord of the Dance global enterprise.
The limited 8-week engagement begins Saturday, November 7, 2015 at 2:00 p.m.and will play through Sunday, January 3, 2016 at 7:30 p.m. at The Lyric Theatre (213 West 42nd Street). Opening Night is set for Tuesday, November 10, 2015.
A trailblazing Irish dancer, Flatley is making his long-awaited return and Broadway debut in Lord of the Dance: Dangerous Games. He is the creator of the internationally-recognizable brand Lord of the Dance which singlehandedly brought Irish Dance to a global audience with productions in countless countries around the world for over two decades.
The limited Broadway engagement of Lord of the Dance: Dangerous Games will feature Flatley in a special appearance at the end of each evening performance as well as a troupe of Irish Dance's most accomplished performers, and featuring Flatley protégés Morgan Comer, James Keegan and Cathal Keaney in the title role of the "Lord of the Dance." The show also features exciting and ground-breaking new technology, including holographs, special effects lighting, dancing robots, world champion acrobats and of course, the greatest team of Irish Dancers in the world. The score is composed by Gerard Fahy.
Lord of the Dance: Dangerous Games on Broadway will play the following performance schedule: Tuesdays -Saturdays at 7:30 p.m., Wednesday & Saturday at 2:00 p.m. and Sunday at 3:00 p.m.
There are no performances on Thanksgiving Day, November 26, Christmas Eve, December 24, and New Year's Eve, December 31.
There are special added performances scheduled on Monday, November 23 at 7:30 p.m., Friday, November 27 at 2:00 p.m., Monday, December 21 at 7:30 p.m., and Monday, December 28 at 7:30 p.m. The performance schedule for Sunday, December 27 and Sunday, January 3 will be 2:00 p.m. and 7:30 p.m.
Flatley will not perform at matinee performances. Due to prior commitments Flatley will not perform at the evening performances on November 18, November 19, December 4, and December 5.
Tickets for Lord of the Dance: Dangerous Games, priced from $57.50 - $147.50, with higher priced Premium seating, are available online at www.ticketmaster.com, or by calling (800) 745-3000. The Lyric Theatre Box Office (213 West 42nd Street) is open for sales. For group sales information contact Leisure Connect by calling (877) 881-8651, or by visiting the website at www.leisureconnect.com/lordofthedance.html.
Michael Flatley first stepped onto the world stage when he toured with The Chieftains. In 1994 he changed the face of Irish Dance forever with his breath-taking creation of Riverdance and then went on to create Lord of the Dance which debuted at the Point Theatre in Dublin in 1996. His name and Lord of the Dance brand have become synonymous with spectacular artistry and grand scale productions that have mesmerized audiences around the globe. He broke the mould of traditional Irish Dancing by incorporating upper body movement and creating edgy rhythm patterns that departed from the traditional. Flatley has created, directed and produced several successful shows including Lord of the Dance, Feet of Flames and Celtic Tiger.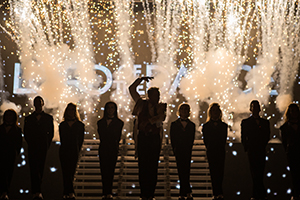 Lord of the Dance has broken box office records all over the world. In 1998 Lord of the Dance set a record breaking run of 21 consecutive shows at London's legendary Wembley Arena. It is a record that still stands to this day. Worldwide video sales were in excess of 12 million copies.
Feet of Flames was the first show ever to be performed at London's historic "Route of Kings" in Hyde Park. This show reached new heights as Michael took it to stadia filled to capacity at 120,000.
Celtic Tiger debuted in 2005 and began a new era of dance which combined tradition with an international flare. Michael Flatley is also a master flautist and his album On a Different Note mixes the traditional with the contemporary.
He has been recognized by many establishments and received countless awards for his contribution to the entertainment industry and the promotion and enrichment of Ireland, Irish Dance and Music. His support of many causes over the last two decades has aided and encouraged countless people to embrace his motto "nothing is impossible…follow your dreams".
In 2010 he reprised his role as Lord of the Dance which was captured for the first time in ground breaking 3D. The show was shot over 3 days at the O2 arenas in Dublin, London, and Berlin.
Michael has entered into the world of art with his innovative new art form where he portrays the fluid movement of dance on canvas. The result of the dance is a truly unique visual display.