The King and I Hits Its Stride At Lincoln Center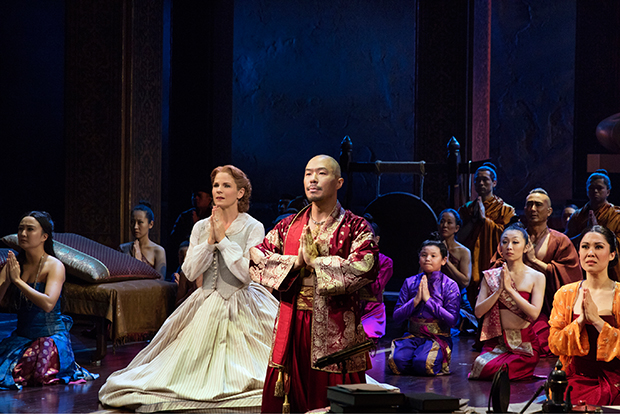 By Sandy Nesoff
What's old is frequently new again and not always for the better. The first revival of Les Miz had none of the pizzazz of the original and did not last long. But there are some shows that do truly hit the mark.
Lincoln Center's revival production of the venerable "The King and I," is right on target. It is arguably as good as the original and possibly(with apologies to devotees of Yul Brenner and Gertrude Lawrence) better.
Kelli O'Hara sparkles in the role of Anna Leonowens, the school teacher who, with her young son, travels to Siam to become the teacher and social guide to the many children of King Mongut, a man seemingly trapped in traditional ways but seeking the modern world.
Hoon Lee, who had a major role in New Jersey's famed Paper Mill Playhouse's production of the show, as Prince Chulalongkorn (say that three times quickly), stepped into the role of Mongut with ease. In fact, his performance owns the role.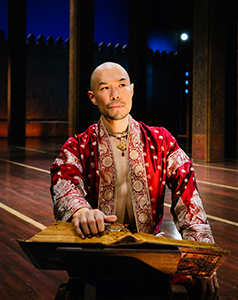 "It's not easy for an Asian male to find roles of consequence," Lee said. "This role is very relevant today. The themes portrayed are relevant as well."
Lee and O'Hara are sitting comfortably at a table on the upper level of the lobby between a matinee performance and the evening show. Scattered around at other tables are some of the young actors who play Mongut's children. One opens a bag and takes out his wrapped sandwich as though he was sitting in a school cafeteria. Below on the main level, people are making their way to the box office to purchase tickets for an upcoming performance. Outside, on the sun drenched plaza, Julliard School students hoping to take their place on the stage inside, are sitting on the grassy area, taking a break from their studies.
O'Hara smiles and notes: "We only had one rehearsal together when Hoon took over the role. Hoon is an actor and he dove right into the part. He had a lot of choices to make and only one week to get into the rhythm of the show. He worked as hard as anyone and made it work."
The mutual admiration society between O'Hara and Lee is immediately obvious.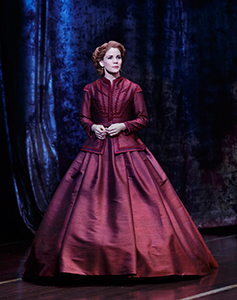 "She's the hardest working person I've appeared with. She moves into her role and makes it come to life," Lee says. "She has a rare ability to act in a scene and take it to a crescendo. I am flabbergasted by her ability."
Lee's background moved deftly from theater to television and back. He had roles in such popular shows as Blue Bloods, The Black List, Law and Order, and Sex and the City.
"We stole him away from television," O'Hara smiles.
"We work with a lot of people," she continued. "Many don't want to see change in the classics, but we have to make it fit. But you have to take risks even though some people are afraid to do so."
"People are quite traditional," Lee adds. "I agree that too many don't want change. But others don't want to see simply a rehash of what has been."
On stage both become the roles they portray. O'Hara is Anna Leonowens. She moves, out of necessity, from England to the unfamiliar shores of Siam, a country caught between its ancient customs and an absolute ruler with a palace full of concubines and enough children running around to fill an urban day care center.
She disembarks with her young son into a world that is as alien as though it was on another planet. She soon finds herself embroiled in a culture clash with King Mongut as she tries to respect his ways and at the same time keep her own equilibrium.
Clashes are inevitable and both O'Hara and Lee play their roles expertly. The audience is drawn into their different personalities and, although you know what is going to happen, it still seems to come as a surprise. And that, in no short order, is due to O'Hara, Lee and the excellent cast of concubines, children and Major Domo who all exude gusto in their roles.
Familiar songs: Hello, Young Lovers; A Puzzlement; Getting To Know You; and Shall We Dance, all have the audience humming along with considerable toe-tapping going on as well.
One of the highlights is the "Small House of Uncle Thomas, a Siamese ballet takeoff of Uncle Tom's Cabin, performed by the children, wives and concubines of Mongut.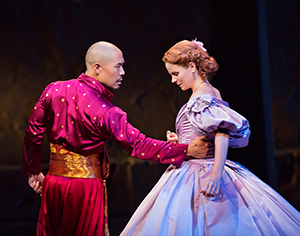 Lee's Mongut is, at the same time, funny, caring, arrogant and officious. The scene in which he demands that Leonowens' head never be above his, is nothing short of hilarious as he sinks, lower and lower, forcing her to accommodate him until both are flat out on the stage.
The production captures the growth of the characters, particularly Crown Prince Chulalongkorn (Jon Viktor Corpuz), who ascends to the throne on the death of Mongut. He captures the arrogant and suspicious prince who eventually befriends Anna's son, Louis (Jake Lucas) and realizes that his country must move into the modern world.
O'Hara has an impressive theatrical background and was awarded a coveted Tony for her portrayal of Anna Leonowens. In South Pacific she took honors with another Tony, Drama Desk and Outer Critics Circle nominations.
Her stage credits include such shows as The Bridges of Madison County, The light in the Piazza, The Merry Widow and much more. On television she also appeared in Blue Bloods, Peter Pan Live, Numb3rs amongst others. She was in such movies as Martin Scorsese's The Key to Reserva and Sex and the City 2.
Lee makes his Lincoln Center Theater debut with the King and I. He's appeared on Broadway in Pacific Overtures, Flower Drum Song and Urinetown. His numerous Off-Broadway shows include: Yellow Face, Love's Labour Lost, We Own the Night and School for Lies.