Langkawi: The Jewel Of Malaysia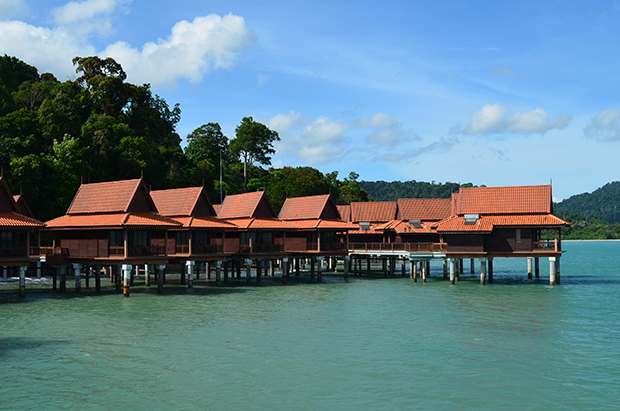 Written by Jon Haggins
Photos by Laurel Van Horn
Langkawi is a magical destination, known as the Jewel of Kedah on the Northwest corner of Malaysia, near the border of Thailand. It lies approximately 31 miles west of the state of Kedah in the turquoise Andaman Sea. It's the largest archipelago of a cluster of ninety-nine islands separated from the mainland of Malaysia by the Straits of Malacca.
The interior of the main island is a mixture of picturesque paddy fields and dense jungle. On July 15, 2008, Sultan Abdul Halim of Kedah consented to change the name to Langkawi Permata Kedah, in conjunction with his Golden Jubilee Celebration. Langkawi is also an administrative district with Kuah as its largest town. Langkawi is also a duty free island. Langkawi means reddish brown eagle in colloquial Malay. The Malay word for eagle is helang, which is shortened to "lang". Kawi means the color reddish brown.
On June 1, 2007, Langkawi Island was given a World Geopark status by UNESCO. Three of the main conservation areas in Langkawi Geopark are Machincang Cambrian Geoforest Park, Kilim Karst Geoforest Park and Dayang Bunting Marble Geoforest Park (Island of the Pregnant Maiden Lake).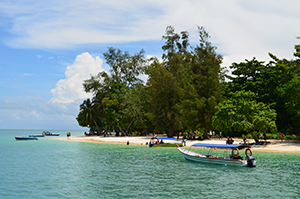 One of my favorite things to do is island hop. There are a number of charter boats for excursions to cruise from one intriguing island to another. We visited Pulau Dayang Bunting Marble Park where we climbed up to a freshwater lake surrounded by lush green mountains to cool off. Then we boarded our boat and headed to Pulau Singa Besar beach where we swam in the sea and picnicked on the beach. There is always something to discover on each island. The Kilim Geoforest Park is lined with verdant mountains and the river is filled with yachts. I was told that "Anna and the King" was filmed there. Then we were off to see the lush mangrove vegetation along the river. (The King and I, from which the movie was taken, is now playing at Lincoln Center. Story in Editor's Note.)
The area consists of three interconnected estuaries that stretch from the Kisap Village to Tanjung Rhu. The estuaries are filled with rich wildlife, such as hairy nosed sea otters, brown winged kingfishers, monitor lizards and swimming macaque monkeys. Within the vast mangroves are cave systems winding through the inherently porous limestone.
One of Langkawi's natural beauty spots is the Pirate Lagoon. Technically the lagoon is a collapsed cave consisting of an entrance from the sea, emerging into a hidden area with a towering limestone plateau and smaller caves. It is also a natural habitat for many species of birds.
Langkawi's rugged, unspoiled beauty and local legends offer an irresistible combination of cultural and natural attractions. It's an ideal place to discover great dancing, food and snorkeling.
Mount Mat Cinchang has the world's highest cable car ride where one can get the best view of Thailand and the surrounding islands. Another spectacular highlight of the island is Langkawi Sky Bridge, located at the top of the mountain. It's a 410 foot long, curved pedestrian walkway that wraps around the mountain.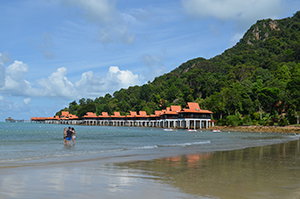 Langkawi is an island for romance, adventure, or just lying back and relaxing. Berjaya Hotel and Resort is a habitat of monkeys and sits in the middle of a forest of trees and plants. The resort offers chalets that sit over the Andaman Sea where the lullaby of the waves is hypnotizing. The interiors are well appointed with magnificent views of the sea. Now, what could be more romantic than that?
The craft market offers opportunities to create fine Batik. Guests are allowed to take their masterpieces with them as a great remembrance.
The Westin Langkawi Beach and Spa Resort Hotel held a dinner on the beach with entertainment, great cuisine and a spectacular view of the colorful sunset. The hotel has a spa where one can simply relax. Just hearing the word Langkawi automatically conjures up relaxation. Just imagine Louis Armstrong singing, "What a Wonderful World".
Langkawi is filled with numerous restaurants and bars for evening entertainment; several host live music and a beautiful setting to watch the sunset. There is an endless stretch of white sand beaches that are framed by tall coconut trees, ubiquitous to the island.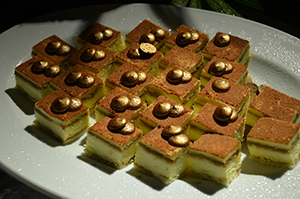 The Pantai Chenang Night Market is where everyone goes to shop for gifts and meet the locals. I discovered a fish massage, where you place your feet in a tank of water and small fish eat away all the dead skin. It's a tickling sensation and a very unique experience.
The Oriental Village is a large shopping mall where a typical Malaysian dinner with a traditional folkloric show was featured on my last evening as a reminder of how beautiful Malaysia is. What I love most about Malaysia is the people. They are warm, welcoming and friendly and a mosaic of different cultures and people.
I can't wait to return to discover more of Malaysia. Malaysia is truly a colorful and culturally inspiring destination.