Milos, It's Greek To Everyone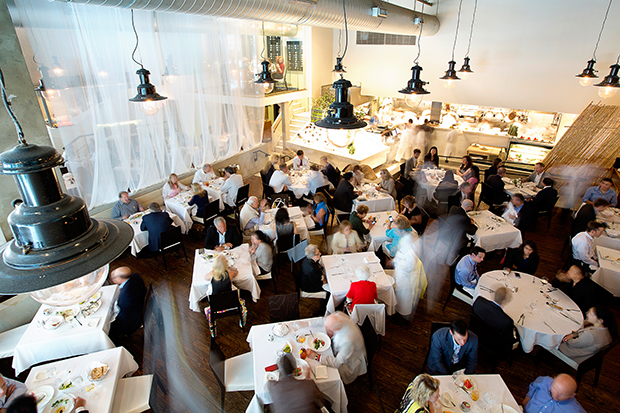 By Ed Curtis
New York may be a haven to a worldwide sampling of cuisines, but every so often, one stands out above the rest. Estiatorio Milos could easily hold that title when it comes to fine dining... Greek Style.
Too many people have come to be familiar with what passes for Greek food: i.e. a hunk of lamb or beef spinning on a spit with pieces sliced off and offered in a wrap. Don't ever confuse that with the fine dining that Greeks themselves demand.
Costas Spiliadis, chef/owner at Milos, has dedicated his career to bringing that fine dining experience to his restaurants... and he has succeeded.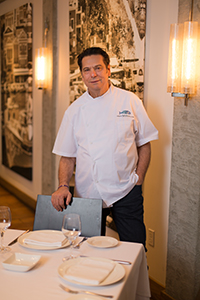 Chef Costas, calling from London where he recently opened his sixth Estiatorio Milos, near the city's famed West End theater district.
"We are working through the growing pains of a new restaurant," Costas says. "We opened only a few weeks ago and things are coming together quite nicely."
He manages to visit each of his restaurants on a regular basis and has never been known to run in and out, but to spend time at each to make sure everything is in proper order.
With the considerable experience Chef Costas has in his restaurants in Athens, New York, Montreal, Miami and Las Vegas, those "growing pains" are well under control.
"I try to bring the fine food and culture of Greece to the restaurants and keep it as authentic as possible," he says.
"Over the years I've developed a wonderful relationship with suppliers throughout the world."
"My restaurants are the same but different. Each one has its own personality and reflects the part of the world where it is located. They each represent the culinary heritage of the country and each represents the evolution of aesthetics, cooking and foods of each location."
Costas opened his first restaurant in Montreal in 1979 and in short order it became perhaps the most acclaimed fish and seafood restaurant north of the border. He is meticulous in bringing these items into his restaurants and in many cases he is a familiar figure at the docks when the fishing boats arrive so that he can have the choicest pick of the catch.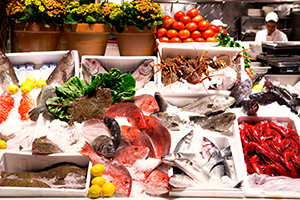 But not all of his catch is from local waters. Chef Costas ranges far and wide to find the best suppliers and has contacts in Morocco, Tunisia, Portugal and in the New World from Pensacola, Florida to the Bay of Fundy in Nova Scotia. His restaurants feature an iced case displaying the catch of the day in a bed of ice, much the same as a customer in a seafood store would find his range of choices.
To guarantee freshness and taste, his shipments literally are expedited from fishing boats to airports and flown in with regularity so that diners are afforded the opportunity to order a dish that would be commonplace in those other locales but exotic here.
But his emphasis doesn't end with just fish and seafood. Salads could not be fresher if Chef Costas had a garden in the back of each of his eateries.
At lunch diners can choose from a prix fixe menu for $27.50 that afford choices ranging from an appetizer of Beluga lentil salad with smoked sturgeon to a main course of Loup de Mer from the island of Kephalonia. There are supplementary options for an added cost. For dessert pay the extra few dollars and indulge yourself with Baklava; it's well worth it.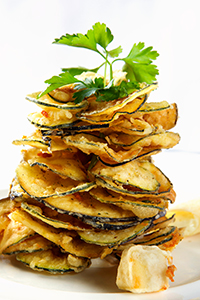 For dinner there are choices of fish flown in from Greece, Spain and Portugal. Diners are urged to check out the "Fish Market" and make their choice. Seafood ranges from Bay of Fundy lobster at $48 per pound to The Carabinieros, Spain's Crevette Royal at $95 per pound. For those who like to feast on meat there is grilled lamb chops at $49 to Cote De Boeuf, a prime dry aged for 4-6 weeks at $135.
His signature is the simple preparation of food that preserves the distinct flavors and nutritional value of each high-quality ingredient. He views his restaurants both as exquisite dining destinations and cultural beacons.
He is also involved in the communities that host his restaurants. Chef Costas serves on the Board of the Montreal Symphony Orchestra and has backed Greek composer Mikis Theodorakis as well as other performers.
Decorations in Estiatorio Milos are as exotic as the food. There are huge clay jugs and amphora throughout. But check this…they are not replicas but truly ancient artifacts that Spiliadis purchased legally and imported.
His "hands-on" attention has earned a ranking in the prestigious Zagat Guide as the 16th Best restaurant in New York, placing him right up there with the most well-known dining establishments.
Zagat wrote: "Pristine" seafood is the "heavenly" specialty of this "upscale" Midtown Greek, where "consummate professionals" oversee a "spacious", whitewashed setting with a "classy" but "convivial" mien; while the by-the-pound pricing may "make your head spin", the lunch and pre-theater prix fixes win kudos for "outstanding value."
Estiatorio Milos
125 West 55th Street
New York, NY 10019
(212) 245-7000
milos.ca/restaurants/new-york