Soul Food Fit to Feed the Soul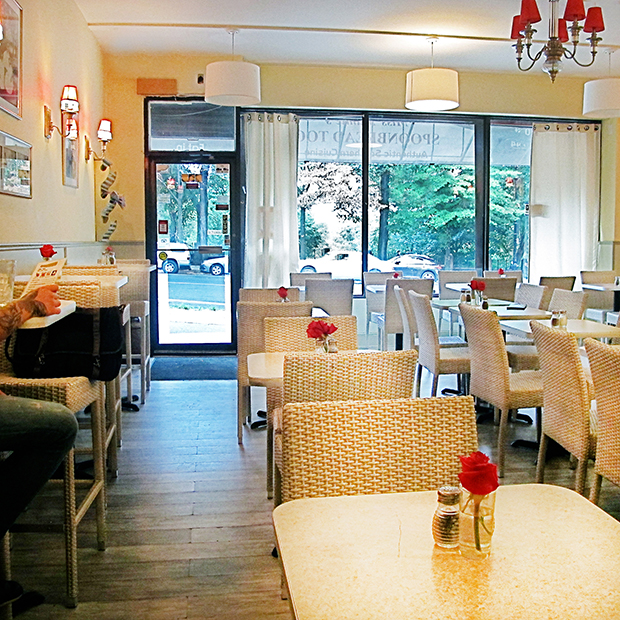 By Jon Haggins
Photos by Maybelle Webster
There are more ethnic restaurants in New York City, arguably, than any other place in the world. But one thing New York does far better than anyone else, is Soul Food. Head on up to 110th Street for a treat for your own soul.
Miss Mamie's Spoonbread Restaurant is lined with floor to ceiling windows offering the best view of Morningside Park. Its interior is beige and lined with rattan back chairs and tables. The walls are enhanced with a collection of family photos. A bar is located at the back of the restaurant providing a large selection of alcoholic beverages such as the new "Money Martini", a combination of apple liqueur, white rum, splash of lemonade and a very special secret ingredient. Spoonbread's signature Rum Punch is a blend of natural fruit juices and two types of rum.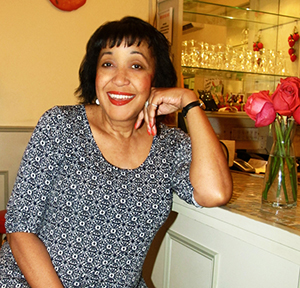 Norma Jean Darden, the owner, has truly evolved into a premiere restaurateur and caterer. Spoonbread Catering is New York's largest African-American owned catering company. Spoonbread has a diverse and impressive client list ranging from Fortune 500 companies such as, Time Warner, Microsoft, Viacom and Citibank, to individual celebrity clientele. Oprah Magazine called Norma the "Secret Weapon of Some of New York's Savviest Party Givers." She has also appeared on the Food Network, Martha Stewart Living, and my show, GlobeTrotter TV. Let me not forget, she is also a consultant with New York's largest caterer, Great Performances, at Dizzy's Club Coca-Cola, one of three-performance venues at the world class Jazz at Lincoln Center facility in the Time Warner Center. Norma has also served three presidents: Jimmy Carter, Bill Clinton and Barack Obama.
I first met Norma many years ago when she was a model and I was a fashion designer. Her photos have appeared in Vogue, Harper's Bazaar, Mademoiselle, Seventeen, Glamour, Ladies Journal, Essence, Esquire, New York Magazine, Life, Newsweek, The New York Times, Italian Vogue, Italian Bazaar and Elle. She was one of the models in Stephen Burrows international fashion show at Versailles in Paris.
Norma and her sister Carole co-authored the award-winning Doubleday book, "Spoonbread and Strawberry Wine, Recipes and Reminiscences of a Family." The book is a historical collection of family heritage, including recipes handed down for generations. Their work became the first cookbook to come to the live stage when she toured the country with her one-woman show, Spoonbread and Strawberry Wine, for over a year.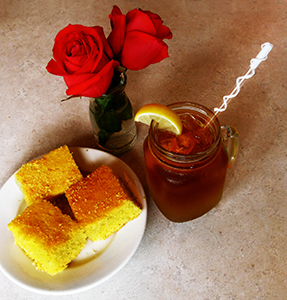 Norma said, "The restaurant has a cozy setting, warm service with simple hearty and delicious food. It serves authentic Southern home-cooked food that is like eating at your grandmother's kitchen table."
Warm, homemade cornbread is always offered to introduce the guests to Southern hospitality. And let's not forget the house lemonade or ice tea. The gracious staff makes you feel as if you are down home in a southern kitchen.
I ordered mac and cheese with steamed spinach as a side and delicious juicy pork ribs. They were the best ribs I've ever eaten. I also ordered a side of the homemade potato salad. Every dish reminded me of southern dishes when I was a child in Florida. The portions are very generous.
My friend, Lorraine ordered Miss Mamie's sampler dish which includes a smorgasbord of southern delights: such as fried shrimp with tartar sauce, fried chicken, pork ribs with collard greens, yams and cornbread stuffing. Every dish was refreshingly delicious. Maybelle ordered Southern smothered chicken with yams and string beans. Each dish was very satisfying. I think we gained five pounds of deliciousness.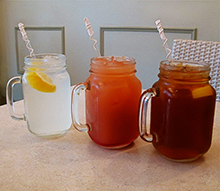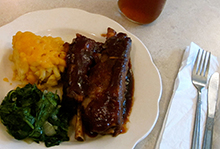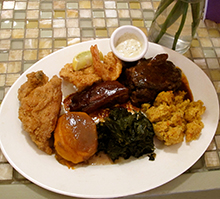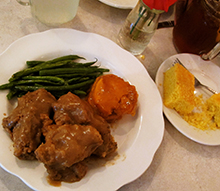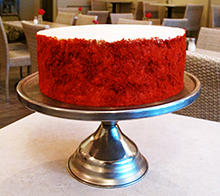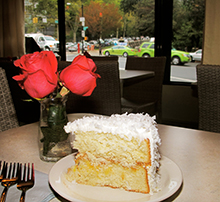 Dessert included a generous slice of coconut cake covered with a creamy white icing. Boy, it was the bestest! The restaurant also offers chocolate cake, red velvet cake, and peach cobbler. Then again, how much can one person eat?
The restaurant also serves stewed oxtails on weekends and turkey wings baked or smothered. Let's not forget Sunday brunch with shrimp and grits. Wow, oh wow!
For a delicious touch of the old south, visit Miss Mamie's Spoonbread Restaurant.
Miss Mamie's Spoonbread Restaurant
366 West 110th Street
New York, NY 10025
212-865-0700