A Slice of Brooklyn Yesterday and Today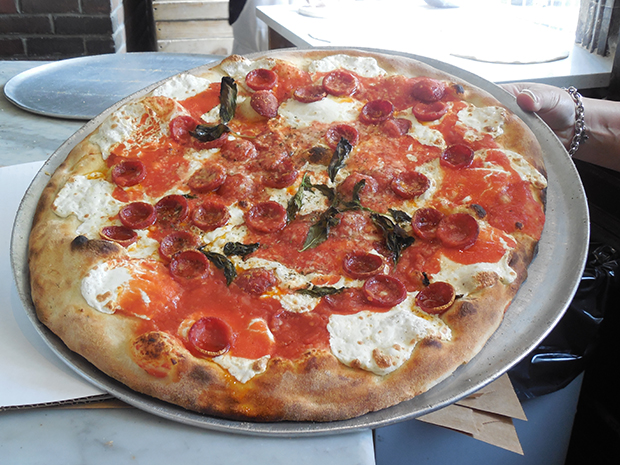 By Stephanie and Jeff Sylva
Many people have great pride in their community, having formed a deep attachment to their roots. You may say some even develop a burning passion for their neighborhood. But how many of us would turn such a fervor for their environs into a career? Well, Tony Muia loved his home borough of Brooklyn so much, he did just that – made it his career, and a successful one at that.
After 20 years in the health care profession, Tony was looking to change careers – a daunting concept to say the least. Some friends suggested that since he loved to show friends and their visiting family members around Brooklyn, he should start that type of a business. Tony's initial reaction was that they were just joking (probably eliciting a typical "FUHGETTABOUDIT").
Tony's interest (he would even call it a "passion") for showing people around Brooklyn was a result of his own travels. When traveling, Tony would use many of the typical guide books. But to help him get a deeper experience of a city and its neighborhoods, he would try to find a local person, maybe "a friend of a friend," to show him the city from a local's point of view. In turn, Tony would reciprocate by showing people around New York and particularly Brooklyn.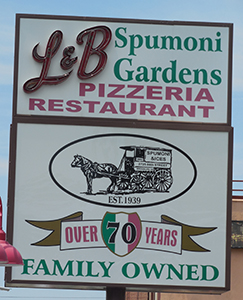 Tony loved giving visitors a deeper insight of Brooklyn – its iconic sights and distinctive neighborhoods with their ethnic foods. But it was no more than a hobby; that is, until a famous bus tour company began to offer a sightseeing tour of the borough. Tony felt that any real tour of Brooklyn needed to be given by a "native son" – someone who lived and died for Brooklyn.
Thus began "A Slice of Brooklyn" Bus Tours. (The company celebrated its 10th Anniversary on August 1 of this year.) "A Slice of Brooklyn" Bus Tours uses only Brooklyn-born guides. According to Tony, how can someone not from Brooklyn impart the true love of the neighborhood?
A number of the company's guides are family members. Our guide for "The Original Pizza Tour" (one of the three tours offered by "A Slice of Brooklyn") was Tony's cousin Paula (a native Brooklynite – immediately evident by her greeting of "How ya doin"?). Her love of Brooklyn became contagious. She was funny and entertaining while providing stories of the different Brooklyn neighborhoods and their interesting residents – both famous and infamous.
Besides learning about Brooklyn history, Paula pointed out the exact locations of famous films featuring Brooklyn neighborhoods as clips from the actual movies were played simultaneously on video screens. We saw locations used in such movies as "Saturday Night Fever" (John Travolta's opening-scene strutting walk), "Goodfellas," and "The French Connection" (Popeye Doyle's frenetic car chase under the elevated subway).
Providing lots of photo ops, stops were made at Brooklyn Bridge Park for awesome views of the Brooklyn Bridge and the Manhattan Skyline, and at Coney Island, for a walk along the boardwalk to admire the famous amusement park on one side and the Atlantic Ocean on the other.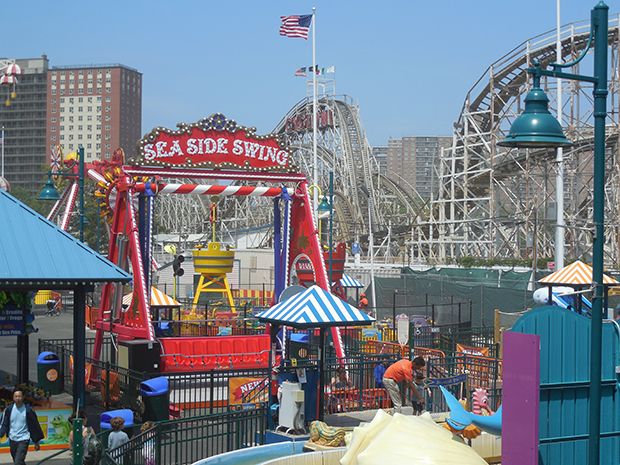 Of course, what would a trip to Brooklyn be like without pizza? The two stops made on this tour were both iconic pizzerias. Our first stop, Grimaldi's under the Brooklyn Bridge, served Neopolitan thin crust "margarita" style pizza from their coal-burning ovens. Later on the tour we stopped at L&B Spumoni Gardens in Bensonhurst for thick Sicilian style pizza. Both pizza styles (representing both northern and southern Brooklyn) were "delizioso."
A typical "A Slice of Brooklyn" tour will have as many foreign visitors as U.S. tourists. Why would so many tourists venture out to Brooklyn when there are so many sites to see in Manhattan? Because Brooklyn,the most populous New York City borough with 2.5 million residents has a certain cache and Americans and foreign visitors have always had a fascination with Brooklyn.
Brooklyn is famous world-wide for: Coney Island with its famous wooden roller coaster, "The Cyclone," built in 1927; Nathan's Famous, which is still located on its original 1916 site, serving the hot dogs that made it "famous;" the Brooklyn Bridge, which was completed in 1883 and was the first steel-wire suspension bridge ever constructed; and the Brooklyn Dodgers (now the Los Angeles Dodgers) that played baseball in Brooklyn from 1884-1957.
Each neighborhood in New York, and especially in Brooklyn, has its own architecture, foods, landmarks and movies locations. The other tour we took with "A Slice of Brooklyn" Bus Tours was their famous "Christmas Lights and Cannoli Tour." This was a three-and-a-half hour tour offered during the Christmas season. Our guide, Joe, provided wonderful narration and showed us numerous video clips throughout the trip – T.V. coverage of the Christmas Lights Tour, footage of decorated homes that we would be seeing in person, and clips from old Christmas T.V. specials.
We made two stops – one for 45 minutes in Dyker Heights and the other in Bay Ridge for 15 minutes. Tour Hosts were located on all street corners to help guide passengers through the streets and answer questions. Manhattan may have its Rockefeller Center Christmas Tree and lavish store window displays on Fifth Avenue, but Brooklyn's Christmas lights rival anything that Manhattan has to offer.
"A Slice of Brooklyn" tour is not complete without a food component, and the Christmas Lights Tour did not disappoint. A stop at Bella Luna for a cannoli and hot chocolate hit the spot before we headed back to Manhattan.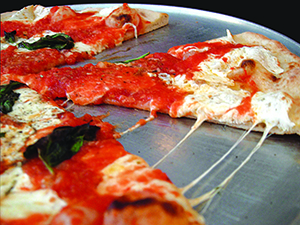 The third tour that "A Slice of Brooklyn" offers is the Neighborhood Tour. This four-and-a-half hour tour visits Brooklyn neighborhoods, landmarks and movie locations not covered in the other tours. A lunch at the famous Junior's is provided and includes a pastrami sandwich, cheesecake, which they are famous for, and an egg cream (a Brooklyn original).
"A Slice of Brooklyn" has been featured on the Today Show, the Food Network and the Travel Channel.
All of "A Slice of Brooklyn" Bus Tours start and end near Union Square in Manhattan. We feel that you will agree with their company slogan after you take one of their tours - "Manhattan? FUHGETTABOUTIT!"
For more information:
Call 212-913-9917 or visit www.asliceofbrooklyn.com