Frank Gifford: More Than A Football Player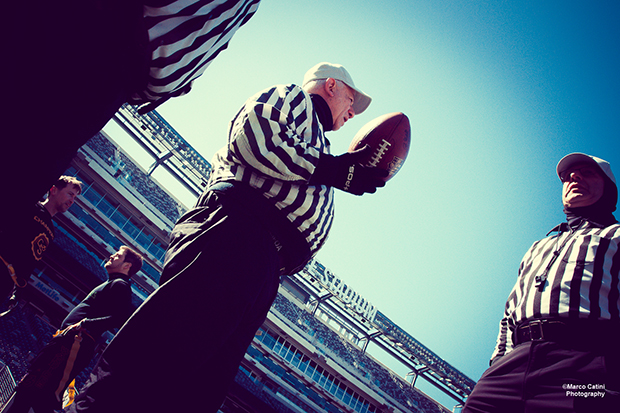 By Bob Nesoff
To say that I "knew" Frank Gifford would be a stretch of the truth. But having met him several times, it could be said that I knew him. The first time was at a charity golf outing, one of Gifford's pleasure, combining his love of golf with his giving nature. He was there because he knew that his name, amongst those of other celebrities, would add revenue to the particular charity.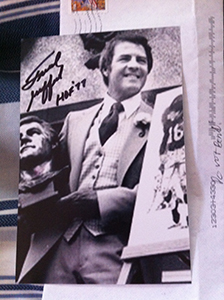 Gifford was in a foursome along with former baseball great, Bobby Thomson, who sank the Dodger's hopes of a pennant in 1951; Carey Edwards, the former New Jersey attorney general; and some unremembered, balding major donor to the charity.
That was the idea... place a big donor with celebrities as a way of inducing the moneyman to participate and part with some bucks. Gifford was just "one of the boys" in the foursome. Not only did he lack any celebrity airs, but at almost every tee he was stopped by someone looking for an autograph. He patiently tucked his driver under his arm, took the paper, scorecard and whatever was proffered to him and signed it with a smile. He then thanked the autograph seeker and even engaged him in conversation, not rushing him off.
We met again over the years and each time there was a greeting from Gifford as though two old acquaintances were getting together.
It's almost required that when a celebrity passes away that comments from those who knew him/her always have nice things to say no matter what the individual was truly like. Gifford's on-air partner, Howard Cosell, comes to mind as the antithesis of Gifford's personality.
As well celebrity marriages often fail the test of time. Here too Gifford was not in that mold. He and his wife, television personality Kathy Lee, put together a rock-solid relationship that survived some rocky times, as many do. But there was never any question about how he felt about Kathy Lee. Or she about him. They were in love.
"We rejoice in the extraordinary life he was privileged to live and we feel grateful and blessed to have been loved by such an amazing human being," Kathy Lee said in a prepared statement.
Likewise, the late Wellington Mara, top man in the New York Giants dynasty, considered Gifford to be like a son. Mara's biological children considered Gifford a brother. In fact, when Gifford was inducted into the Football Hall of Fame in Canton, OH, Mara presented the plaque to him. Gifford returned the favor two decades later when Mara was inducted.
"Frank Gifford was the ultimate Giant. He was the face of our franchise for so many years. More importantly, he was a treasured member of our family. My father loved him like a son. For me and my siblings, Frank was an older brother. We looked up to and admired him. We loved him and will miss him terribly," John Mara, Giants co-owner and team president commented.
As a football player Gifford made his mark at three positions: halfback, defensive back and flanker. He played in eight Pro-Bowls and was the NFL's Most Valuable Player in 1956.
Gifford excelled as a college player and was a first round draft pick by the Giants. He played for them for 12 years, closing out his playing days in 1964. He lost a year after a devastating tackle by Philadelphia Eagles player Charlie Bednarik.
Bednarik jumped up and celebrated the tackle, never realizing that Gifford was flat out on the ground. Gifford, ever the pro, said he held no ill-will toward the Eagle and felt it was a legitimate tackle. Bednarik passed away this spring.
He established the Giants career touchdown record with 78, a record that stands today. He rushed for 3,609 yards and 34 touchdowns, caught 367 passes for 5,434 yards and 43 touchdowns and ran one interception for a touchdown.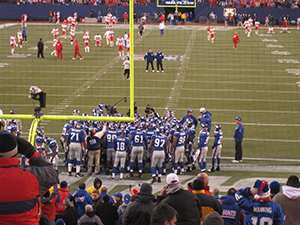 A few years after retiring he moved into the television booth for the second season of Monday Night Football, sharing it with former Dallas Cowboys star, "Dandy" Don Meredith and the mouthy Cosell.
In 1971 he interviewed President Richard Nixon who said when he was a New York lawyer he often attended parties where Gifford was in attendance.
The late Roone Arledge, ABC sports president, once commented: "Here was the president of the United States trying to impress people because he knew Frank Gifford."
Gifford passed away only days before his 85th birthday.
As the baseball Giants were moving to San Francisco from Manhattan, a sports writer commented: "Twenty years from now if everyone who says he was at the last game in the Polo Grounds was really there, the Giants would never have had to move."
Twenty years from now if everyone who says he knew Frank Gifford really did, they could have filled Giants Stadium with a crowd lined up outside waiting to enter.