Channeling Sinatra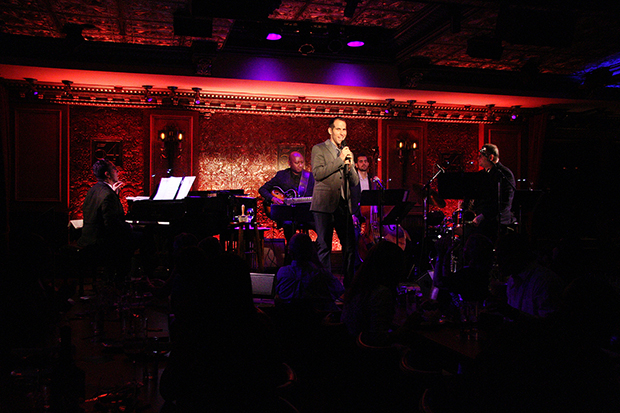 By Ross Warren
Marcus Goldhaber may be a Red Sox fan, but New Yorkers have taken to the mellow voice of the Buffalo native who now makes his home in The City.
Goldhaber recently filled the room at 54 Below, an intimate setting on 54th Street, and held the audience's attention with both his voice and little comedy quips. He is more than just a singer, Marcus Goldhaber is an entertainer who easily reads his audience and keeps their attention.
Music has been part of his life since a young age.
"My mother would make a regular habit of playing the piano while I was doing my homework," Goldhaber remembered. "She'd ask if I knew what song she was playing. As a result I had thousands of songs constantly playing in my head."
His easy voice and connection to the audience is reminiscent of an early Frank Sinatra. Sinatra lost his golden voice early on but kept his fans because he was the consummate entertainer. Goldhaber still has an excellent voice and has learned how to double up by entertaining as well. He intersperses his medley with quips and jokes as he goes along.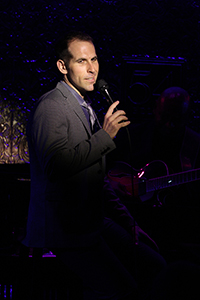 In the smaller venues in which he appears, Goldhaber fills the rooms with both his voice and fans. He is known in 54 Below, The Blue Note, Iridium, Birdland, Kitano, The Metropolitan Room and the Cutting Room, all venerable jazz spots.
Many of his devoted fans will follow him from show to show. That becomes evident following the performance when many in the audience greet him warmly and it becomes evident that he knows who they are. Unlike other entertainers, Goldhaber does not rush them off, but rather stands and talks as if they were old friends.
Napkins, pieces of paper and virtually anything that can be written on are passed to him for an autograph and he signs each one with a polite "thank you" to the fan.
His first three solo albums have carved a niche for him and made him a standard in the cabaret scene. His latest, "A Lovely Way To Spend An Evening," is a 12-track collection that has reintroduced some of his favorite standards as well as some new and original songs.
"A lot of these songs have been inspired by moments in my life," he comments. "That's really where the joy lies for me, that's the real passion I have. It's not about simply writing a song or hearing something that swings. It's really about the connection."
Along with two other singers, Marcus co-starred in Harold Arlen's "The Wonderful Wizard of Song" off-Broadway. It was also Goldhaber's tribute to Arlen, also a "Buffalonian."
He's burnished his "creds" appearing before such luminaries as former Secretary of State Henry Kissinger, members of the United Nations and an appearance at the 2014 Super Bowl.
There are some singers and entertainers with powerful voices that can fill an arena. Goldhaber is not one of them, but then, he doesn't try to be. His voice and talent suit him well to the cabarets and clubs where he can have an intimate evening with his friends and fans.