NY's Hometown Airline
By Bob Nesoff
Not that many years ago, a few airlines pretty much controlled transportation in and out of New York's airports. Then came deregulation and after rapid expansion, the competition put a number of them into the history books.
New airlines sprang up and then disappeared just as quickly. A few managed to stay on by providing service, quality and affordability. One of those has come to be known as "New York's Hometown airline, JetBlue."
With New York as its home base, JetBlue has grown from its incorporation in 1998 as a small, regional airline, to become one of the major forces in air travel, now serving some 90 cities with nearly 900 daily flights. The airline carries more than 32 million passengers yearly.
Not only does JetBlue serve a comprehensive list of U.S. cities, but it has regular flights to Mexico, Antigua and Quito, Jamaica, Bogota, St. Martin and the Dominican Republic with a fleet of more than 200 aircraft and 100 more on the way.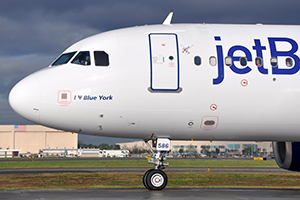 "We are continuing to grow in New York," commented Dave Clark, JetBlue's vice president for planning. "We are adding a handful of new destinations every year and we now have more than 60."
"We are focusing on two areas, long haul Caribbean and cross-country in the United States," Clark continued. "Although long haul works for us because it gives passengers more time to experience our airline and the service we provide, the fact is that regional flights are still our bread and butter."
"We have a major presence in Florida with our flights to Orlando and Fort Lauderdale. We are the biggest carrier to Puerto Rico and the Dominican Republican from New York."
"We have and always will, strive to provide the best experience in the industry. We have earned a reputation as a 'family friendly' airline and we'll continue to work in that direction. We are committed to determining where our customers want to go, especially non-stop from New York. We are very happy to be a part of New York."
With the thaw in the political climate between the United States and Cuba, JetBlue was immediately on the scene providing charter service to Havana. Once the gem of the Caribbean for honeymooners and vacationers, Cuba has been a political pariah to the United States for more than half a century and suffered from an embargo and the strict limits on which American citizens were permitted to travel there. With an eye toward the new market, JetBlue has poised itself to become a major player in travel to that island.
Clark notes that JetBlue has become the largest airline serving the Caribbean, surpassing other, larger airlines on those routes.
Perhaps as a sign of the respect that JetBlue has earned amongst its peers, Robin Hayes, the airline's president and CEO, will be a major speaker at a Caribbean travel conference next month in Curacao. The conference will focus on developing new ideas to grow tourism and with JetBlue's growth, it is perfectly positioned to pass along positive ideas.
In fact, CTO News, the publication of the Caribbean Tourism Association, called JetBlue "One of the worlds's most acclaimed airlines." That's heady stuff.
JetBlue has based its reputation on customer service and has earned a place in the very small niche of airlines that actually care about their passengers.
One JetBlue flyer recounts the story of an accident he had on a trip to Buffalo and Canada. In a fall he severely injured his knee and was unable to walk. When JetBlue was notified of the accident, the ground personnel in Buffalo immediately reserved a seat where he was able to extend his leg. A representative was waiting for him at the curb when he arrived, took him directly to the gate by wheelchair and assisted him on to the plane. At JFK another representative was waiting and assisted him to luggage and then to the curb. The JetBlue representative refused to leave until his car arrived."
That type of concern is also extended to the military. JetBlue has donated space to the USO for service clubs, giving traveling military a place to relax between flights. The airline employees have also given time to build playgrounds in its service area. This year the Human Rights Campaign awarded JetBlue a perfect score for its inclusionary efforts.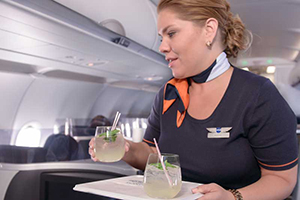 "Our concern for service begins with our hiring," Clark said. "Our goal is to provide the best experience in the air. It all starts with our hiring practices, our specialty training. We have a training facility in Orlando... JetBlue University... where we immerse prospective employees and trainees in JetBlue culture and service."
"We are also constantly surveying passengers to learn about how they rate their experience with us. About 14 percent of passengers are asked to fill out the surveys. We don't want to bombard the passengers, but we want to get a good sampling, learn how they feel, improve on what is good and correct what they may see as not so good."
It's this hallmark of service that has earned the airline a loyal base of customers and enabled it to grow and become a major force in the industry.
Looking to the future, JetBlue inaugurates its service to Mexico City on Oct. 1, to Antigua on Nov. 5, Albany, NY on Dec. 10, Daytona Beach, FL on Jan. 7 and Quito, Ecuador in 2016. The new destinations are scheduled at intervals so that they may be fully and properly serviced before the next one is added.