Adventure Vacation: A Short Trip From Manhattan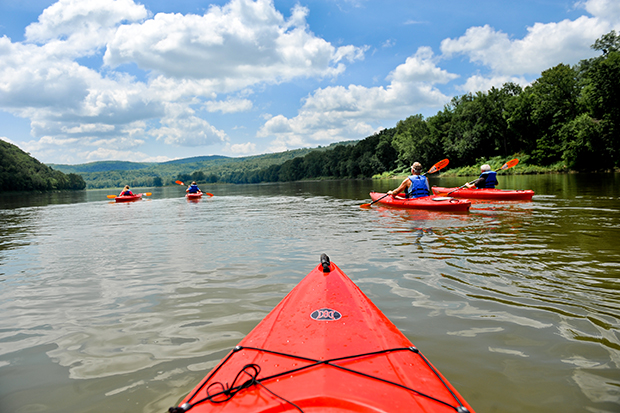 Story and photos by David Handschuh
It was a rainy, dreary day driving out of Manhattan, but the skies were clearing and held the promise of a brighter day. The stress faded away as we headed west on Interstate 80 to our destination.
Maybe as a sign, just past the Delaware Water Gap and into Pennsylvania, the sun came out and we noticed our first clusters of trees with leaves changing colors.
A mere two hours and 120 miles west of Manhattan, we were walking past a Buddha statue at the Genetti Hotel (www.genetti.com/genettiwb) a green shamrock painted in the middle of the street and into the Thursday Farmer's Market in the public square in the middle of Wilkes-Barre. PA.
Amid bunches of red beets, boxes of potatoes and other farm fresh produce, two nuns in habits shopped alongside a couple from Israel who were in town to visit their son, a doctor at nearby Wilkes-Barre General Hospital.
Gee, we asked ourselves. Where did that New York City stress go?
Luzerne County, PA (www.tournepa.com) and the area around Wilkes-Barre is an easy drive and a real close-by getaway for New Yorkers.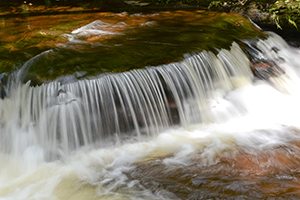 If your happy place is the outdoors and a Kayak ride, an easy hike past a collection of waterfalls in the woods or getting your fresh milk in actual glass bottles right from the dairy, this is the place.
Ricketts Glen State Park (www.dcnr.state.pa.us/stateparks/findapark/rickettsglen) offers 13,000 acres for hiking and birding and a wondrous collection of 22 easily accessed waterfalls.
Bring your camera to capture the changing leaves and the beauty of your hike. Like true nature, it's a bit buggy, so remember to bring insect repellent and wear a sensible pair of shoes for the walk.
The 94-foot Ganoga Falls is the highest there, while others vary in drop from nine feet upward. The air under the canopy of tall trees is cool, and almost always in the shade.
Magical shafts of light poke through the forest, landing on small mushrooms and large ferns along serenely flowing streams.
Grab a rock, dangle your feet in the water and listen to the sounds of silence.
This is just the ticket for a peaceful and calm getaway from horn-honking cabbies and 7 a.m. garbage can concertos by your neighborhood sanitation workers.
Grab an early dinner downtown near the Wilkes-Barre's town square, or check the schedule at the F.M. Kirby Center for the Performing Arts, a beautifully restored classic movie house where you're taken back to the grand movie palace days, watching old films there.
The Kirby Center is also a wonderful concert venue with top-notch musicians such as Jackson Browne, Los Lobos, Chris Cornell, and Lyle Lovett with John Hiatt scheduled for the next few months.
Dating back to 1938, the art deco design of the ornate lobby, giant chandelier and luxury seating was restored in 1985 as part of a major downtown revitalization that continues today.
If slot machines, horse racing, live entertainment, poker and other games of chance are your thing, head over to Mohegan Sun Casino (www.mohegansunpocono.com).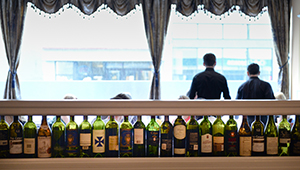 A few drinks and an hour of listening to a Rolling Stones cover band and we call it an early evening. The river calls to us for tomorrow morning.
The sun is shining, the humidity nonexistent and we head to Susquehanna Kayak and Canoe's (www.kayaktheriver.com) along the river.
They supply your canoe or kayak, paddles and flotation device, take you to the launch point, adjust your kayak perfectly and pick you up at the end of your relaxing river trip.
Just bring a dry bag for your camera, some sunscreen and a hat.
It was an easy trip downstream with no rocks or rapids to distract us from watching the Peregrine Falcons, Great Blue Heron, Bald Eagles and other winged creatures that call the Susquehanna River their home.
We work on our suntan and alternate strokes on the lightweight paddles as we head down the Susquehanna. Nice conversation and laughs with strangers have us pulling the Kayaks from the river a few hours later as friends.
If you're on the Kayak Wine Tour you'll visit with Ray Bartolai at his namesake Bartolai Winery for wine tasting and snacks.
Ray is passionate about the Wilkes-Barre area and wine, his imported olive oils and food and loves to pour samples and chat with visitors. Pick his brain on local history and how his family has been a part of Luzerne County for years.
Susquehanna Kayak and Canoe offers half and full day trips, a full moon kayak cruise and overnight camping trips, where you can tent at riverside or island campsites not accessible by vehicle.
Back in town, skateboarders and birders enjoy a stroll on the River Walk in Wilkes-Barre. You can walk but if you stay at the Genetti Hotel you're invited to take their free loaner bikes for a ride through the park, which offers high levees disguised in a natural public space.
The levees were designed to keep the town from flooding after a disastrous 1972 flood, caused by Tropical Storm Agnes, pushed the Susquehanna River to the 41 foot level, with nine feet of water destroying the town's downtown business district.
John Maday, executive director of the Riverfront Parks Committee is a great source of information on the history and their Facebook page is the place to go to tap into local events on both the water and shoreline.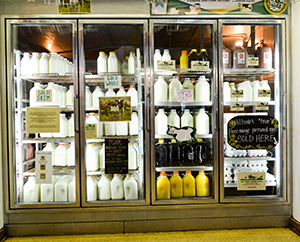 One final stop, recommended as you finish up your stay here is The Lands at Hillside Farms (www.thelandsathillsidefarms.org), a 19th Century, 412-acre, nonprofit educational dairy farm.
Watch the horses, cows and ducks near the barn or sit outside at a picnic table and snack on a cone or cup of their exceptional ice cream, made right there.
As a throwback to days where a milkman delivered to your home, Hillside Farms still packages milk, juice and iced tea in glass bottles.
We took a couple of large containers of their iced tea for the car trip home and the glass bottles are great to decorate with or to reuse. They're also a great memory of a quick, close getaway.