Very Superstitious!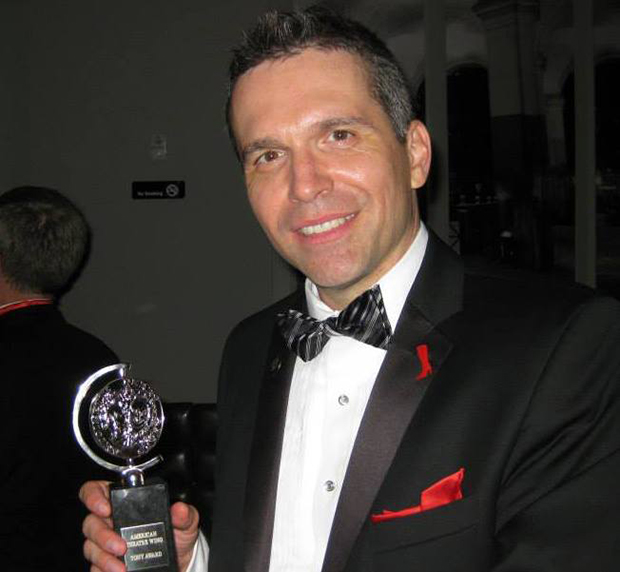 By Jim Kierstead
Have you enjoyed the summer everyone? I hope you've gotten to check out some of the amazing theatrical events around New York City! There's always something great to do in the city, whatever season it may be. If you got to see HAMILTON (as we talked about last month), good for you! It continues to perform to sold out audiences and certainly dazzles. If you can learn about American history while being entertained, I think it's a good thing!
After my column last month (my first column in New York Lifestyles Magazine!), I got a lot of people asking why I ended the column with the theatre "good luck" wish of "Break a leg!" I mean, I think they all understood that this was a common wish in the theatre world, but it's still a mystery to some why we use it. So I figured that this would be the perfect opportunity to let you all in on a little secret. Theatre people are VERY superstitious! I mean it... there are lots of superstitions in our business and "break a leg" represents just one of them! I'll tell you about that in a bit. But, first, I'd like to fill you in on a few others...
First of all, have you ever seen Shakespeare's "MacBeth"? Probably! It's done all the time! All over the place! So when you go again, you must never utter the title of the play inside of the theatre! I mean it! Never ever say "MacBeth" in the theatre or that is an enormous example of "bad luck." Instead, you can call it "The Scottish Play" or even "That Play." But never "MacBeth." Why, you ask? Well, many speculate that when the witches speak their lines of "Double double toil and trouble" that it's actually conjuring up an evil spell (if you don't get my reference, you might want to read "MacBeth" again since you may have fallen asleep in high school!). But do we really need a good reason? No! So just don't say it! And if you do slip, don't worry too much... there's an antitdote! Go outside of the theatre, spin three times, spit (I'm not joking), and utter a Shakespearean insult (or some other equally colorful verbiage)! You'll be fine! But better not to say it at all. "The Scottish Play" will do nicely.
As a producer, another superstition in the theatre is that if you have a bad dress rehearsal, you'll have a great opening! Now I must tell you... this comes from a place of practicality. When you are busy rehearsing a show, there is almost never an example of a production where everyone feels that there has been enough time preparing and that the show is ready to go. So, it stands to reason, during dress rehearsal (that final performance of rehearsals before the show performs before an audience for the first time) people will be freaking out! Everything that can go wrong will go wrong and, by the time it's over, people will be terrified that the Opening Night performance will be a serious disaster. So, I suspect that this superstition came about to help everyone get through that fear of the first performance after a dreadfully scary dress rehearsal. Everyone's adrenaline will be running high and everyone will take to heart what was learned from all of the mistakes during the dress rehearsal. So I'm glad to have this one! "Bad dress, great opening!" Bring it on!
Another superstition that theatre folks subsribe to is called "The Ghost Light." It is believed that spirits inhabit theatres all over the place. The ghost of "Thespis" (the first known actor in ancient Greece) is especially busy, it seems. So it is commonplace to leave a light burning on the stage 24/7. This is meant to keep the ghosts and spirits away. On a practical note, it also prevents stage managers from tripping over wires in the dark! So I expect this one to continue for many years to come. Whether keeping away the ghosts, or the paramedics, "The Ghost Light" is probably a good idea.
Ok... I like this one! No whistling in the theatre, please! This "superstition" came from a very practical origin. Originally, the stagehands in theatres were off-duty sailors! (I couldn't make this up) And these sailor/stagehands used the same method of communication on the stage that they would use on a ship, which were various types of whistles. Since an absent-minded actor casually wandering through the theatre whistling before or after a show could seriously cause problems with the communication of the stagehands, it stands to reason that the "no whistling in the theatre" request came about. And it just stuck! So save the whistling for outside, folks! Even though sailors are definitely not in the stagehand union, still... none of that whistling here.
And last, but certainly not least, the superstition that started this article in the first place. "Break a leg!" Why do us theatre folk say that? Well it's based on the old belief that wishing someone "good luck" is not a good thing after all. So I like to use the old adage, "Good luck is bad, bad luck is good... say 'break a leg' and it's understood." So there you go! Next time you want to wish someone a great performance, make sure to say "Break a leg!" Now you know why.
Yes. Theater folks are full of superstitious ideas. There are lots more than these, even. But whatever helps them to perform their best for you sounds like a good idea to me!
Until next time, enjoy what remains of the warm weather and, yes... Break a leg!
Kinky Boots
On Broadway at The Al Hirschfeld Theatre, on tour and in Toronto Winner of 6 Tony Awards including Best Musical
It Shoulda Been You
On Broadway at The Brooks Atkinson Theatre Nominated for 6 Outer Critics Circle Awards including Outstanding New Musical! Past projects:  Pippin, You Can't Take It With You, The Visit, Side Show, Rocky, The Glass Menagerie Notable investments: Something Rotten, Matilda
Visit on the web at:
www.kiersteadproductions.com