LoMan Art Festival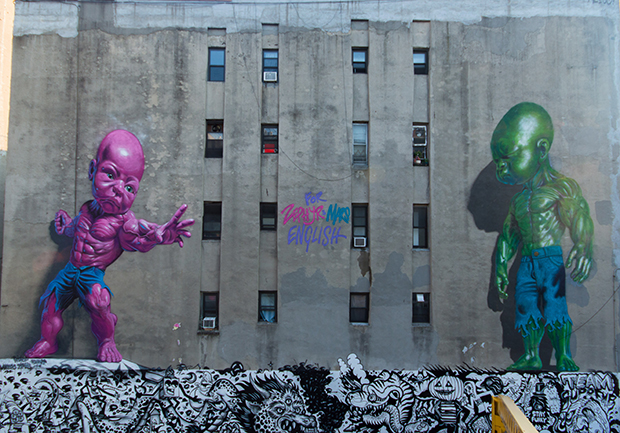 By John Taki Photos by Rey Rosa
Photography/ The LoMan Art Fest
To Wayne Rada, Lower Manhattan is as important as any other part of New York City. He's seen the Tribeca Film Festival, street fairs, flower festival and he felt very strongly that Lower Manhattan should be able to stand on its own in that category.
Thus was born the LoMan (Lower Manhattan) Arts Festival.
"We cover all mediums of art," Rada said. "We include graphic arts, street art and even music and comedy." The festival, conducted in early August, runs from 23rd Street to the South Street Seaport. This year it brought large-scale works by known artists to more than 20 Lower Manhattan neighborhoods.
"We wanted art to be accessible to everyone…free of charge," Rada said.
Rada is the founder and curator of the event which was organized by the non-profit L.I.S.A. Project NYC.
"We conceived this festival as a revitalization of the artistic energy of downtown Manhattan," he said. "New York is such a nexus for art, but these days so many artists are being pushed to the outer boroughs. We wanted to create a larger arts district." The event included a concert stage for music and entertainment. There were six comedy performers, two bands and 21 artists who created original art work.
"We did so well last year," Rada continued, "that artists began offering their works for free. There was no visual arts festival here and that's why this event is so cool."
On display were original sculptures and huge murals painted on buildings, steel roll-up doors on stores and many other unmovable objects.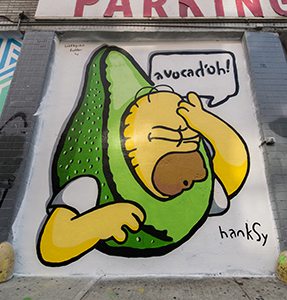 A sculpture garden at 114 Mulberry Street in the "Ron English Temper Tot Lot," featured a bust of Edward Snowden, the fugitive government secrets leaker now living in Russia. There were also works by English, Leon Reid IV, Nicolas Holiber, the DR¡FI and Sucklord.
With New York a notoriously common locale for "street artists," a panel discussion was held to talk about illegal vs. legal street art installations, called the "Con Artist Collective."
Team Crash vs. Team BIO gave a live action battle pitting legendary street artists Crash and BIO against each other. The event challenged artists or teams to cover 28-foot high walls with black and white images in 90-minutes. The winner was declared by judging the crowd's applause.
There were live podcasts in the Sculpture Grden, including one from the comedy cast of "Legion of Skanks," from the Anthony Cumia Network. Crowds were treated to an outdoor screening of the never before seen European cut of "Banksy Does New York."
One evening featured a concert by rapper/street artist TT the Artist, Corey Glover from "Living Colour" and others. To highlight the event, completed murals from the festival were projected on the building walls.
Overall the LoMan Festival drew some 25,000 visitors to the area.