Two of New York's Super Lux Condos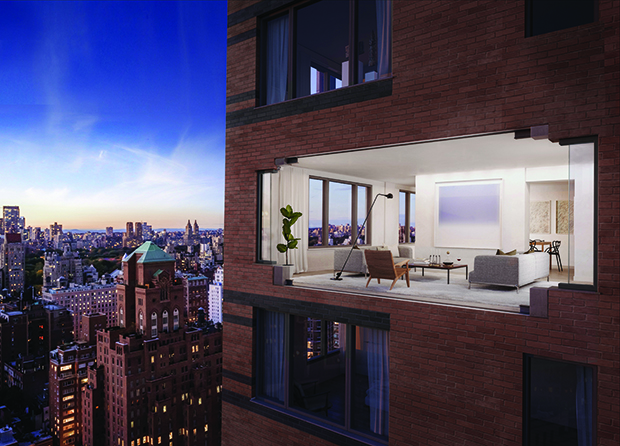 By Daniel J Bollinger
I had the pleasure of touring two luxury buildings: 200 East 62nd St. and 252 East 57th St. I could give you the same information that is in the brochures and online but instead I am going to give you the highlights and the features that make each unit special. If you are interested in learning more about these Luxury NYC residences please contact me.
200 East 62nd St
The first residence I toured was 200 East 62nd St. It is a 30 story condo building located at 62nd St. and 3rd Ave. I toured the two bedroom model. The space has a great layout with bedrooms on opposite sides of the apartment for maximum privacy and the den and the dining area were in the center. It is designed for maximum light exposure as it is set back from the street with large windows throughout. Combine that with the white oak plank flooring throughout the residence and it is a bright apartment with plenty of natural sunlit space. All of the appliances and fixtures are top notch brand name models.
The one thing that I think absolutely makes this apartment special is a desk made of natural wood that spans the entire second bedroom wall on the windowed side of the room. I am sorry to tell you but this isn't standard in the apartments! I would recommend that you schedule a viewing of the showroom so you can experience this excellent design feature. It makes the bedroom a great study room for children or convertible to an office space. This is a great starter apartment for someone new to the city and it is great value for the price. Now if price is not really a concern for you...
252 East 57th St
The second building I had the pleasure of touring was 252 East 57th St. Now this building is truly luxury living. The designers really put the time and effort into creating a living experience that everyone would want to enjoy. Every single detail has meaning and I can't list all of the amazing features of this 93 unit development (75' pool, automated parking garage, 12,000 square feet of amenities, etc.) but I am going to point out some of the fantastic design features that you will experience.
The first unique characteristic you will notice about 252 East 57th St. is the curved glass curtain wall floating upwards on its' façade. In this very 'square' city of ours with all of its' 'square' buildings leading to 'square' bedrooms and 'square' bathrooms and 'square' kitchens it is refreshing to see something curved... rounded... different... unique. And that is only what you initially experience from the outside. The room that contains this sculptural glass curtain wall is the definitive in family living. This den is very large and the model I experienced had a piano, dining table, a lounge area with sofa and chairs and was still very spacious. If you have four children and they all play piano... do not fret, we can fit four grand pianos in this den so all of the children can practice together. The rooms' size is just an accoutrement to the grandeur experienced by the curved glass design. I have seen many a Manhattan skyline in many apartments in this great city; but, I have to say seeing the skyline through this curved like design is like no other experience I have ever had. It is very cycloramic and frames panoramic views that few if any 'square' windows can compare to. If family time together is important to you, this den will cultivate the family bonds of love on a daily basis as you build special memories that will last a lifetime. If family time over a home cooked meal is important to you as well then please let me escort you to our next stop on this tour... the kitchen.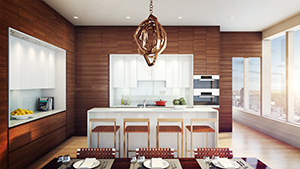 The kitchen is another example of the stellar design of 252 East 57th St. When I entered the space I immediately sensed this is a perfect space to host a dinner party... a tasting event... a food extravaganza with friends and family. The kitchen is laid out with the cooking area being spacious enough for two or three chefs to comfortably create culinary masterpieces. With the four-seat kitchen island set directly in front of the main sink and the dining table right behind this island, culinary masterpieces can easily be served from oven to table. The design of the main kitchen sink would even impress my industrial design teachers from Pratt Institute. The off-set edge of the sink allows a number of different tools from a cutting board to a pasta strainer to suspend over the sink to make cooking easier and more efficient. You really have to experience this space to appreciate the impeccable design and well thought out layout of this kitchen. If family cooking and meal time is important to you, this is the kitchen where your children's favorite meals will be created and childhood memories will be remembered.
So if you are looking for your first apartment in New York City and do not have a large family yet, I would recommend you stop in and tour 200 East 62nd St. It is a great value for the price and it is located in a great area of the city. Don't forget to appreciate the wall to wall desk in the second bedroom. If you are looking for an apartment to raise children then I recommend you consider 252 East 57th St. The level of design and details devoted to each space are spectacular and really should be experienced first hand.
I will be touring more luxury NYC apartments and writing about them in each issue of NY Lifestyles Magazine so I hope you continue reading.
Azad Property Group
646-692-9376