Remnants of the Past Looking to the Future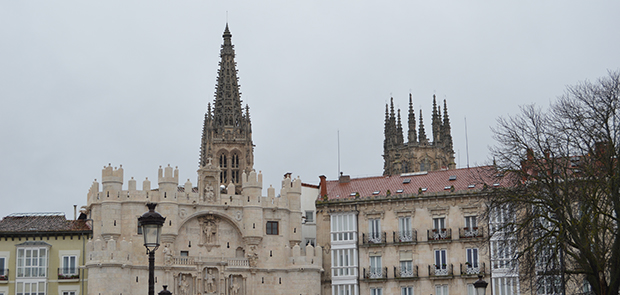 By Kyle Matthews
Spain, the mother country of the language that covers so much of today's world and has taken hold in the United States as almost a second language, is a country steeped in the past while at the same time looking to the future.
There are ancient buildings such as the remnant of an ancient synagogue in Toledo to the ultra-modern Guggenheim Museum in Bilbao. And while today there is tolerance for virtually every culture, most Spaniards realize that was not always so.
Prior to the Inquisition, Jews flourished throughout the country bringing a rich cultural heritage to the scene and they held many positions of great importance. Then came Torquemada and the Inquisition and Jews became anathema to Spanish society. Many were forced to convert or be burned at the stake.
Those who did adopt Christianity were referred to as "Conversos" and many today have surnames that date back to that Jewish heritage.
The beautiful Sinagoga de Santa Maria La Blanca (now how is that for a synagogue's name) was built in 1180, in Moorish style, in the fabulous walled city of Toledo and converted to a church in the 15th Century. Today it is a museum of Jewish Heritage with a modest €2.50 admission, and well worth the price.
In today's Spain most locals are aware of that history and while they do not run away from it, they do not embrace those negative attitudes of the past. The government has preserved a number of ancient synagogues and artifacts throughout the country and provides considerable security as they do with any other monument.
While we had been to Spain several times, we had never ventured north to Basque Country so we hooked up with an Insight Vacations tour out of Madrid. Greeters waited at the airport and escorted us to what has to rank as the most comfortable touring bus we've ever been on. The number of seats has been reduced to provide extra leg room and the seats were very comfortable for the ride up north.
We found the Insight Vacations hosts to be extremely knowledgeable and even conversant about the Jewish history and heritage of ancient and modern Spain.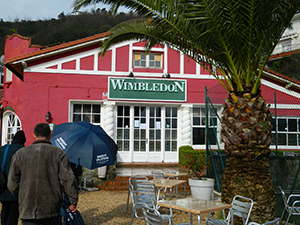 While there were no Jewish sites on the itinerary, they promised to obtain information about one in Santiago de Compostela, ironically the termination point of one of Christianity's most sacred pilgrimage routes. The trip from Madrid to the north covered some of the most beautiful country in Europe. Our tour director, Toni Aguilar, had promised to find sites of Jewish interest along the way but ruefully admitted that he was having some difficulty doing so.
In Santiago, we were told, was a building in the central marketplace where the handful of local Jews would congregate and hold services. It wasn't a synagogue, but rather a private residence used for that purpose.
We found the address and noted that there was a spot on the door where a mezuzah had once adorned the door frame. The outline was clearly visible although it was no longer there.
Interestingly enough, right in the middle of the outline was a dark Hebrew letter shim. That was enough to convince us we had found the correct building. A sharp knock on the door brought a gentleman who, although quite courteous, declined to admit us.
Broken Spanish from us and the same fluency in English from him was no asset and we were unable to determine why admission was barred. We were unable to detect any hint of anti-Semitism. To the contrary, all the Spaniards we came into contact with were courteous and friendly in the extreme.
Insight Vacation's Toni Aguilar commented that he would discuss this at the next meeting company representatives held. It was noted to him that an allied firm, Uniworld Cruises, did provide such excursions and the participants were both Jews and non-Jews.
Scripted tours are essential for first time visitors and even experienced travelers will find them beneficial in that you simply learn more from an experienced guide.
For information, check out www.insightvacations.com