April at a Glance
By Sandra Mardenfeld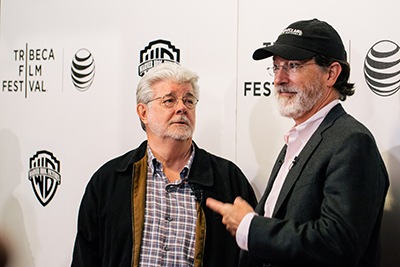 ARTS & ENTERTAINMENT
April 13-24
15th Annual Tribeca Film Festival
Check out the next big Hollywood hit at Robert De Niro and friends' Tribeca Film Festival (see tribecafilm.com for more details) in Lower Manhattan. Since 2002, cinema lovers have watched more than 1400 films from over 80 countries. This year, nearly every movie is some sort of debut and many screenings offer a Q&A with the director, cast or crew after the flick (like soccer phenom Pelé discussing his life after screening Pelé: Birth of a Legend). You'll recognize lots of names, including Katie Holmes as a first-time director with All We Had, Kevin Spacey as President Nixon in Elvis and Nixon, Kristen Stewart and Nicholas Hoult in Equals and Paul Rudd (or, at least, his voice) in the R-rated cartoon Nerdland. But Tribeca is more than just the big screen, the series, Tribeca Talks, features intimate conversations with stars such as Tina Fey and Tom Hanks, and the Tribeca Festival Hub lets you experience new storytelling technologies with 23 virtual reality exhibits and interactive installations.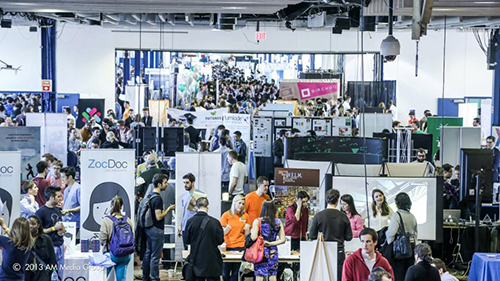 TECHNOLOGY
April 21
Technology: New York TechDay
Imagine a giant science fair that features the newest group of start-up companies—all hoping to hit the big time. If this sounds intriguing, then TechDay is for you! For its fifth anniversary, NY TechDay 2016 anticipates the largest gathering yet with a predicted 30,000 attendees and more than 550 technology businesses featured. So, come down to Pier 94 and maybe you'll meet the innovators behind the next Uber. Or, if you have a new product to show off to investors, become an exhibitor and connect with press, investors and other entrepreneurs. See techdayhq.com/new-york to register for the event.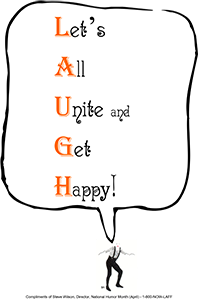 COMEDY
April 1 through April 30
National Humor Month Take time to laugh this month. Kick off the fun with a great April Fool's hoax and keep the chuckles coming by decorating a smiley face or bringing some playfulness to your workplace on April 5th during International Fun-at-Work Day (see humormonth.com for hilarious ideas like teaching your employees the art of scarf juggling). National Humor Month is all about celebrating the fun in life, from organizing a hum-a-long (who can stress with all that lip vibrating!) to getting your dose of laughter by watching the live comedy of New Yorker Jerry Seinfeld at the Beacon Theatre (April 14). For more information, see www.beacontheatre.com